G.i. Joe 30th Anniversary Eaglehawk (Tomahawk)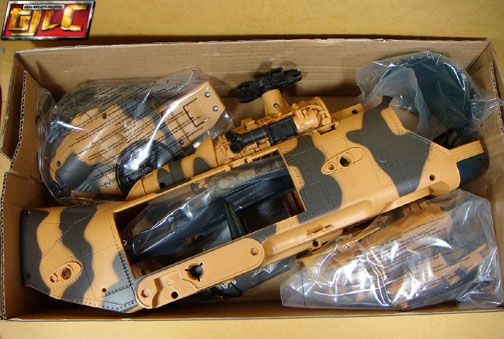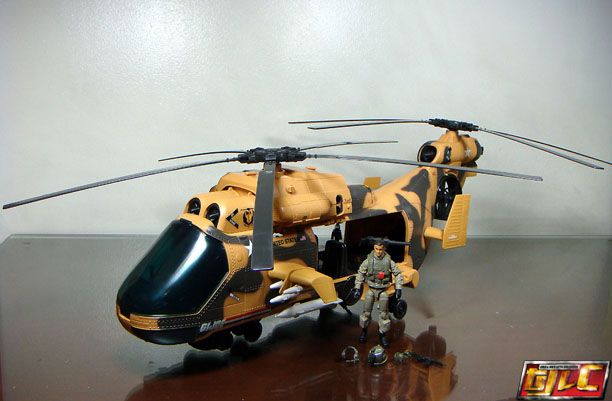 Lift Ticket comes with 2 headsets, a rifle and helmet (too bad no stand though).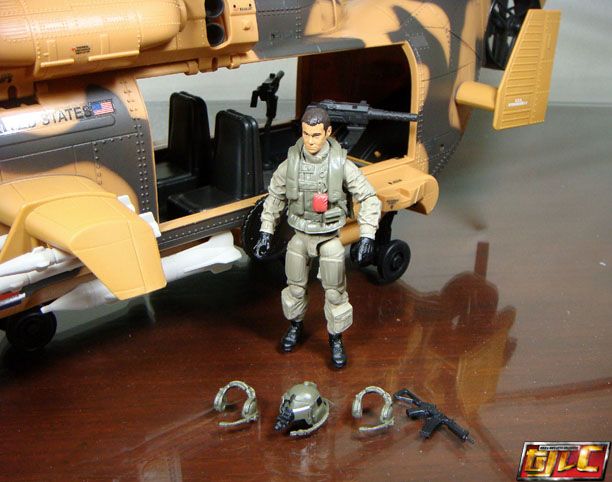 Just like in the vintage, it can seat up to 7 figures.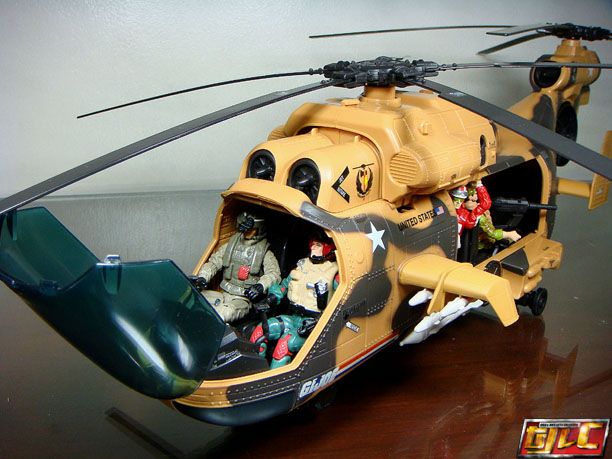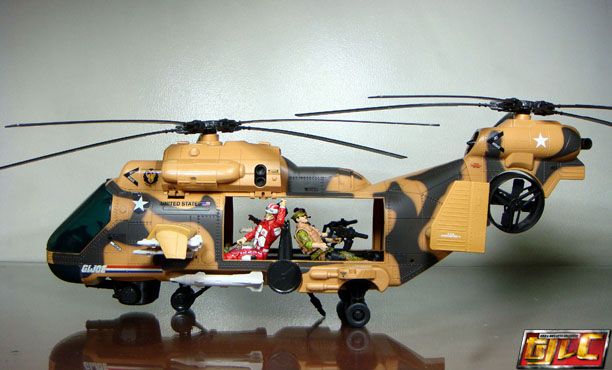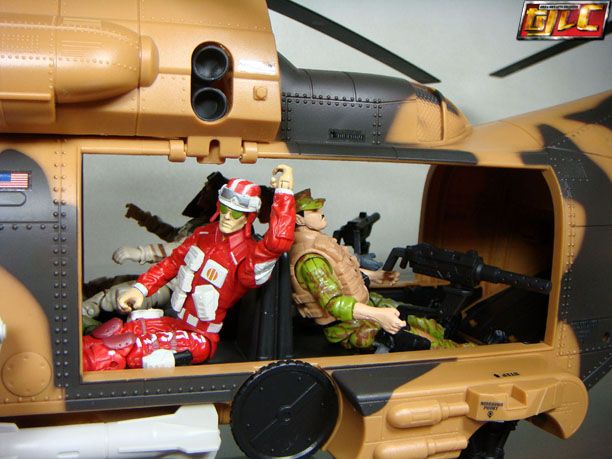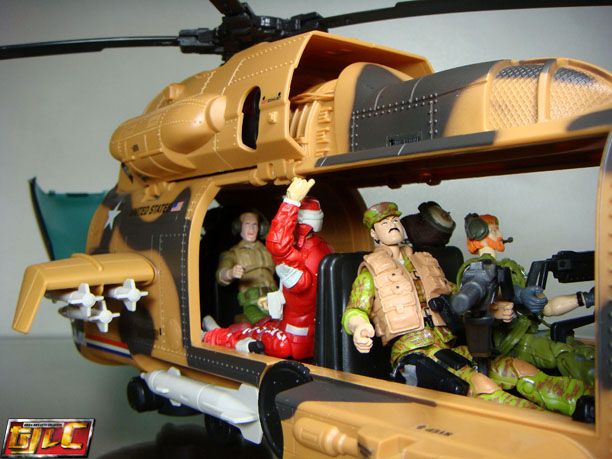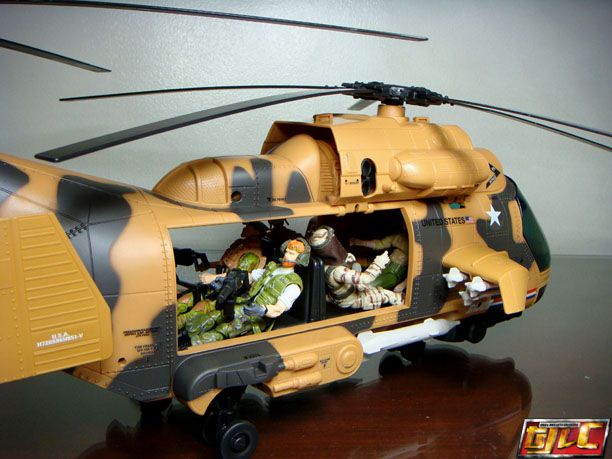 Access ramp (with foot pegs). There are some additional holes at the back of the copter cargo area, I'm not sure what they're for. Backpacks?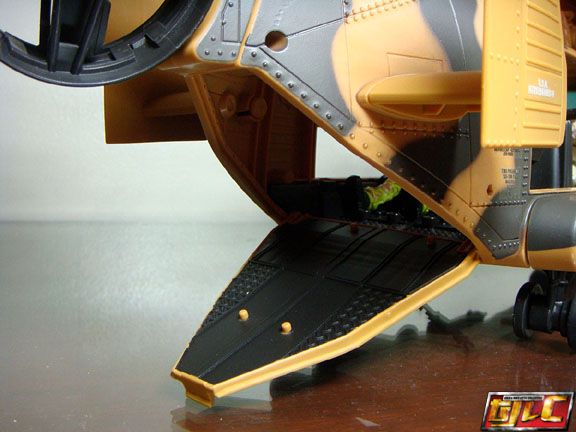 Opening engine covers with removable engine exhausts.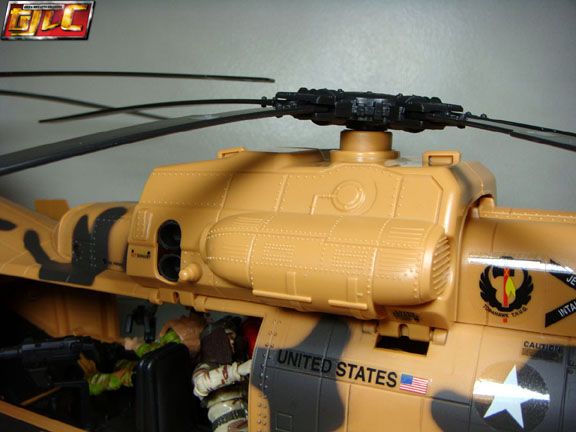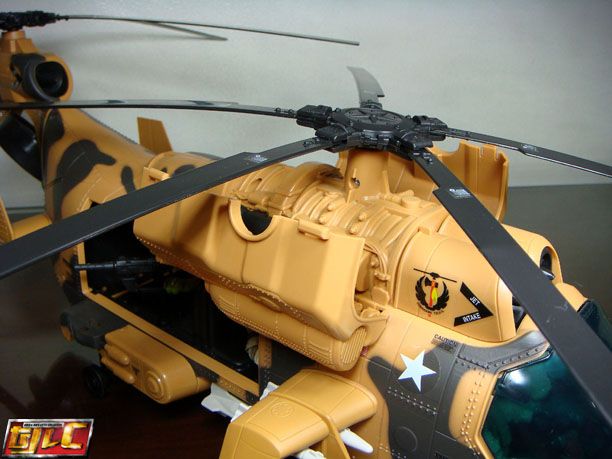 Retractable rescue line.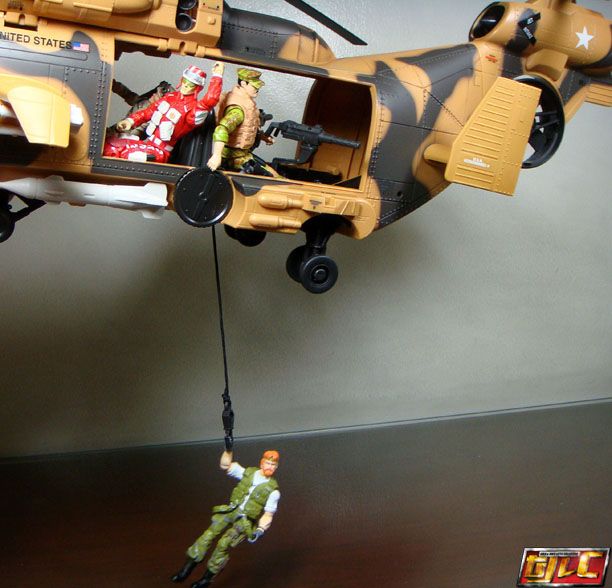 I can see why they changed the name of the vehicle from Tomahawk to Eaglehawk, as the vehicle is NOT a straight up reissue but rather, around 80% of this is new tooling from scratch. The dimensions are roughly still the same though.
Comparisons with the vintage Tomahawk.
Color change

Canopy color change, retooled chairs and control panels and flight sticks.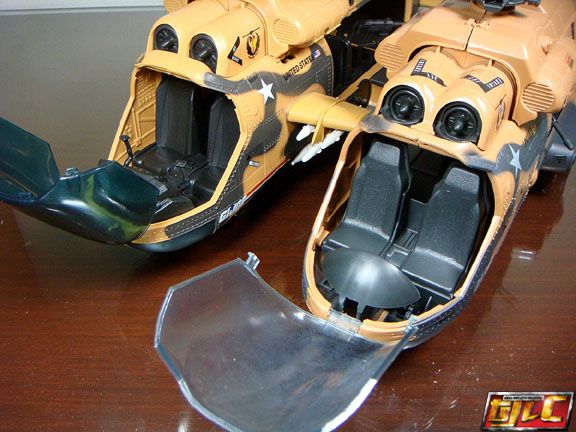 Easier to open engine cover locks.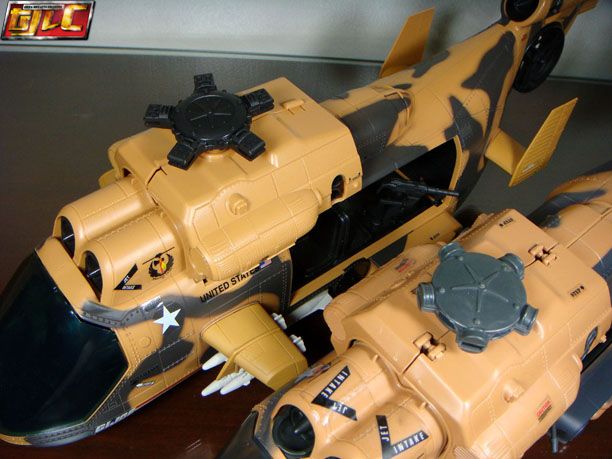 Folding rotors (not present in the vintage).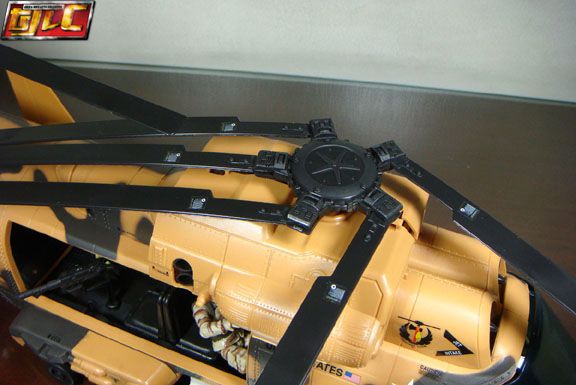 Retooled guns, chairs and body of the entire vehicle.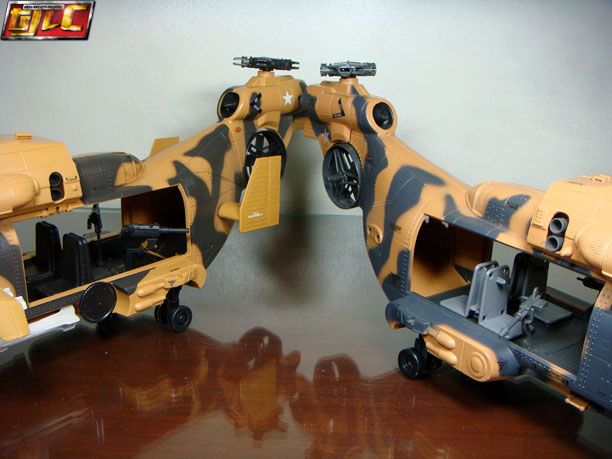 Missing rear engine cover on the new version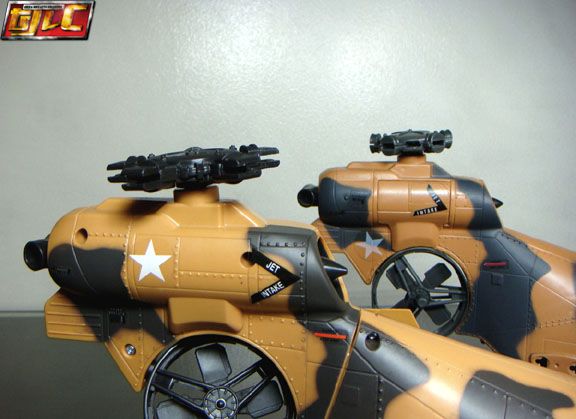 Removable side ramps.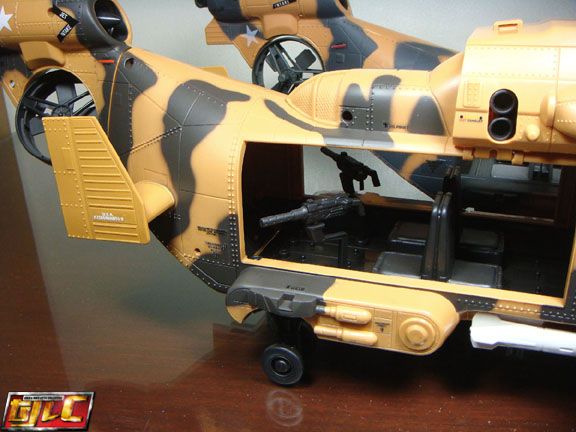 Access ramp (note: instructions illustrated the ramp assembly wrong, this is how it's supposed to look, black side up.)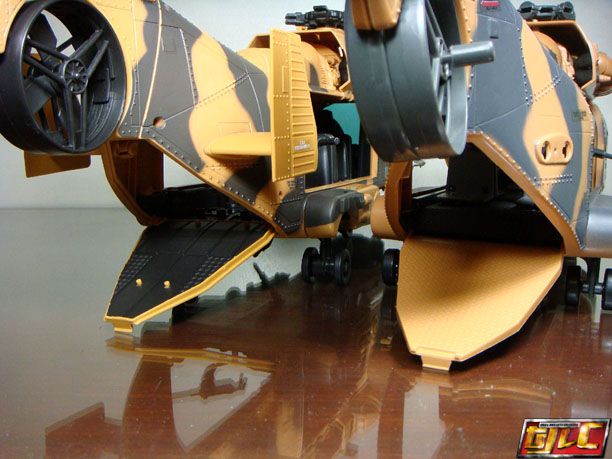 Modified minigun, lack of clear "glass" bottoms in the c0ckpit.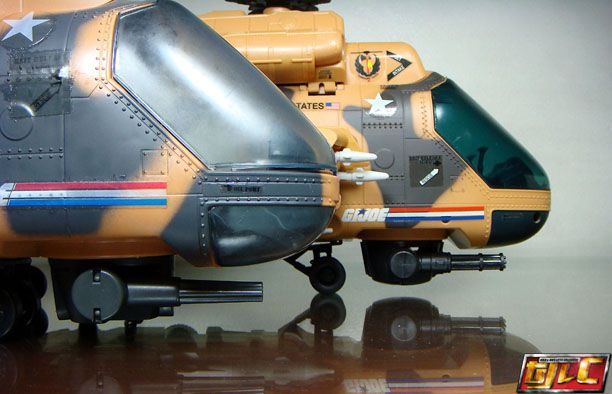 All new tooling for the small missiles.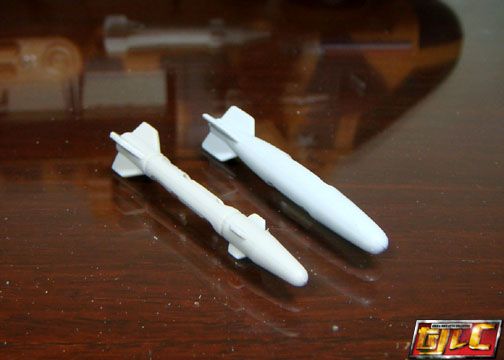 Basically, the only parts that were reused from the original were the big missiles, the tail rotor and the tail fins. Everything else is brand new.
The best part is, the whole thing can be disassembled and put back into the box with some minor force, while the rear tail section can be pulled out again after you loosen the assembly by removing the screws.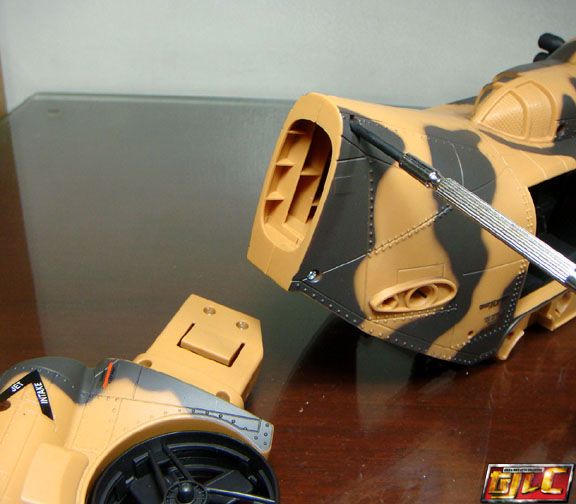 A final word of caution, the propellers still tend to droop easily, I set them up the night before and they were perfectly straight. Come morning, they had already started to droop down. It doesn't affect play though, it just kinda looks wrong when the blades aren't pointing straight.
I love it, this vehicle's more fun than the reissued Skystriker. I hope Hasbro reissues more vintage vehicles.
Gold