Soul of Chogokin Gx-50 Combattler V Namabara Connection Base Playset
Please click on the smaller images to view larger pics.
Outer Box – Big! Dimensions are 9.5″x 15″ x 9.75″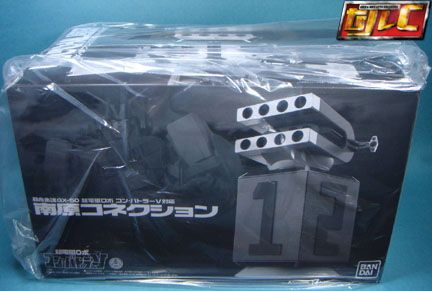 Important note #1
I noticed some units have Japan postal markings/stamps on the official outer brown box.
I guess some were shipped as is, without an outer protective shipping box. If you're going to order this online, this might be something one might need to specify if you're particular about clean outer packages.
Inner box (front-back-top-side)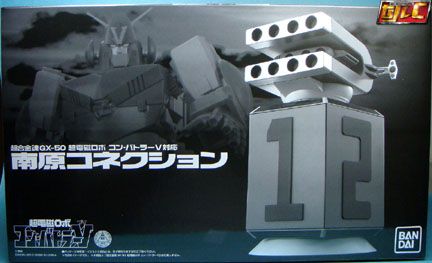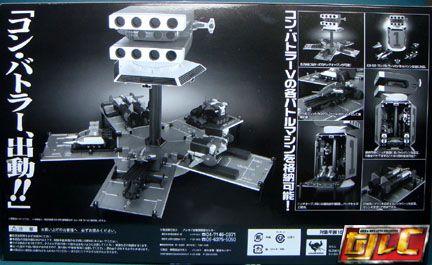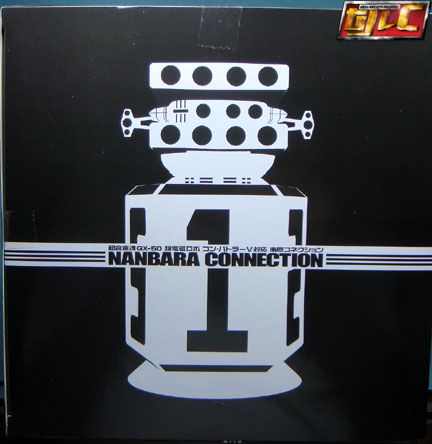 Important note #2
Remember to take note of this configuration for the box packing, if you're unfamiliar with it you'll have a hard time returning the base back into the box, since most of cardboard "triangles" pour out as well when you "unpack" the Nambara.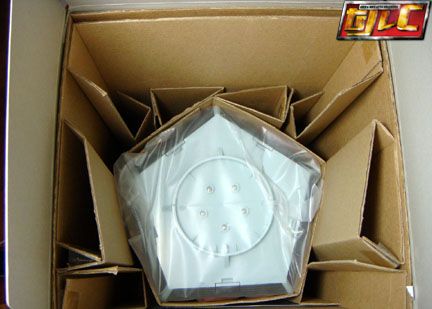 Not much in terms of props, this is all you get.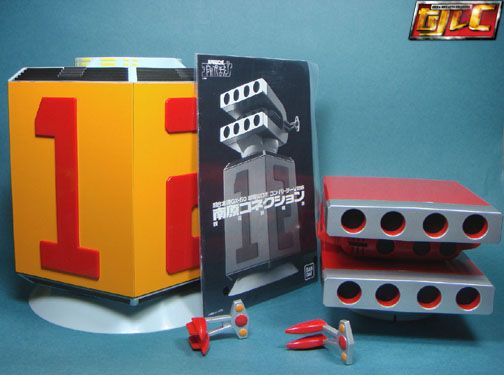 Nambara Connection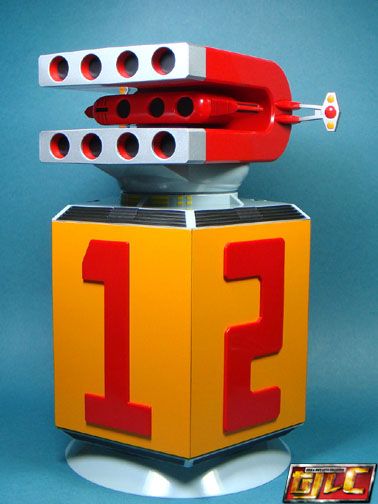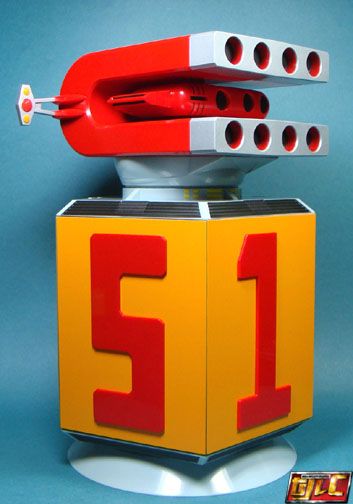 Nambara Connection stands about a Foot tall.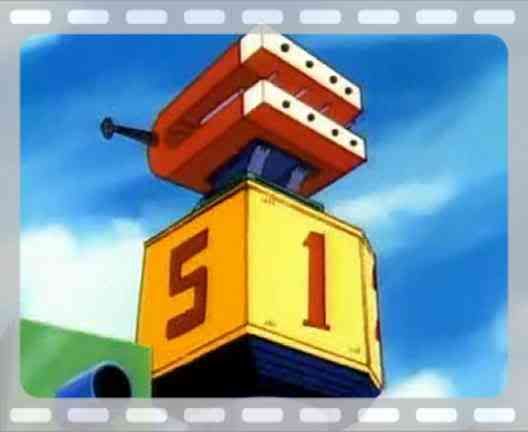 Deploy the Battle Machines!

When fully deployed the base is about 20 Inches in Diameter. something to consider if you're making a display shelf.
When deploying, make sure the support pegs are also deployed, as some of the Battle Machines are heavy and will put stress on the platforms.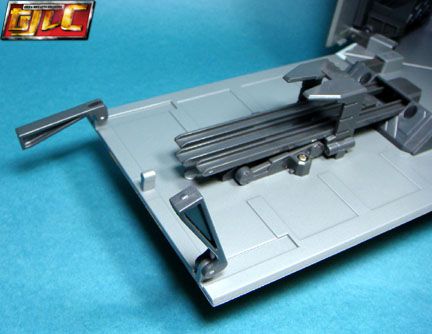 Battle Jet's launching pad has locks to keep it in place when the platform folds up, likewise, there's also a deployable arm underneath to position Battle jet in a launch angle.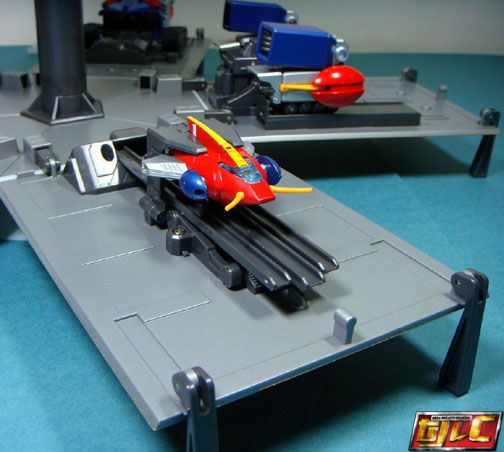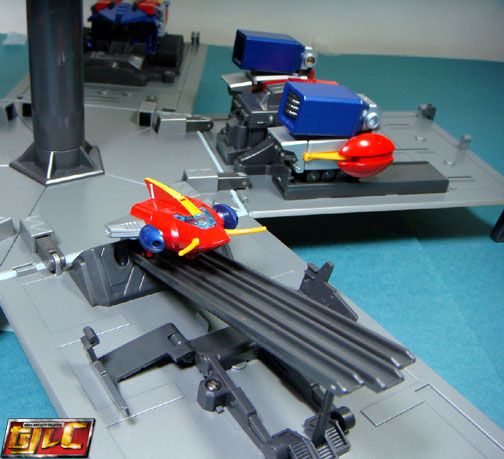 Battle Crusher's platform has protrusion for it to slot into as well, take note that it needs to go in a certain point to lock in place (see second image). That one took a while for me to position right.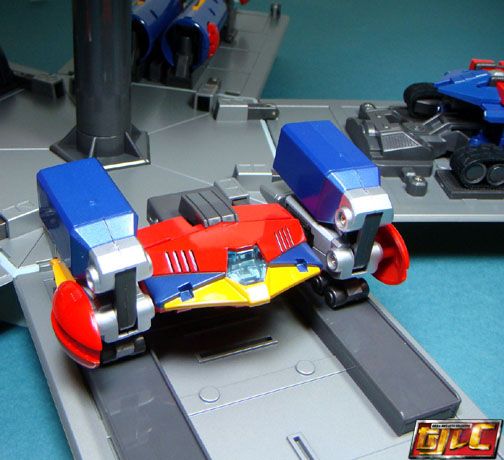 Battle Tank locks in place with the help of this piece.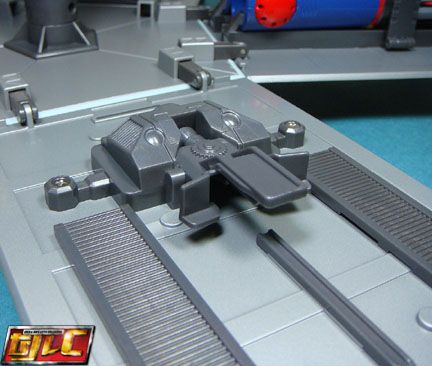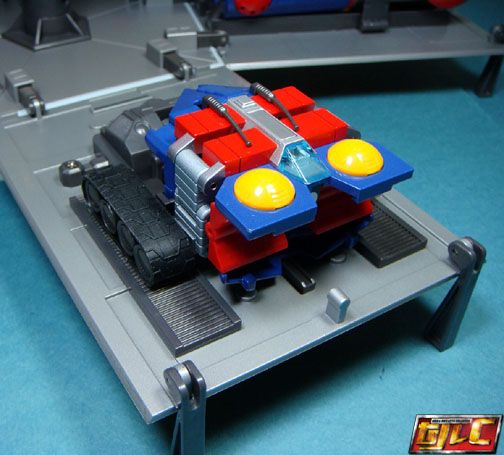 Battle Marine locks in place with the help of two locking clasps, but sometimes the clasps are hard to disconnect.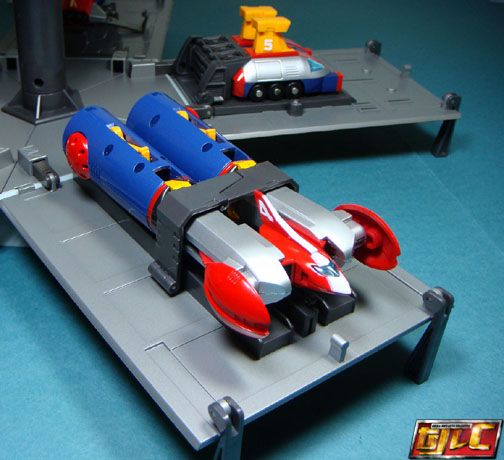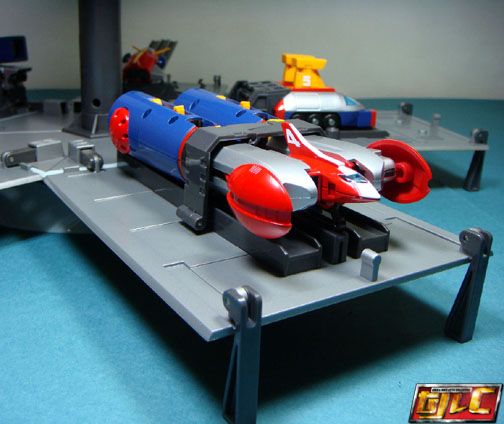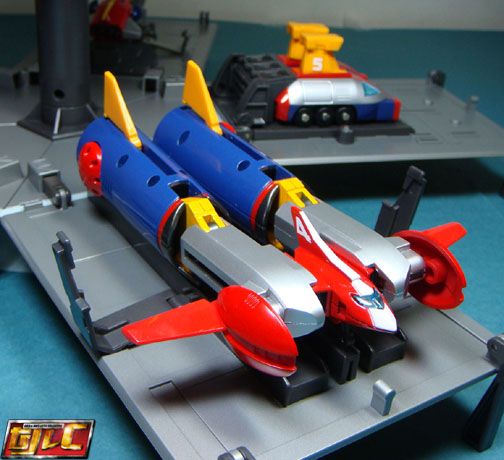 Battle Craft's platform has pegs on the floor to keep it in place.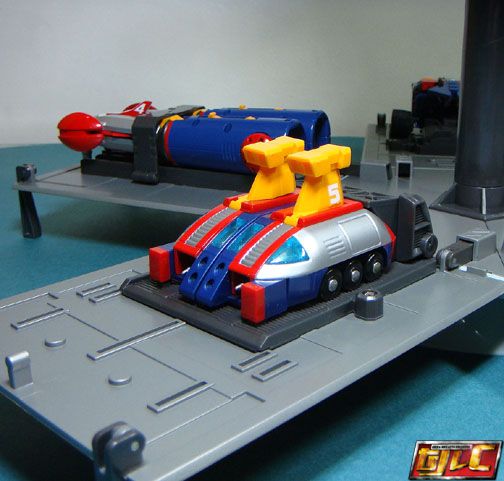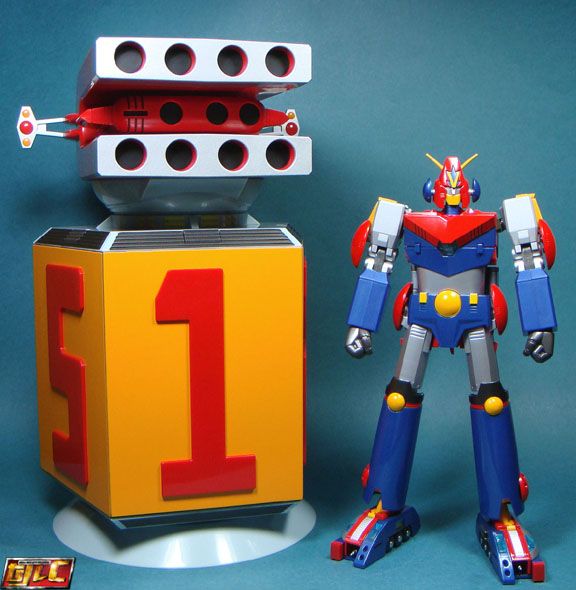 Closing up for Storage.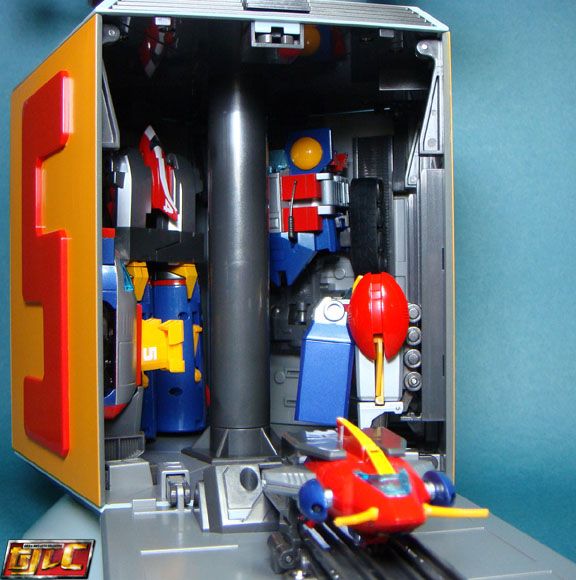 Important note #3
When closing up, take special care with the Battle Marine, the nosecone tends to snag, just roll up the front landing gear and it should fit better.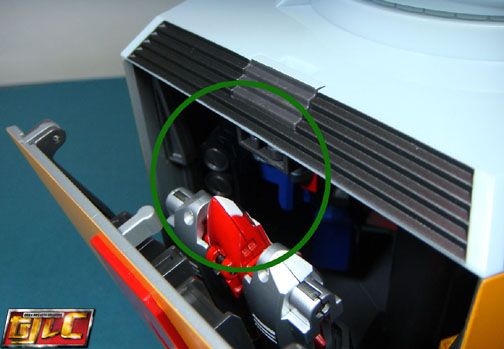 Important note #4
Remember to deploy the Battle Marine rear landing gears(Combattler's knees) otherwise you might end up scrapping the paint on the knees.
Important note #5
Pay attention to the manual when closing up the panels. There's a specific sequence to closing them properly.
Important note #6 -MOST IMPORTANT OF ALL!
When you're popping open the deployable platforms, always take down the huge "U-shaped" magnet prop on top of the Base first. For whatever reason, Bandai didn't make it lockable. It just basically sits there, you can lift it up just using your pinky finger. So that's an accident waiting to happen, one wrong nudge with your elbow while opening up the base might result in the "U-shaped" magnet prop going into freefall from the shelf.
The Nambara is specifically designed for the Gx-50, not the GX-03. You can still place the Battle Machines from the Gx-03 there but it won't be as stable for some of them.
The Battle Crusher from the Gx-03 does not slot in at all and so it will tend to topple when you close up the #2 launch panel carelessly.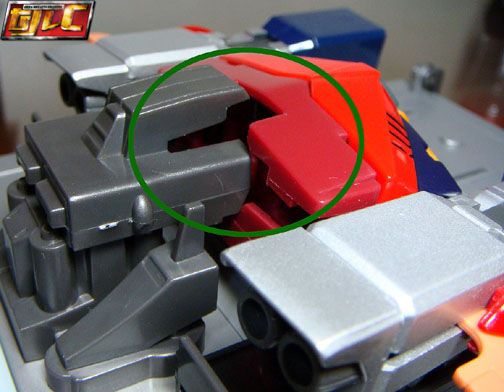 The Battle Craft has a shorter rear section so it won't lock-in so good either.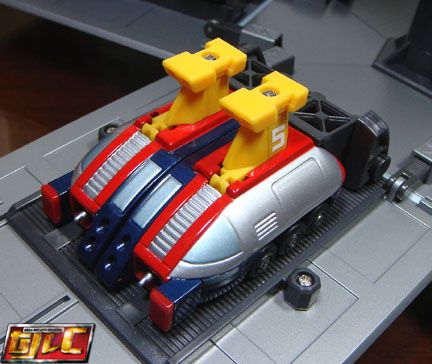 The Battle Jet can be locked in but not as stable as the Gx-50 Battle Jet, the Gx-03 Battle Marine and Battle Tank are fairly stable like the Gx-50 versions. You can still close up the panels with the Gx-03 Machines if you really feel the need to, you just have to be careful so they won't topple when they're vertical (like the Battle Crusher).
For the curious, yes, you can also "park" the Volt Machines in the Nambara Connection, but they just basically "sit" there. I really don't recommend closing up the panels with the Volt Machines in as they have literally nothing to help lock them in place (unlike the Gx-50 Combattler). The end result would be the Volt Machines just toppling into a heap inside the core of the Nambara. ;D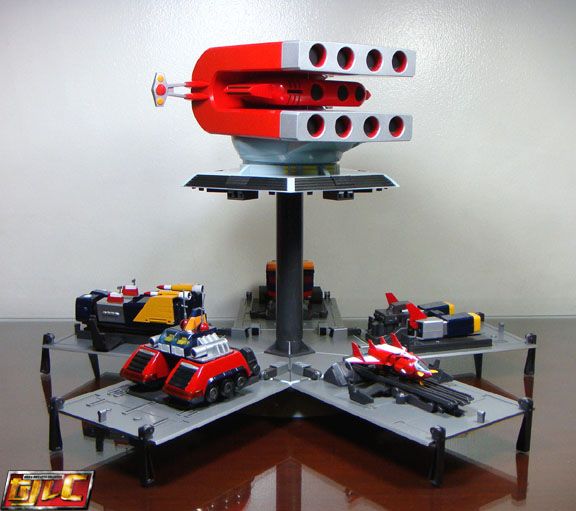 Overall a decent display piece, it looks great next to the other SOC Bases. It's too bad it's so pricey and is a Webshop Exclusive. I also feel a bit let down that the whole base doesn't slide up/elevate just like in the Anime (see the video clip)
With the Mazinger Hangar, the Reideen God Face Mountain, now this, here's hoping Bandai rolls out Camp Big Falcon someday:)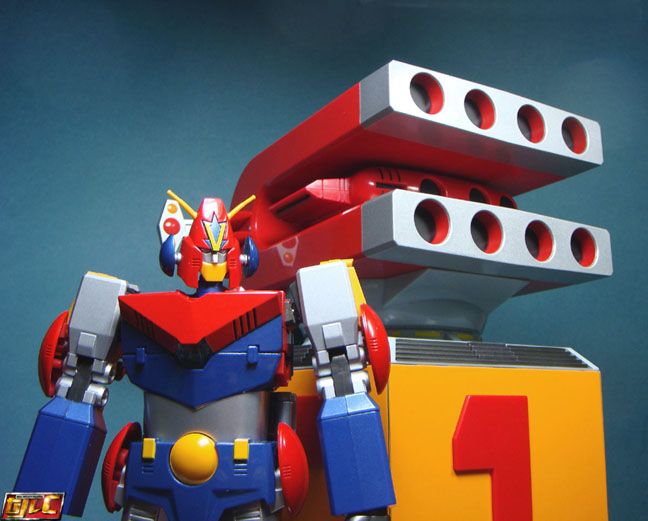 Gold