Super Robot Chogokin Giant Robo – The Animation Version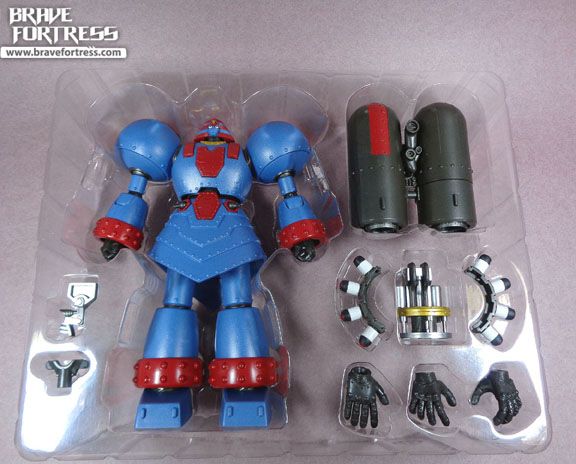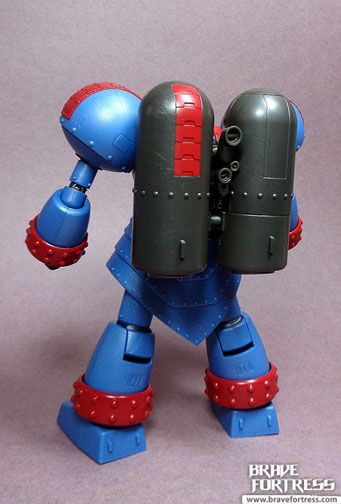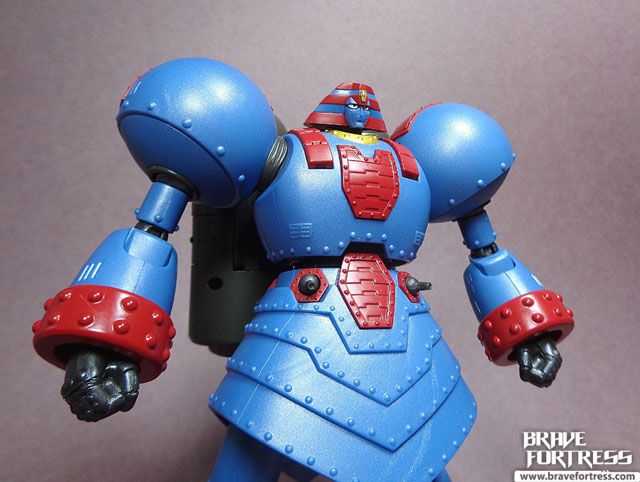 Giant Robo's attacks are mostly physical based, with Robo usually just smashing through whatever's in his way.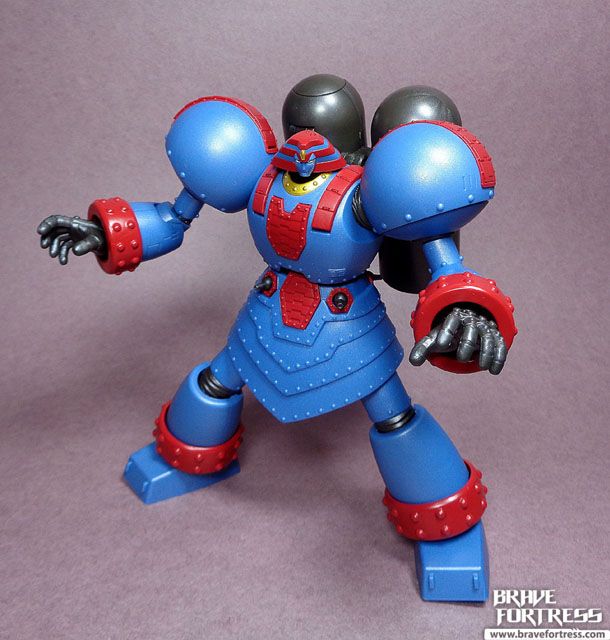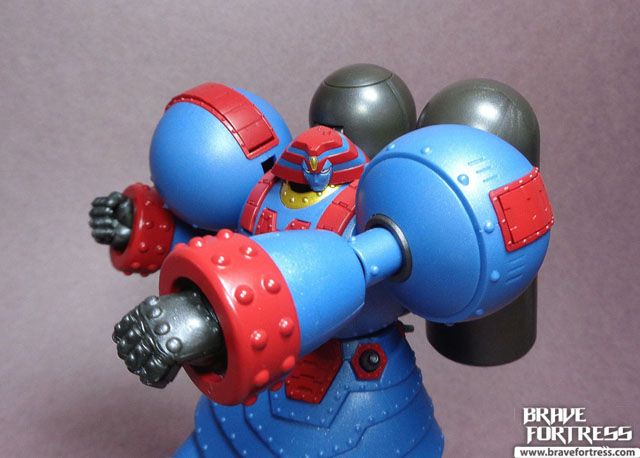 Hip cannons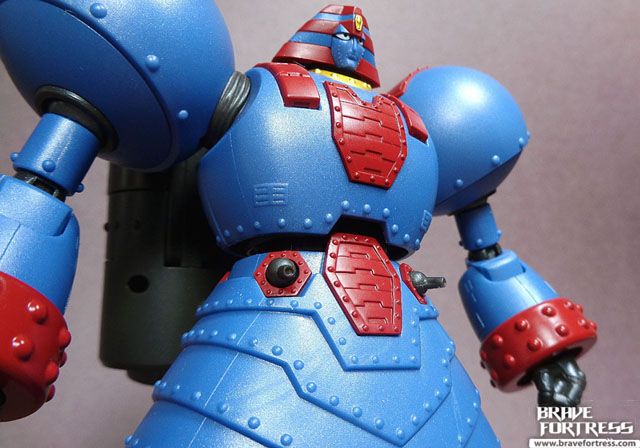 Missile attack!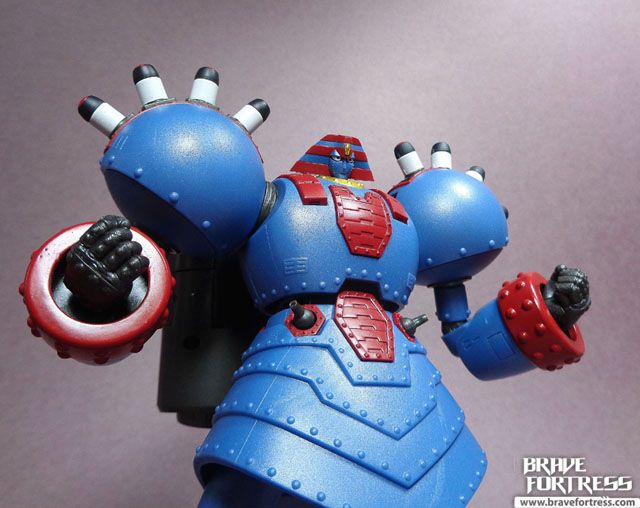 Rocket Bazooka
This requires some parts swapping to make it show accurate.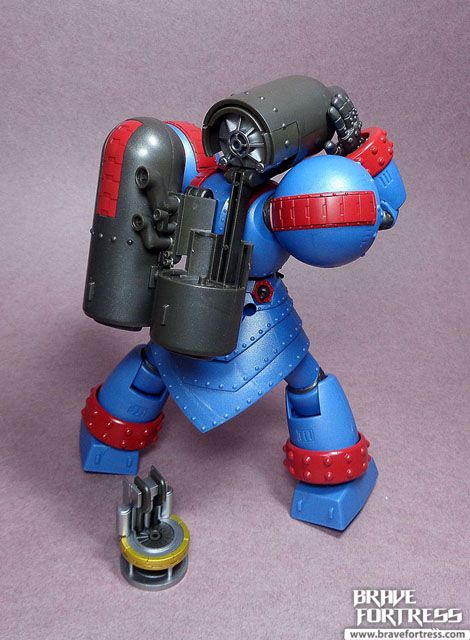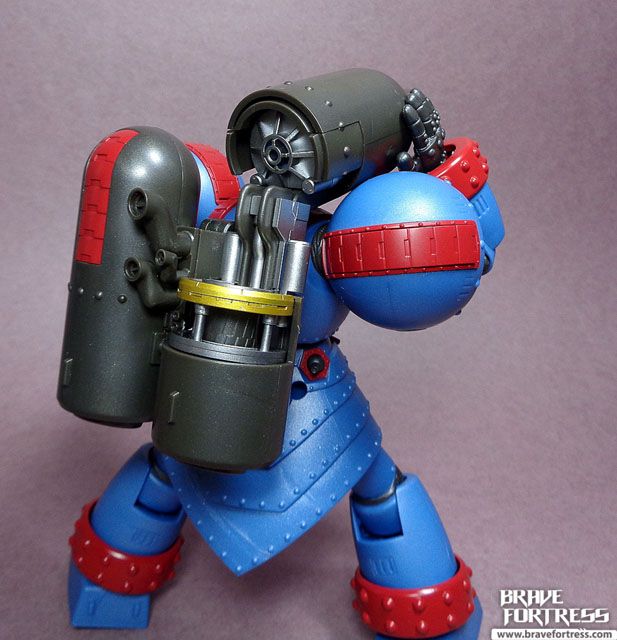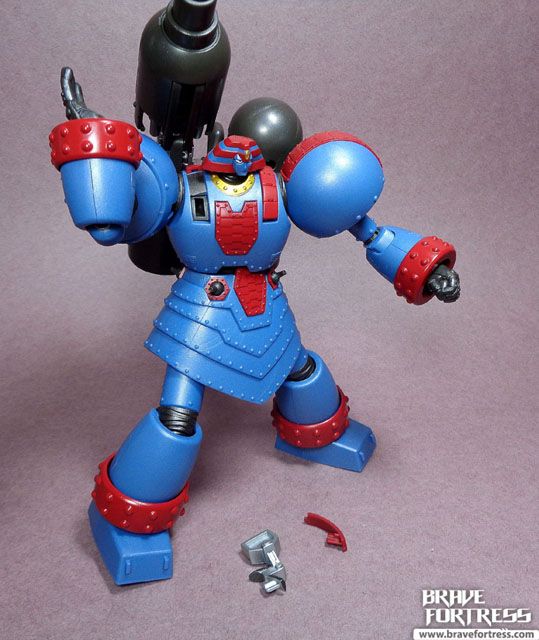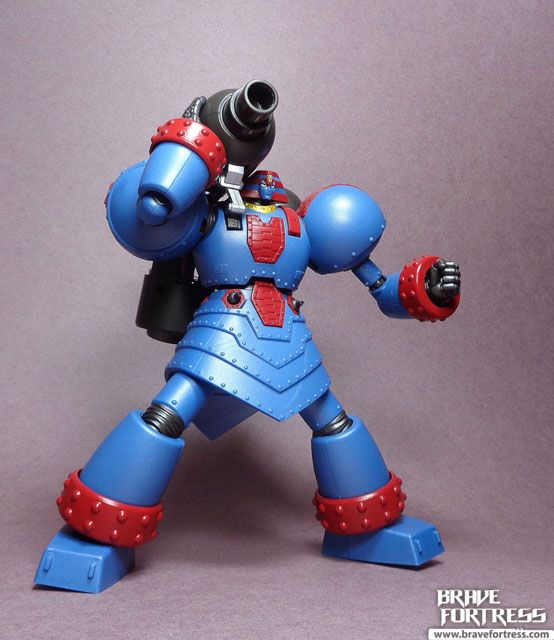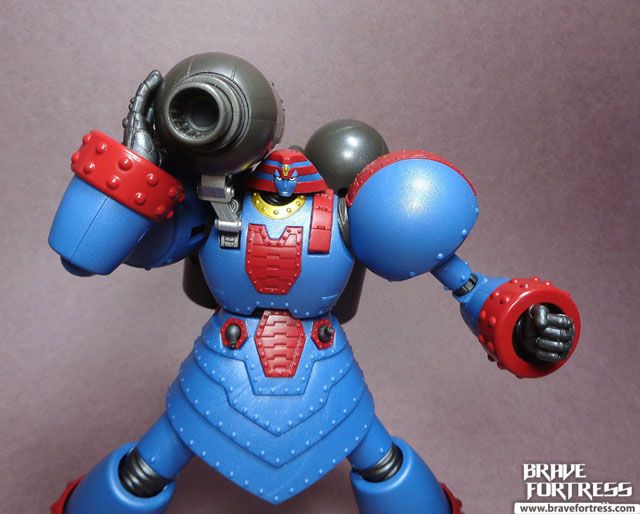 Size comparison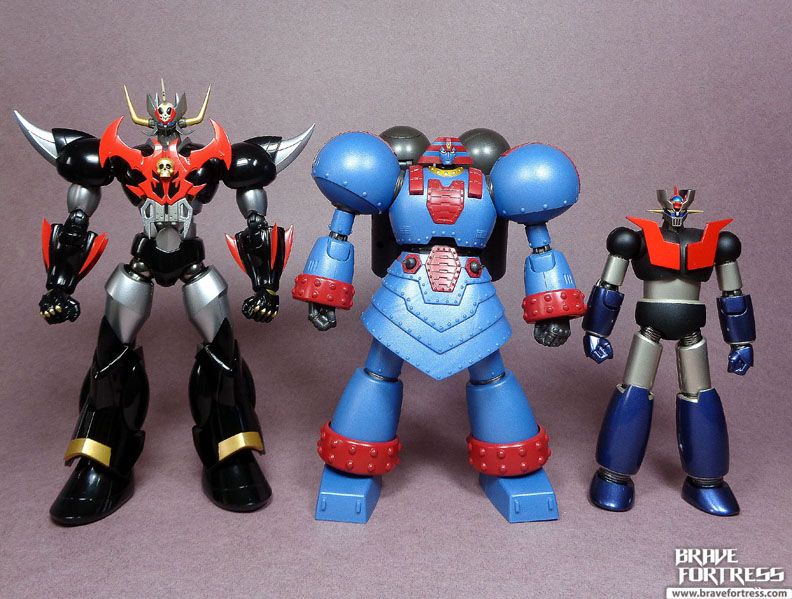 Comparison with the Yamato Toys Giant Robo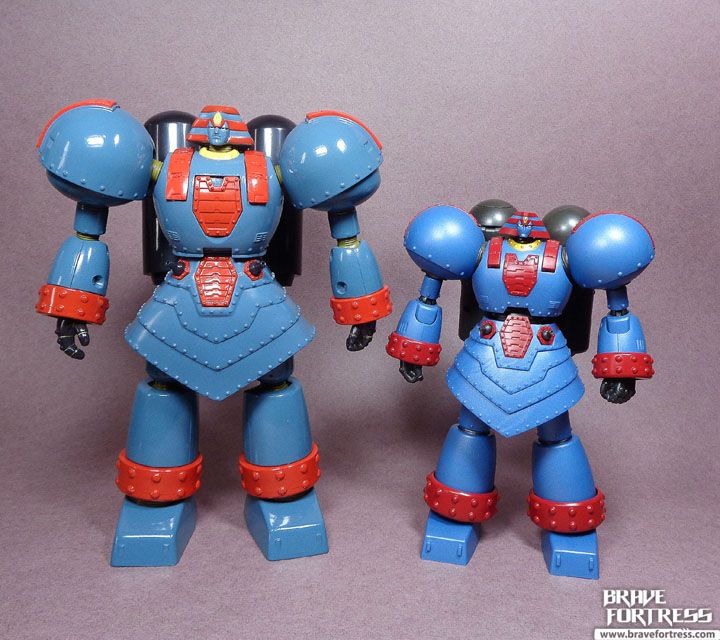 The Good
-Diecast parts are limited to the red rings on his arms and legs (not whole legs), and the main joints.
-Chest connector attachment for the Rocket Bazooka is solid diecast.
-Figure weighs 316 Grams and stands 6.25″ tall. (For comparison, SRC Mazinkaiser weighs 277-304 Grams and Genesic Gaogaigar weighs 344 Grams).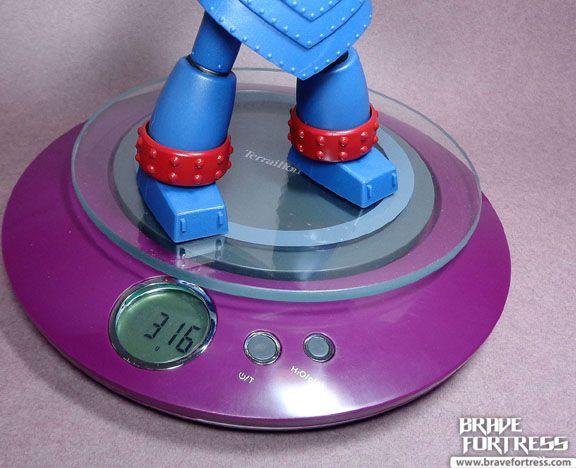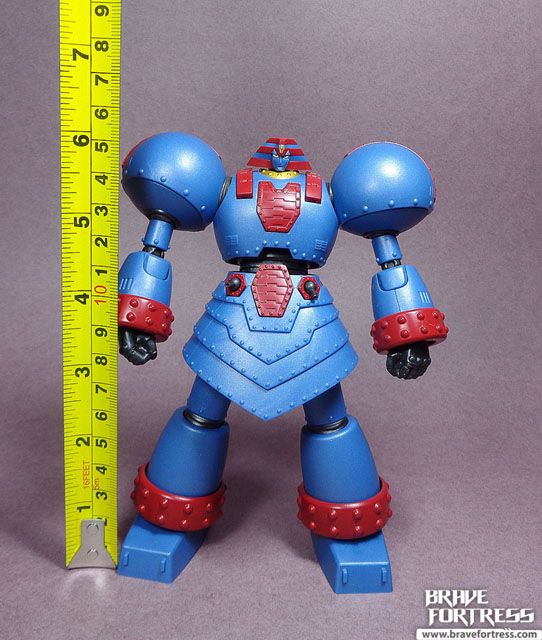 Other notable weights
-Yamato Toys Giant Robo (790 Grams)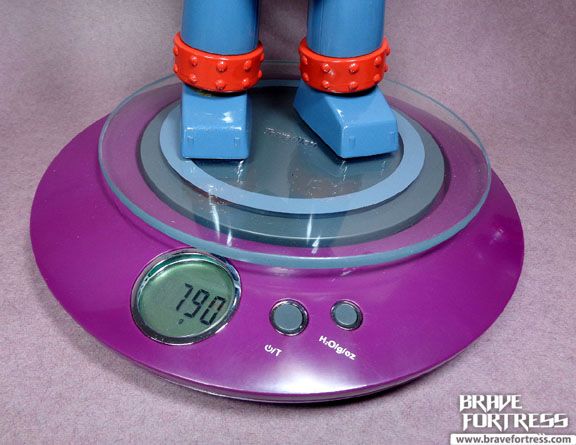 -Gun cannons on his hips can move freely, as opposed to "fixed-in-position" sculpts.
-Gotta love the loud clicking sound whenever you tilt Giant Robo's hips, all thanks to the interesting hip joint design of the figure.
The Bad
-No Daisaku Kusama figure. It would've been great to pair it with Tetsujin 28's Shotaro Kaneda (Both characters were created by Manga scribe Mitsuteru Yokohama).
-No alternate face plate, to recreate the final scene where Daisuke rides inside Giant Robo's damaged face. I think that would've been cool.
-Giant Robo's color scheme seems a bit off for me. I don't recall Giant Robo being so… blue. Rewatching the OVA, he seemed more pale gray to me. The Yamato Toys version seems more accurate.
-Lack of missile racks for the chest sections – In the finale of the show, missiles not only pop out of Robo's shoulders, they even pop out of his chest panels.
The Ugly
Well… nothing really to complain about here in terms of design and quality control. I guess maybe the lack of accessories for something that has such a high price point?
I was really surprised at the SRP of this figure, considering it only has a handful of accessories, not even a stand or effects parts? Maybe the rights to produce the toy was high? I can't say. I do recall getting the old Yamato Toys Giant Robo for less than this, and it had lots more metal and heft to it, to make up for lack of accessories.
Overall, while the figure doesn't offer much in terms of "bang for the buck", it is considered heavy, compared to the usual SRCs. It's pretty decent as far as quality and execution goes, but the price just kind of ruins it. Unless you're a fan of the OVA, or a completionist, this might not exactly "hit the spot" as an impulse buy.
Funfact: The 1992-1998, 7-episode OVA "The Day the Earth Stood Still" took 6 years to be completely released (10 years including inception and production).
Funfact 2: Despite the series being finished resolution at the end, the last part of the OVA sets up a sequel regarding the final confrontation between BF Group and The International Police Organization, leaving viewers with a cliffhanger of sorts. But since the series suffered from low sales, I guess the "sequel" won't be happening anytime … ever?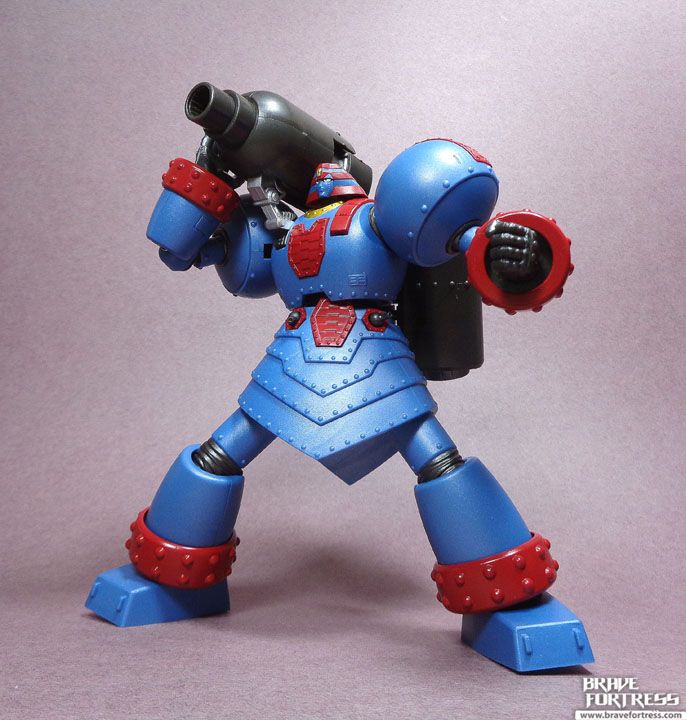 Gold