Aoshima Miracle House Shin Seiki Gokin Neo Getter
Box

One of the most under appreciated Getters, the Neo Getter Vs Shin Getter mini-series really didn't sell that well in Japan, but for me, it will always be my first Aoshima purchase (I got this one before I backtracked the SG-01 Shin Getter One). I purchased this around 2002 I think. I only took decent pics of it just now thanks to the recently acquired Neo Getter Training. 🙂
I prefer the simple "old school" style of this series compared to the Shin Getter Armaggedon which was a mess story-wise.
Comes with extra forearms that have the "Chain Knuckle" accessory (Quick! Somebody call the folks who own the rights to Voltes V! 🙂 )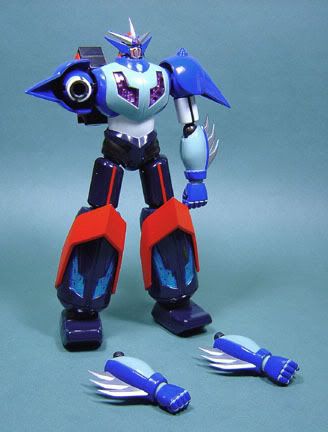 The accessory doesn't shoot though, it just has a long chain built in.
The "Shoulder Missiles" backpack is partially made of diecast and has missiles you can insert and fire.
Plasma Thunder!!

Gold