G.i. Joe Classified Retro Gung-Ho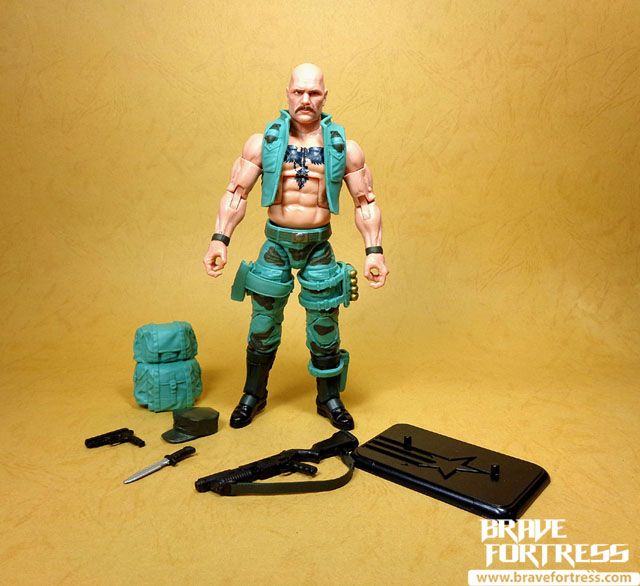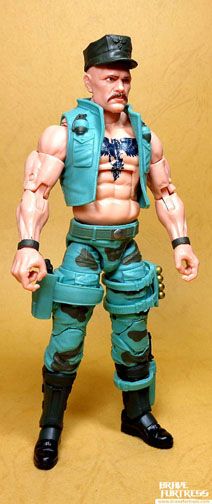 Ettienne R. LaFitte is a tough, fearless marine on the battlefield. Born in Louisiana, Gung-Ho is an expert in fighting in the swamps, the perfect operative for countering Dreadnok operations, which are often located in the Florida Everglades.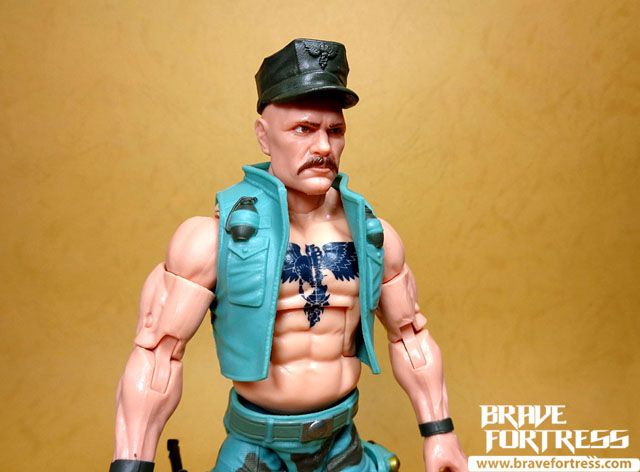 The figure is a heavy retool of the previously released Classified Gung-Ho figure.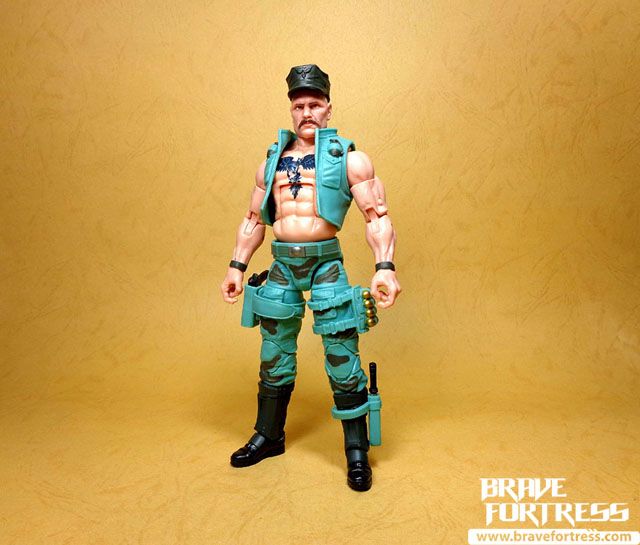 The hat is also all-new tooling, striking a better resemblance to the classic comics and cartoon design.

The set comes with a display stand.

Gung-ho also comes with a backpack, complete with matching teal colors.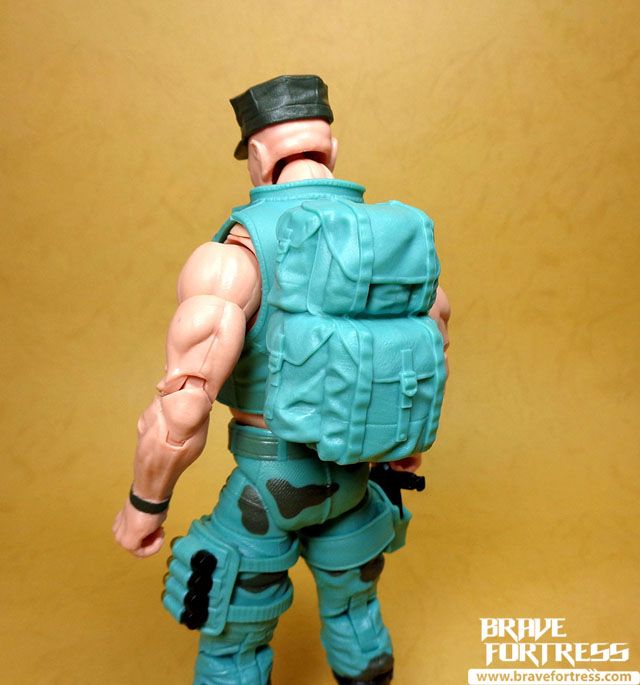 He comes with a sidearm and a knife.

The sidearm is holstered on the right leg, the holster design seems all-new to the line and is very accurate the original vintage design.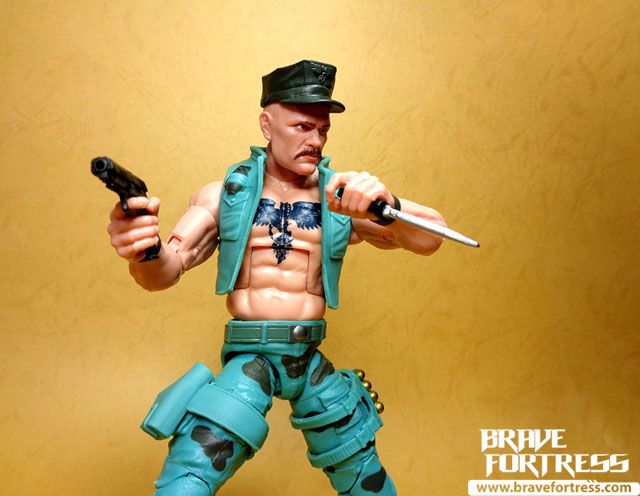 The knife can be sheathed on the left leg.

In the classic Sunbow cartoons, Chris Latta (the voice of Cobra Commander) did Gung-Ho with a southern accent, despite the character's French Cajun background…. go figure? Maybe Latta never met any Cajuns before and just winged it?

For the left leg, Gung-Ho comes with a strap with new tooling (grenade ammo?) on it. Interesting.

For heavier firepower, he comes with his iconic grenade launcher. This, too, is a throwback to the vintage toy, as this is the first time we're getting this weapon mold in the Classified line.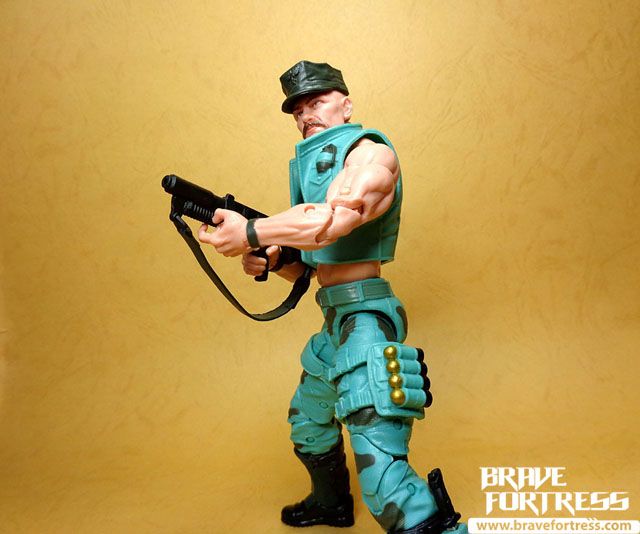 Comparison with the previous Classified Gung-Ho.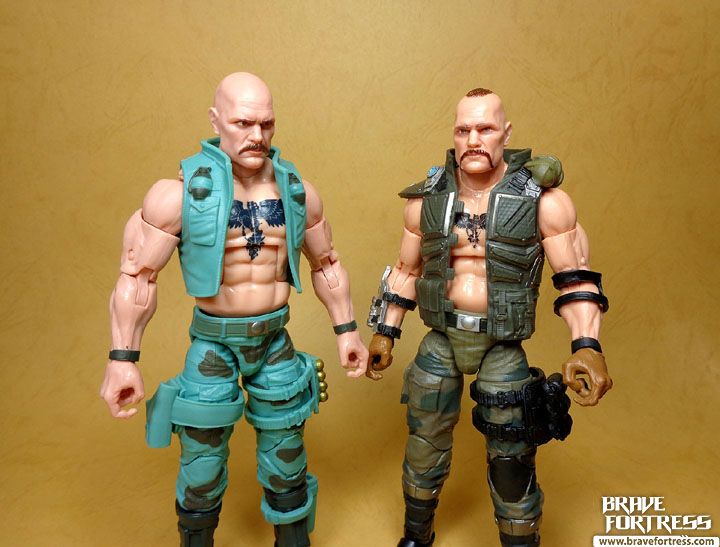 Overall, I love it! "Village People" aesthetics and all. It's a huge improvement over the previous version that no one really wanted. I'm very surprised Hasbro went in with a lot (!) of new tooling for this guy, just to match up to the classic design. Admittedly, I was never a huge fan of the bright teal colors of this character, but I am glad Hasbro decided to throw the fans a bone and do this guy to make the fans happy.
Now to hope they go back and redo Duke and Scarlett to match their classic designs too.
Funfact: The oddball codename for this set from Hasbro is called "Orion".
Gold