The Real Ghostbusters reissue Ecto-1 (2021)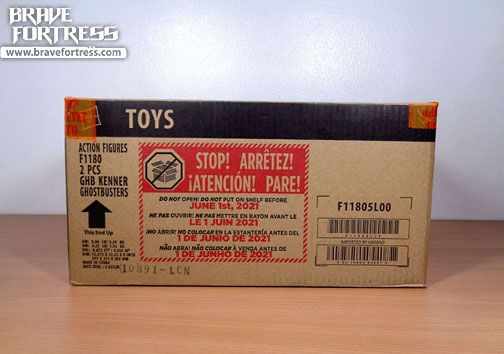 I still kinda feel bad Ray isn't in this shot…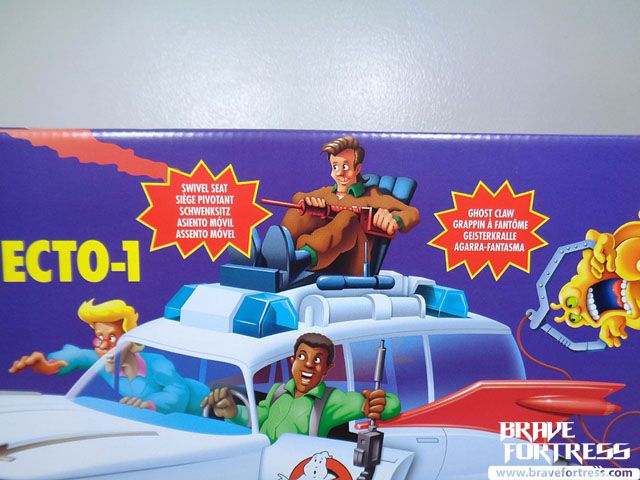 The box is fairly large, just the vintage toy. It spans roughly 15 x 7.5 x 6 inches in dimension.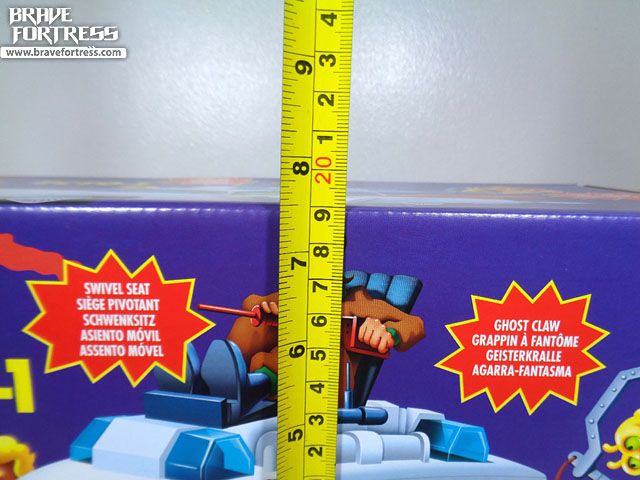 I never got to handle the vintage set, so I have no idea if this was how it was packed back then too?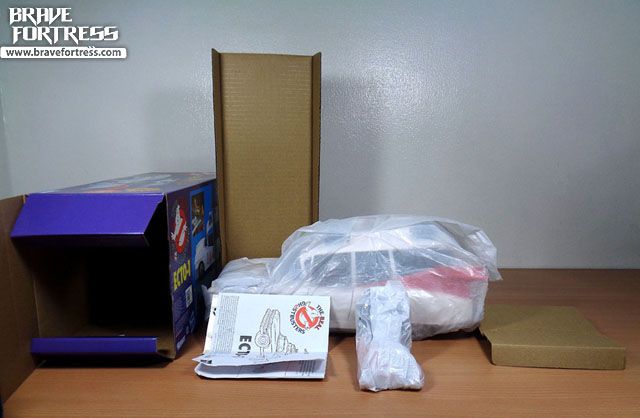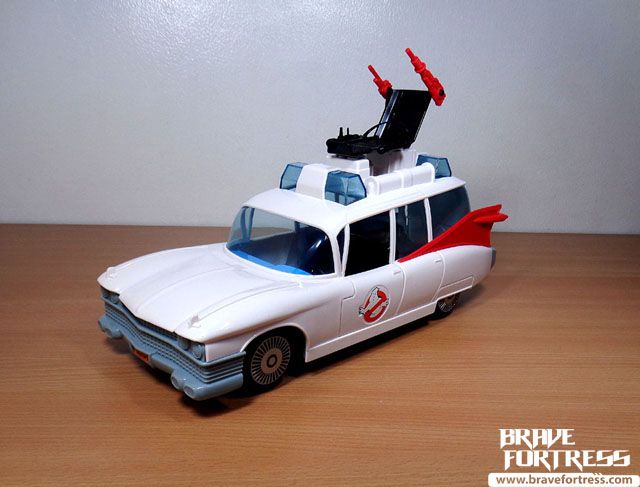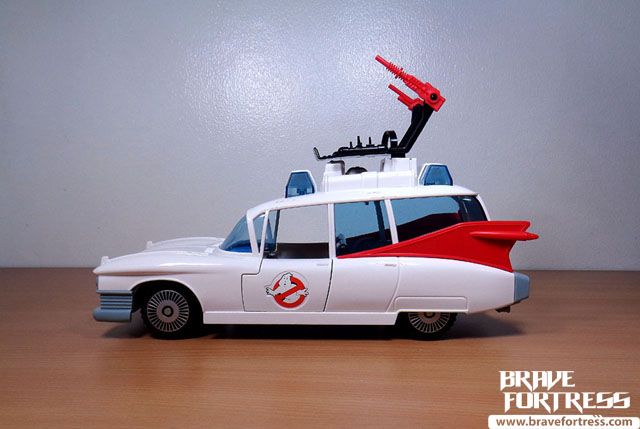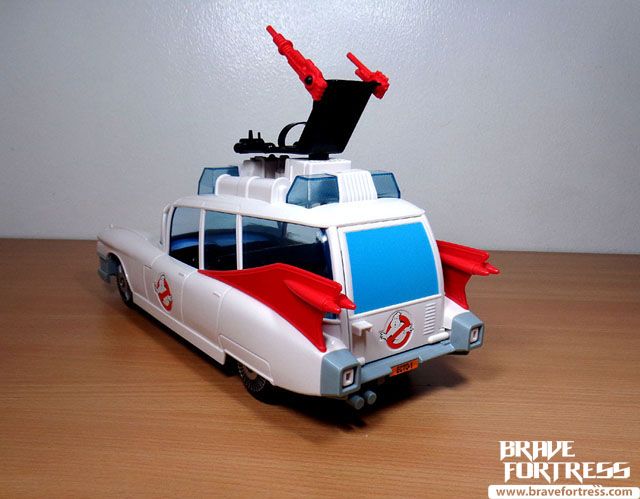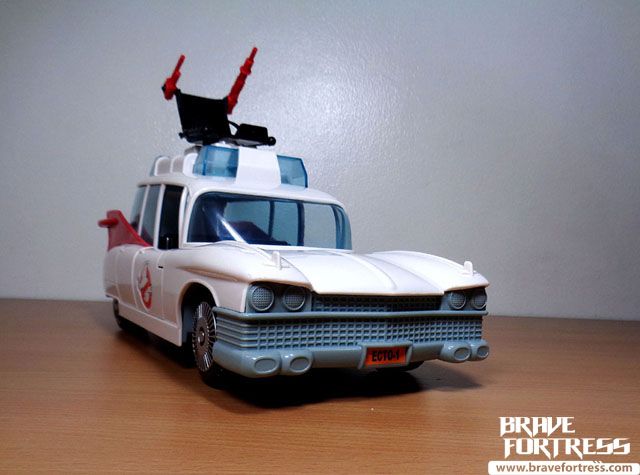 Swivel seat (unfortunately, I can't find my loose vintage GB figures and I didn't feel like opening the MOC reissue ones).

The Swivel Seat can also be mounted inside the rear compartment of the Ecto-1.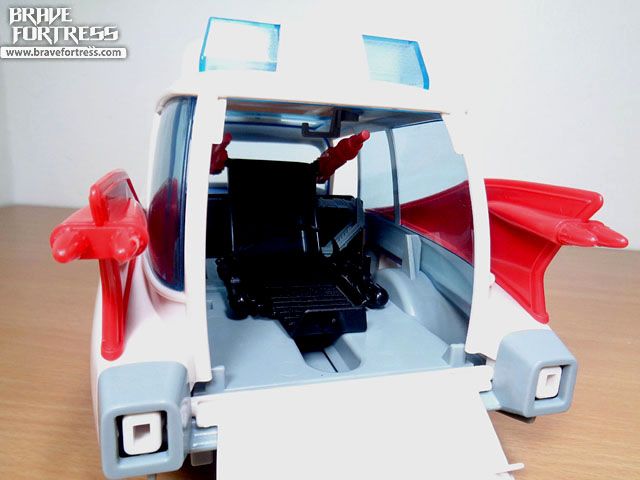 Heh, lucky… my set came with TWO orange ghost figures by mistake.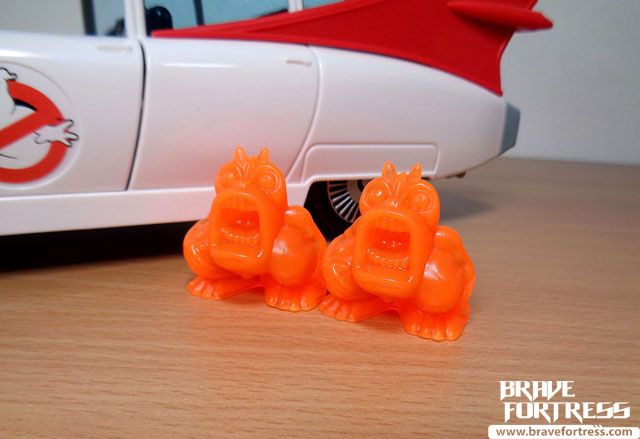 To work the winch gimmick for the capture claw, you have to shift the Ecto's exhaust to the right to allow it to lock and not retract when the car is rolling (NOTE: This also locks the rear wheels in place!)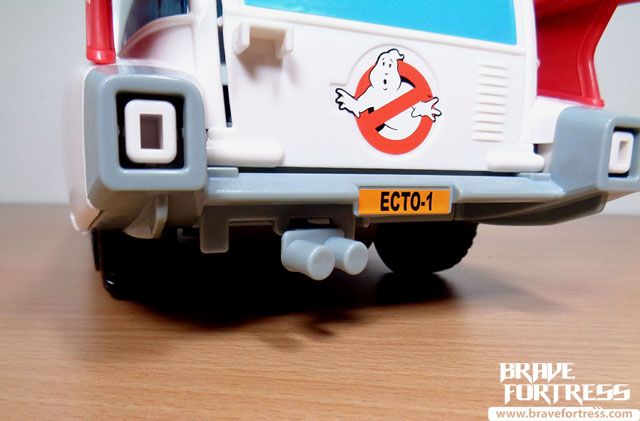 Leaving it on the left by default will allow the wheels to roll freely and retract the claw while the car is rolling.

Capture claw out!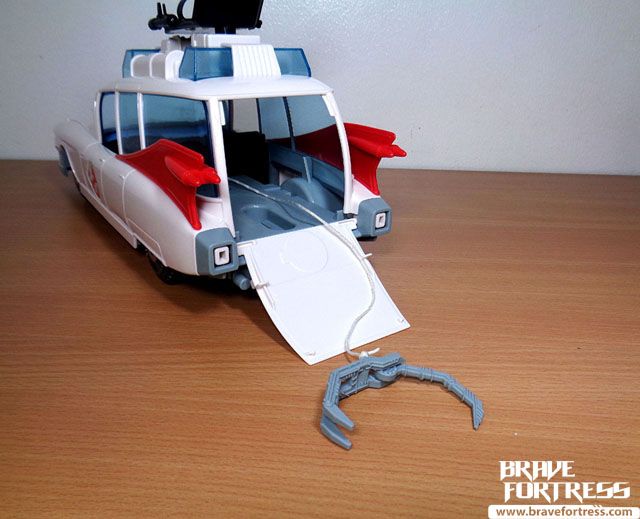 Too bad this gimmick was never seen in the Ghostbusters cartoons.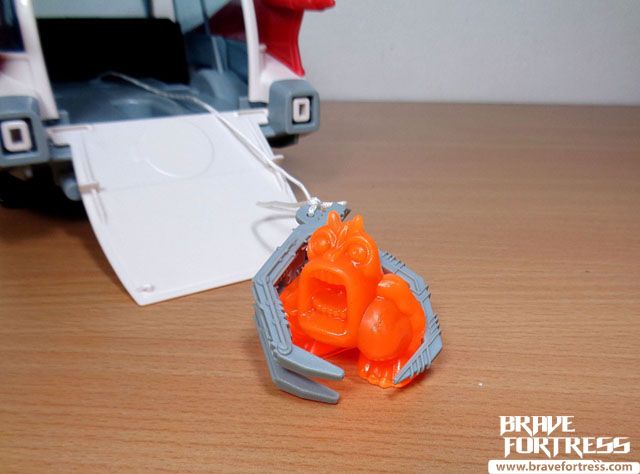 Dashboard details.

Too bad only the front doors can be opened (just like in the vintage). I sort of wish they made improvements to this somehow and allowed all four Ghostbusters to ride inside the vehicle.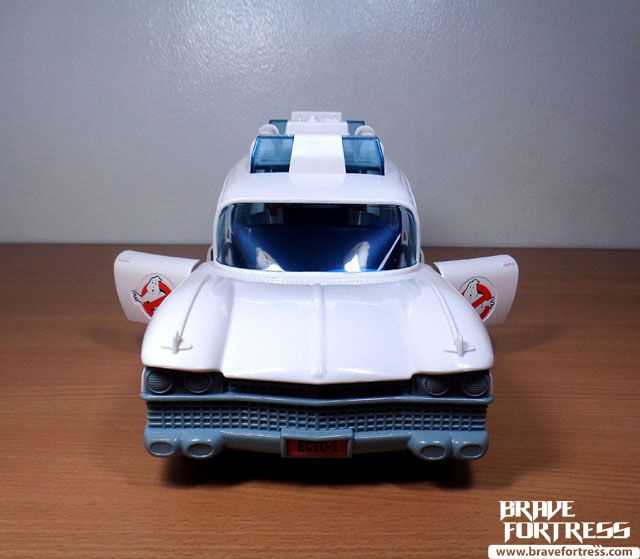 Personally, I prefer the Ecto-1 without the swivel seat. I also kinda wish they had included an alternative rooftop set piece to replace the swivel seat based on the cartoon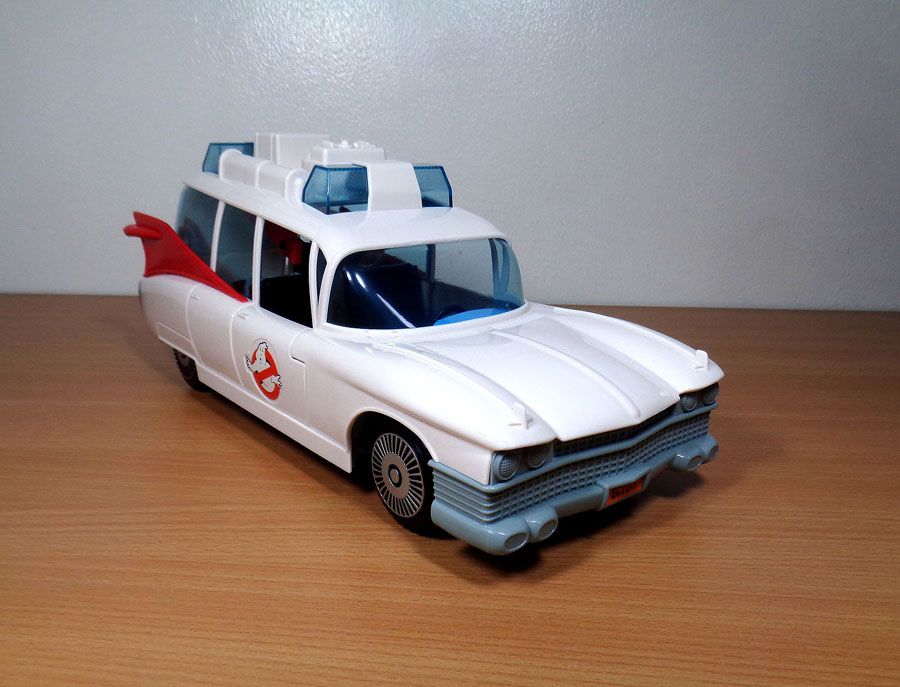 Comparison with the vintage Ecto-1.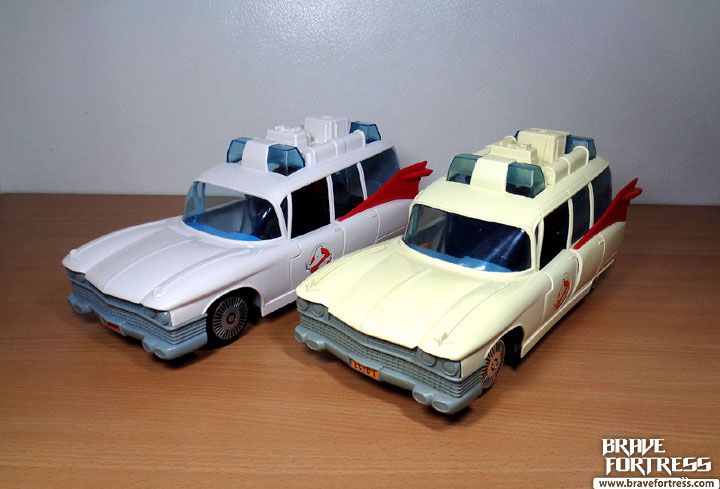 Heh, my Ecto-1 has not aged well. It was whiter when I first got it 4 years back from Ebay (I'm not the original owner). Thank goodness for reissues.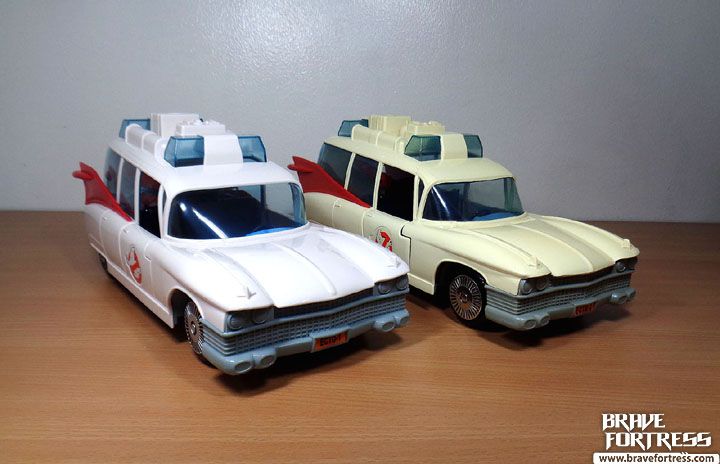 The mags were chromed on the vintage. On the reissue it's just painted silver.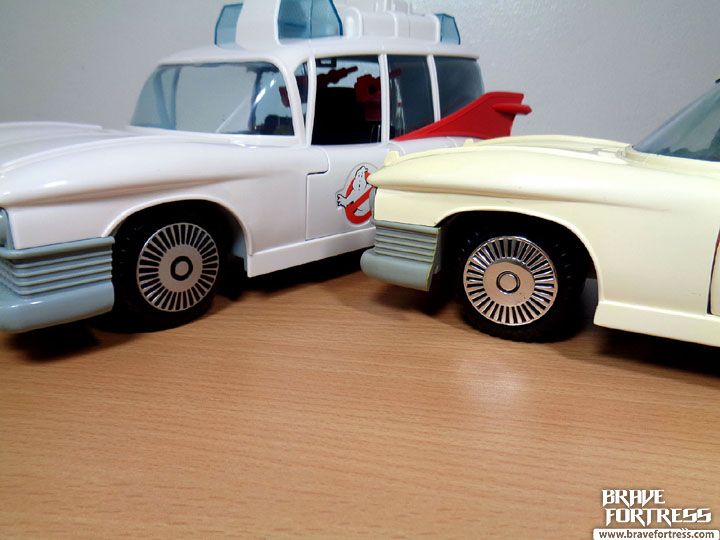 The underside of the vehicle has a cover for the winch mechanism now.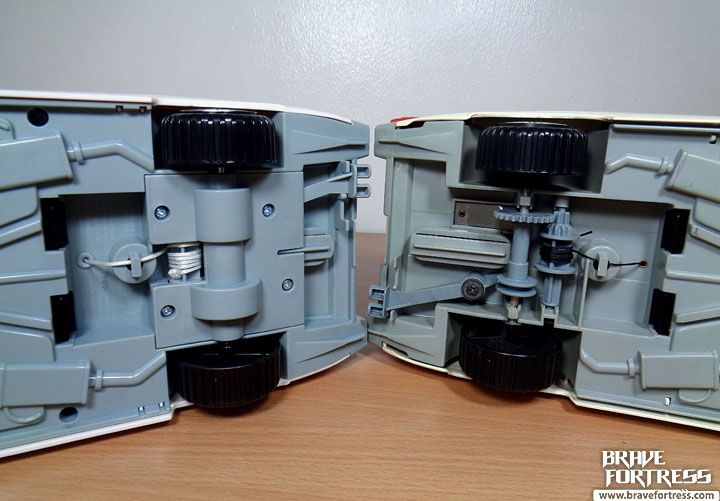 I originally thought Hasbro just recasted the original vehicle. To my surprise, they did not. There's a lot of subtle differences here between the new one and the old one.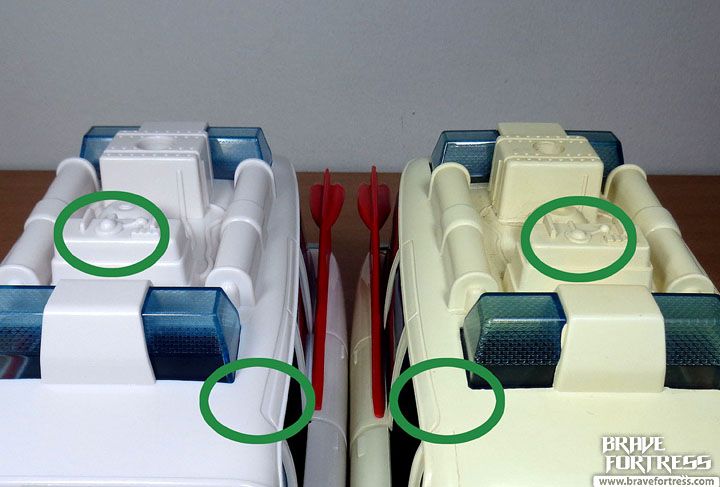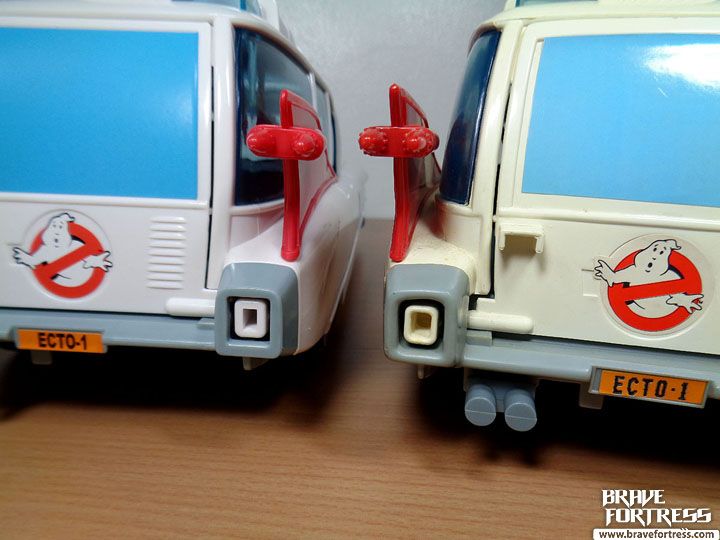 The old capture claw had a metal pin to hold the string in place. It's just tied down on the reissue, also the strings are in different colors.

I don't know if it's just aging, but the old orange ghost is less translucent than the reissue.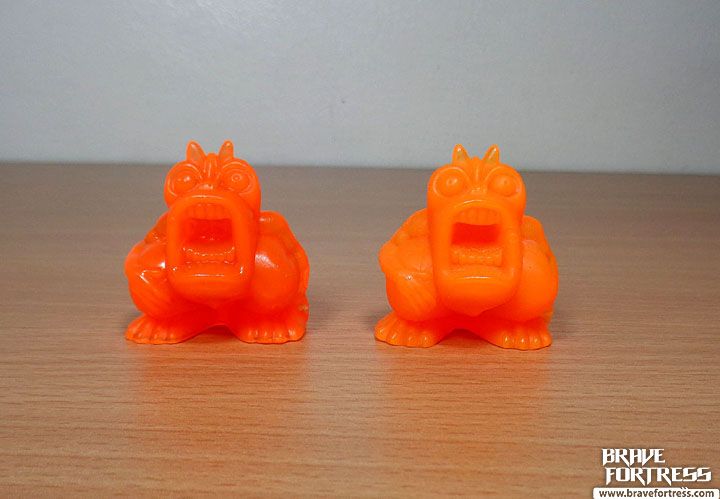 Overall, I think this vehicle is a must have for fans of the original cartoons (they don't make them like that anymore). I'm really glad to get this since I hadn't realized my vintage vehicle had aged so badly until I opened it up again for this review.
I hope Hasbro reissues the Ecto-2 next (it also appeared in the DIC The Real Ghostbusters cartoons).
Gold