Konami Great Impact Model Gurren Lagann
Box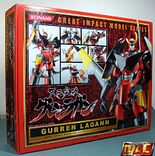 Core Drill (with diecast handle)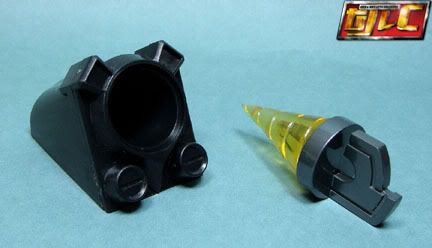 "Spin On!!"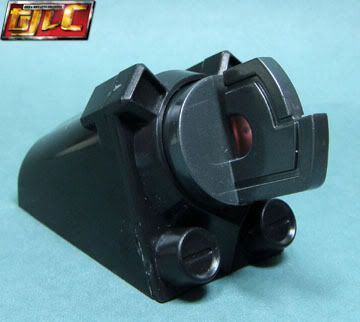 Gurren Lagann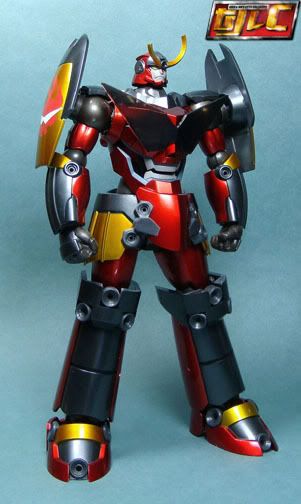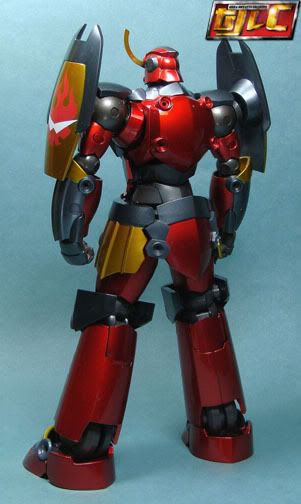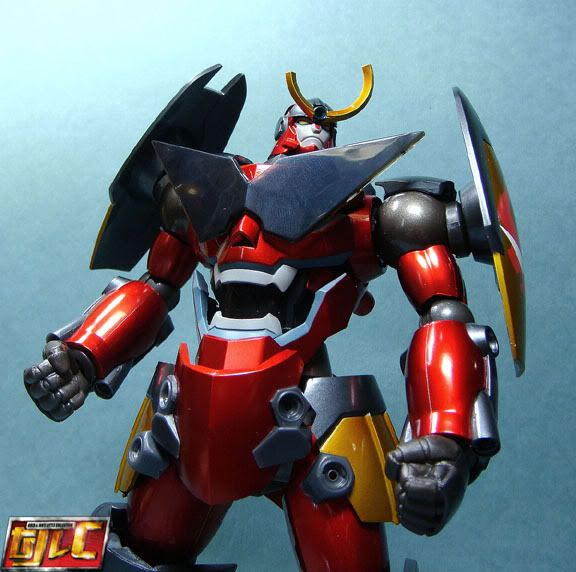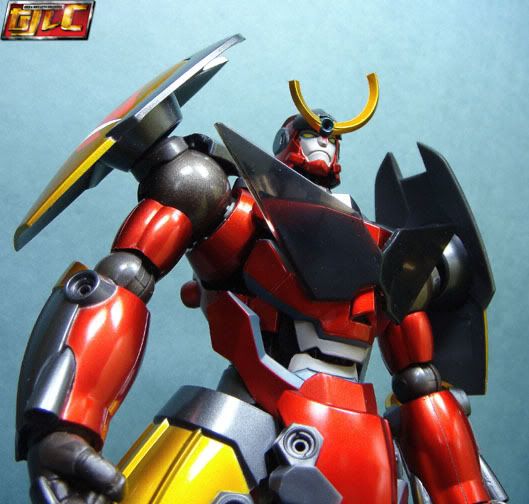 Symbol of the Gurren Brigade.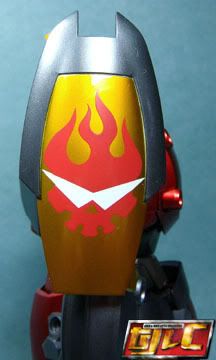 "Tengen Toppa Gurren Lagann" ("Heaven Shattering Gurren Lagann")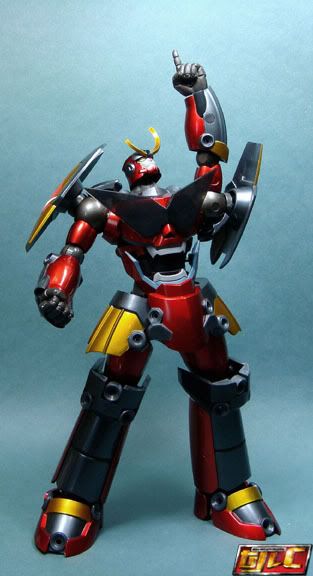 "Who the hell do you think I am?"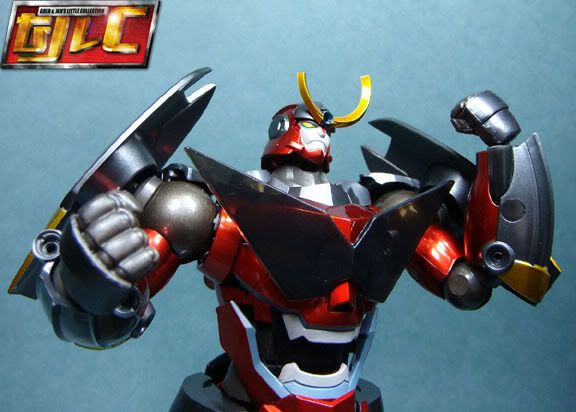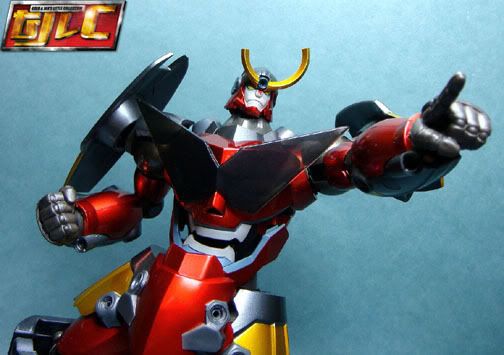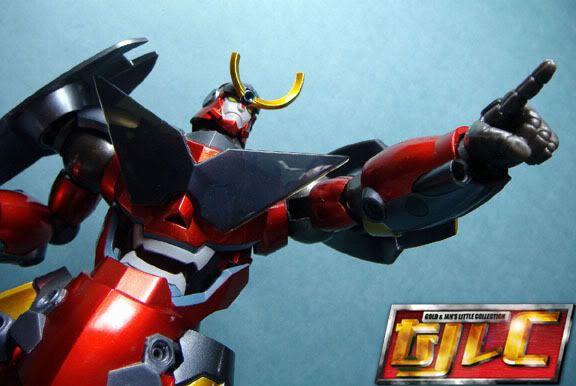 "How Dare You Do That To My Precious Underling Punch!!"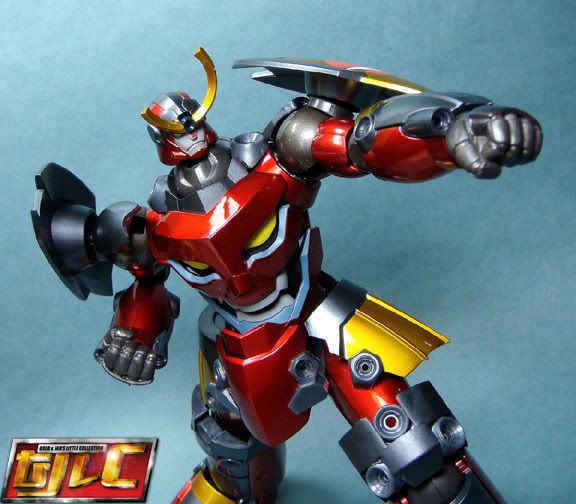 Gurren's Sunglasses.
Different sizes for the one attached to the chest (bottom) than the one used in the actual battle (first two).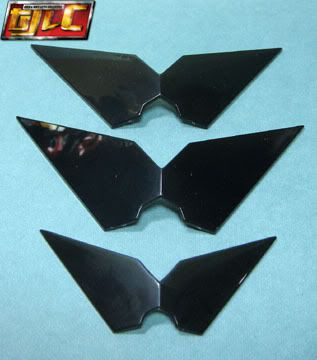 "Gurren Boomerang!"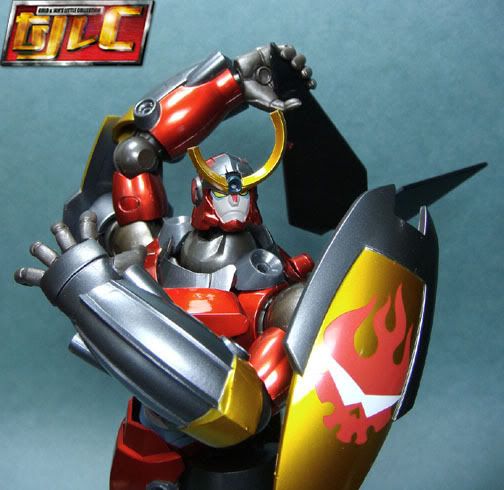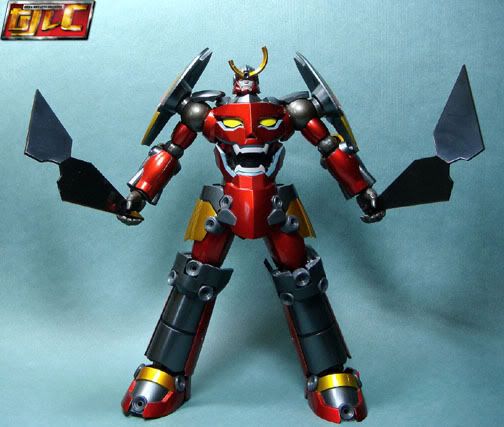 "Manly Ignition: Hinokuruma Kick!" (a nod to Gunbuster's Super Inazuma Kick. )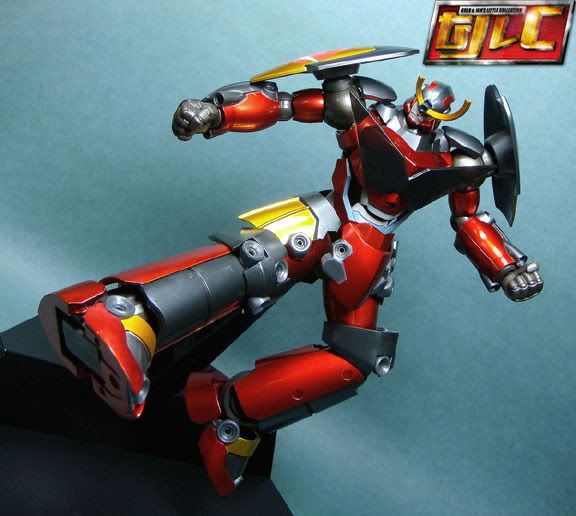 One of the Gurren's various drill attacks (the drills are all plastic).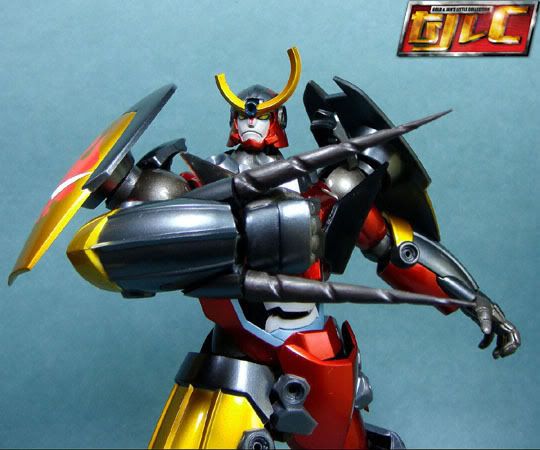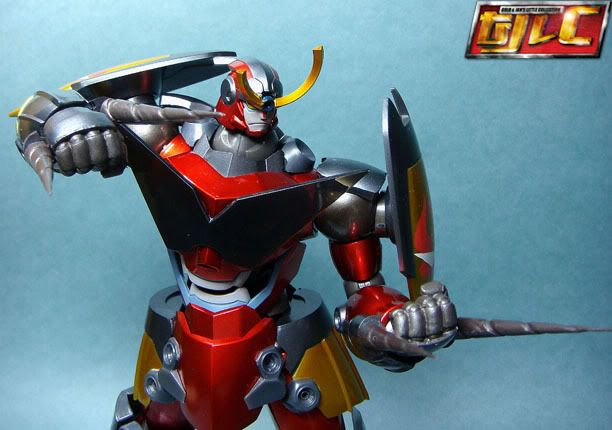 "Circle Spin Driller!!"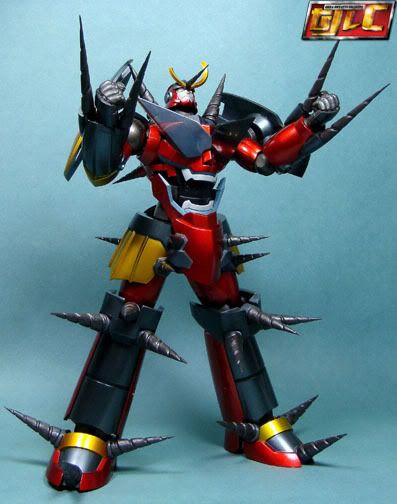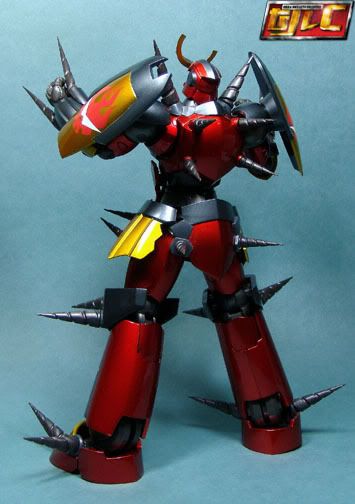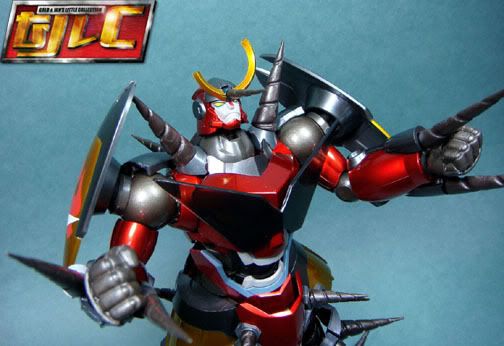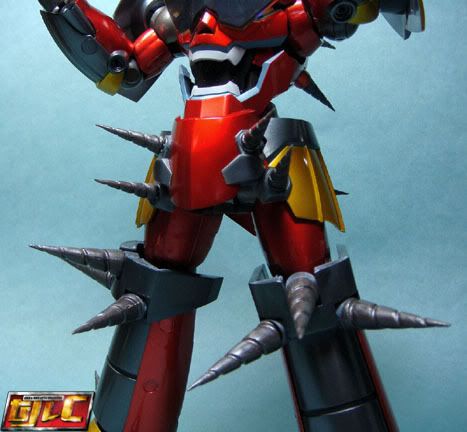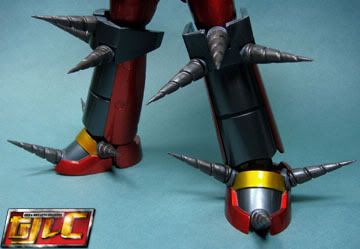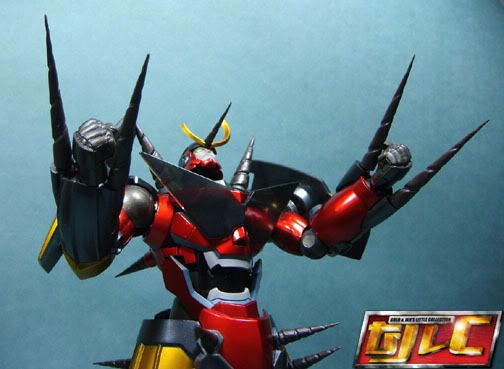 "Giga Drill Breaker!"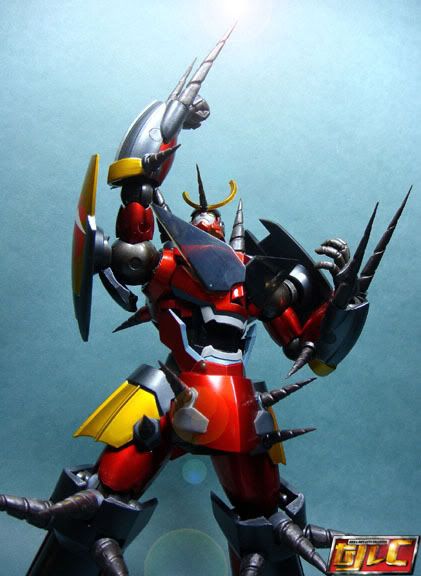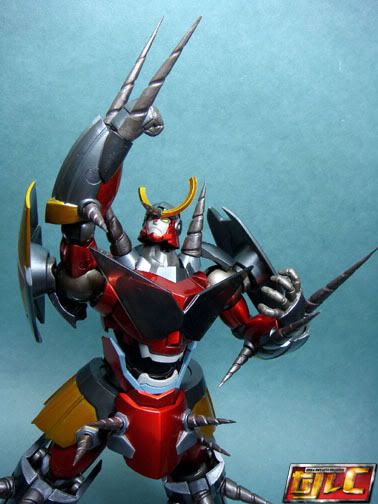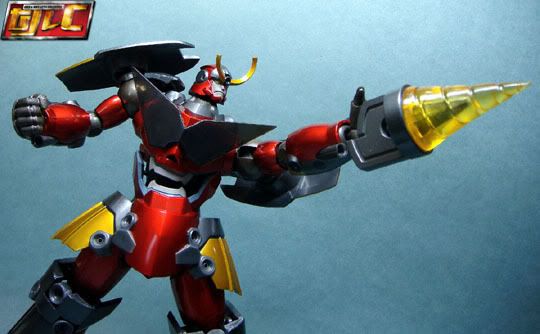 "Gurren Wing!"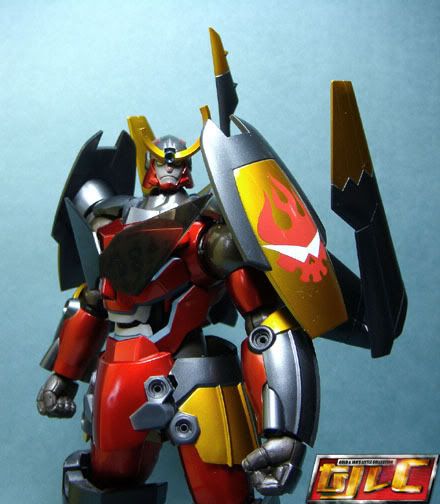 Simon gets wing upgrades for the Gurren Lagann when he manages to merge with a captured flying Gunmen unit.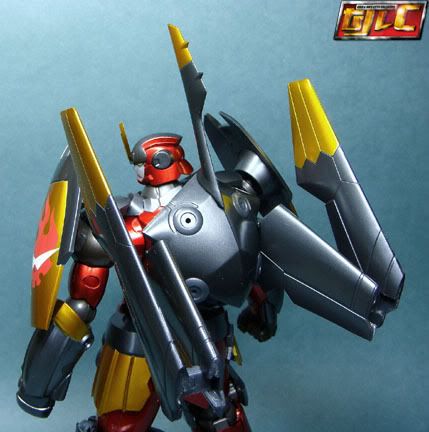 Gurren Wing fully deployed.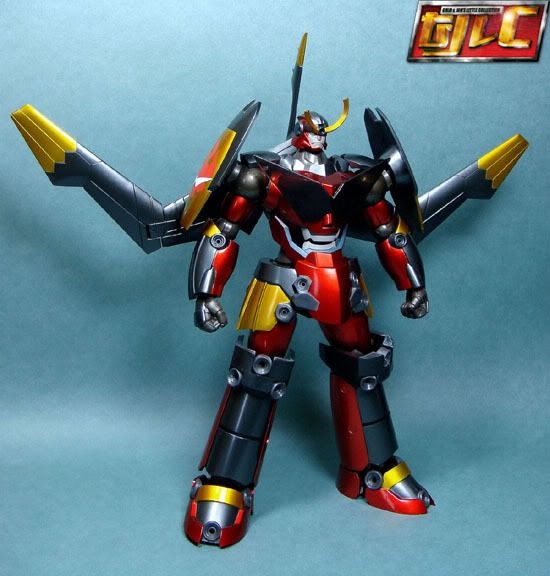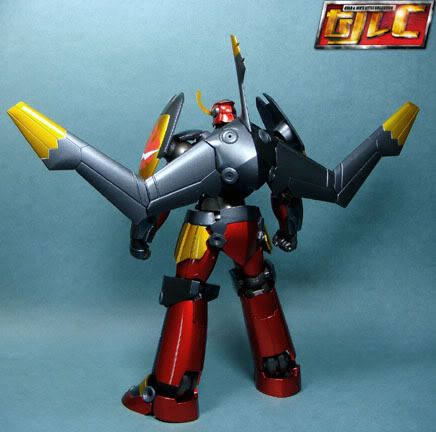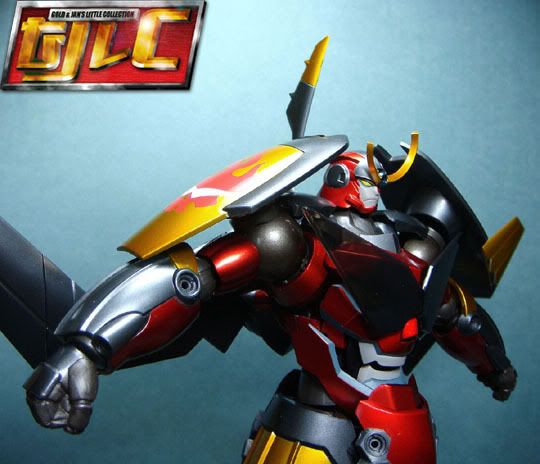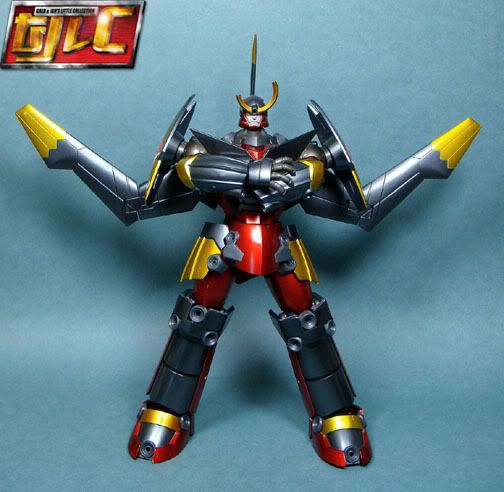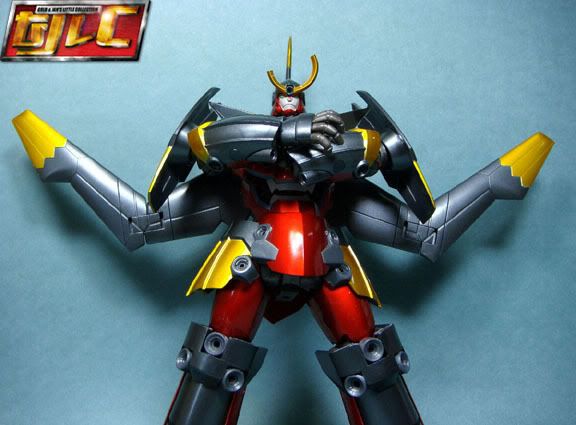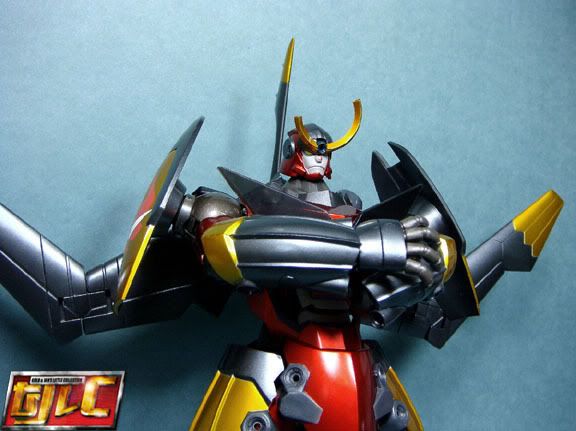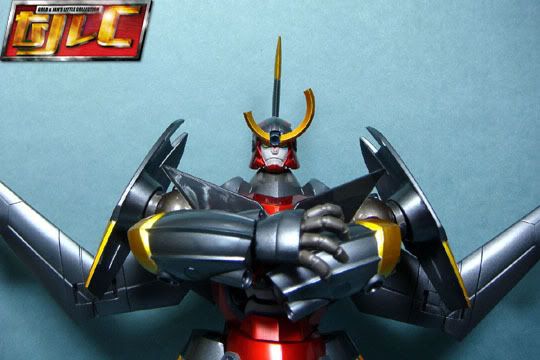 Thanks to a simple yet impressive design in the toy's joints, poses like this one can be done.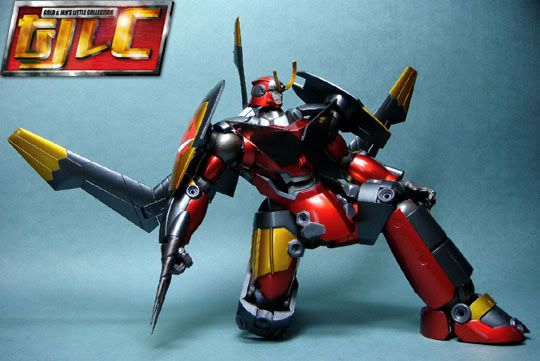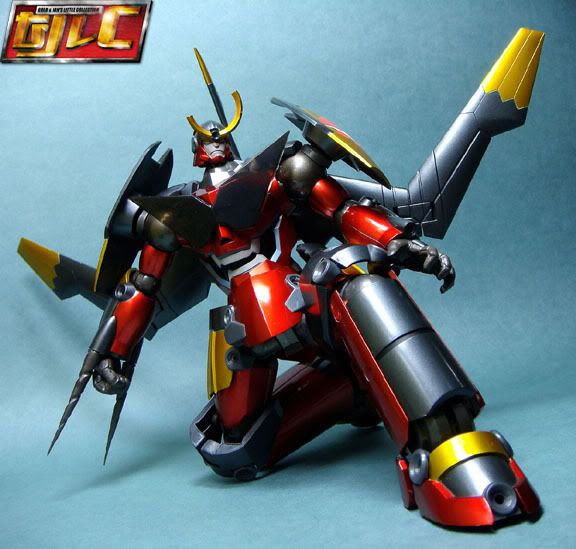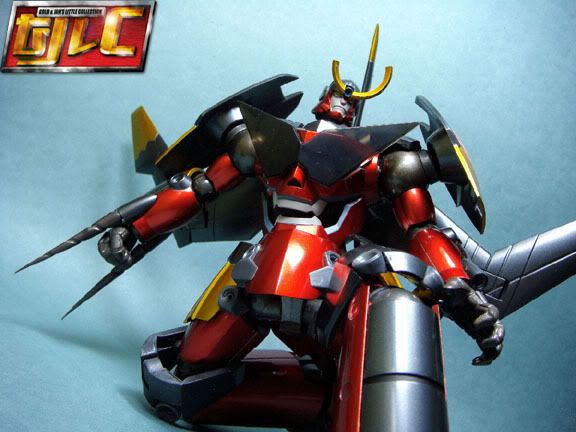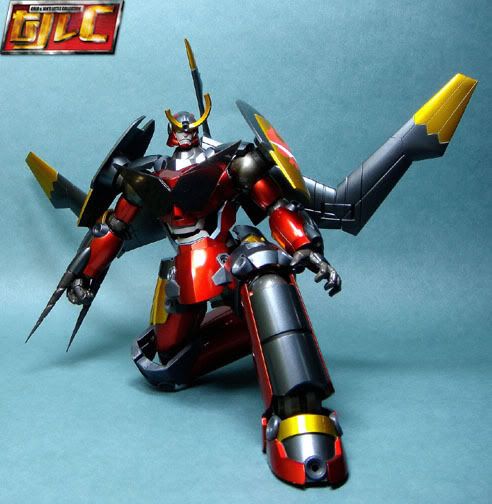 "Giga Drill Maximum!!!"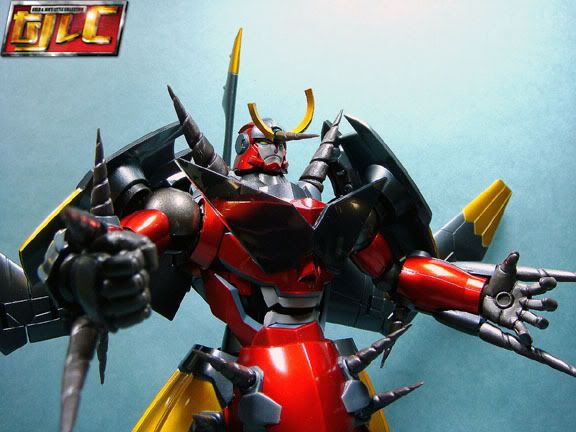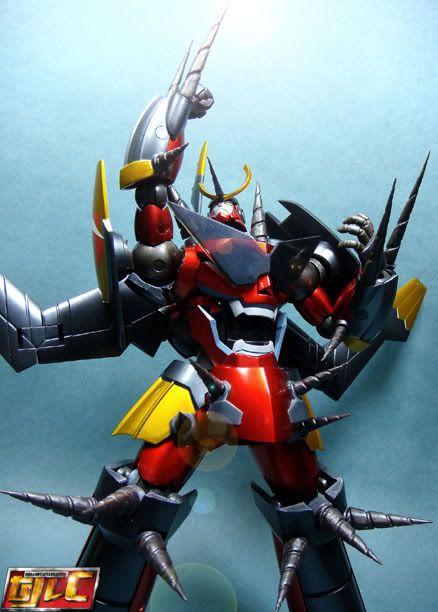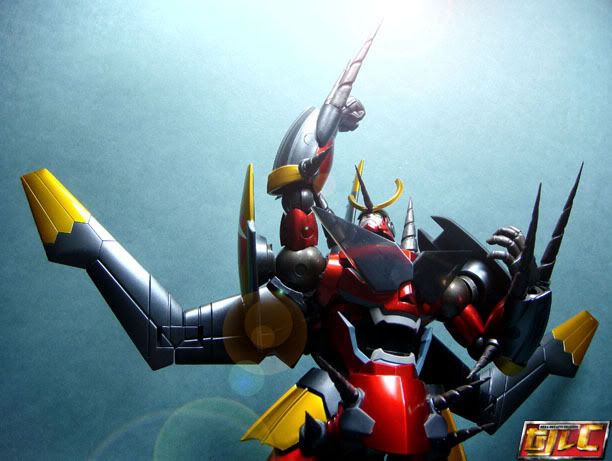 Display stand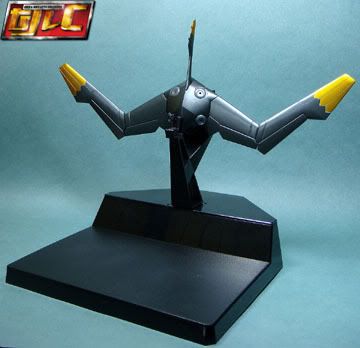 Hidden compartment for storing spare hands.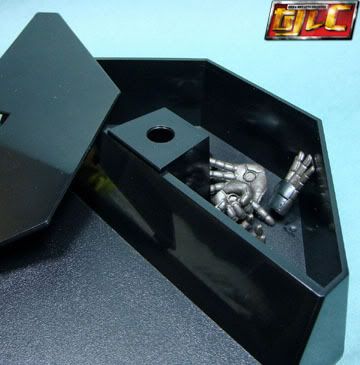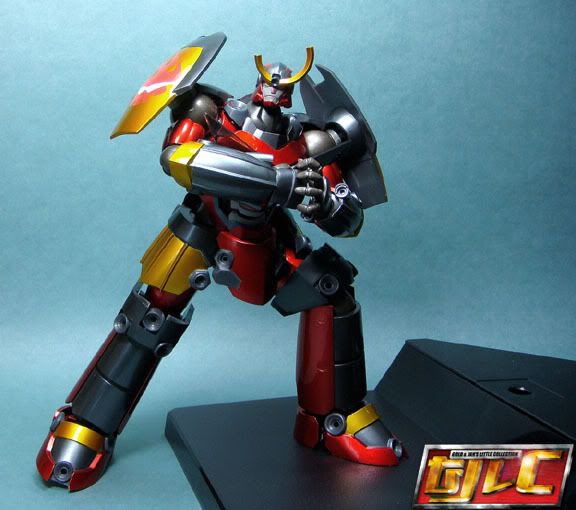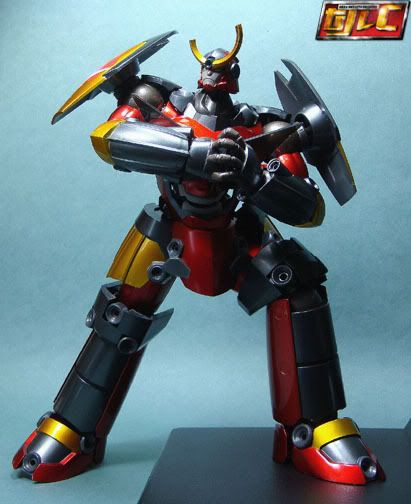 Display stand can also support Gurren Lagann in "flight mode".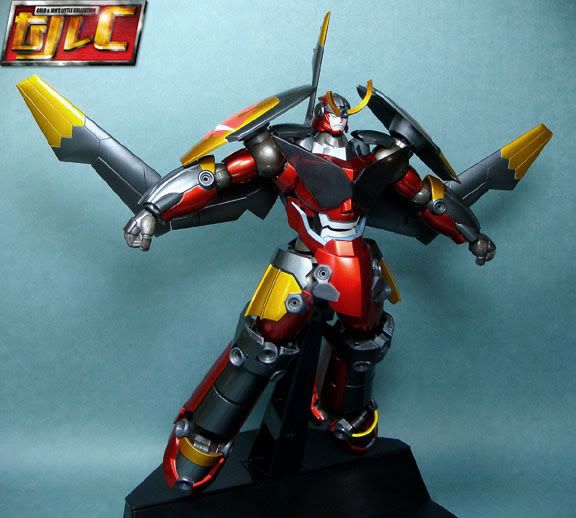 Gurren House
Too bad it doesn't have any straps to make it attachable to the Gurren's back for traveling cross-country.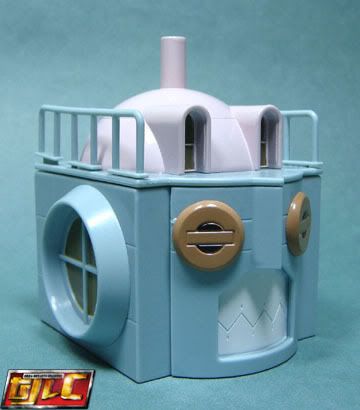 Drills can be stored inside.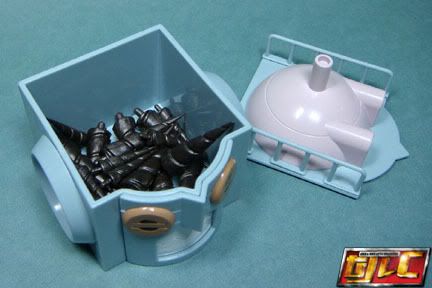 Core drill with the Revoltech Gurren Lagann figure's drill.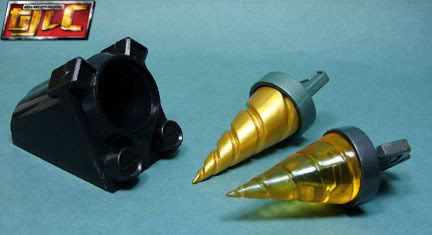 Comparison shots
Konami's Gurren Lagann with Max Factory's Godannar.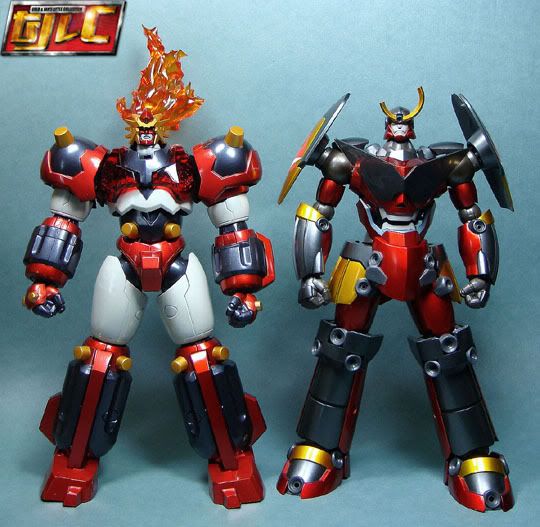 With the Revoltech Gurren Lagann.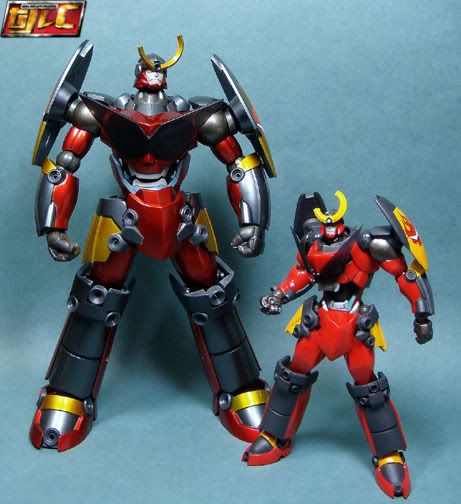 The Good
-Diecast shoulder joints
-Display stand included
-Display stand can hold the Gurren Lagann in flight mode and can store extra fists.
-Good amount of diecast spread about (arms, legs, torso)
-Lots and of drills and they're easily attached. (The forearm drills can be a pain to attach at times though)
-Great poseability!
-Looks really good thanks to the shiny paint finish!
The Bad
-Even though it's got a lot of diecast all over, the metal is a bit thin, the total weight of the toy is around roughly only 400 Grams. That's almost the equivalent of your garden variety diecast Binaltech Transformer.
Given it's height of 8 Inches, I expected more (The Max Factory GGGG is almost 1 Kilo). Even Godannar is heavier by almost 80 Grams. Don't expect "Aoshima levels" of diecast heft when you plan to purchase this toy (I did, which is why I was a bit let down).
-While the toy is painted almost flawlessly, I would've preferred the face not white, but rather flesh-toned, for it to be more Anime accurate.
-One major gripe, mine has traces of dried super glue on it. Anyone else encounter this?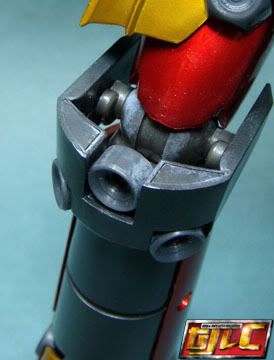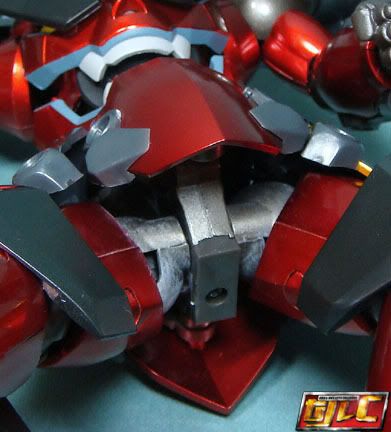 I don't really mind, I just hope it's not a "quick fix" for some accident that happened to my unit at the assembly plant. I tried the joints and they're all okay (for now).
-Skirt plate pops out too easily. Then again I guess it's better than having it break off.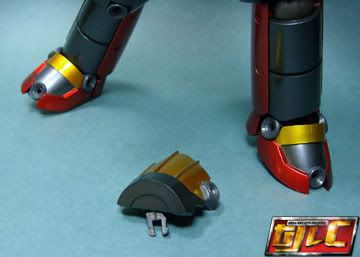 -Lack of ratchet joints. While the current joints are tight, it would've been much cooler if they did put ratchet joints to make it feel more solid.
The Ugly
-What else? The price! I would've felt a lot better with this purchase if it was closer to the original SRP (suggested retail price). Still, I'm lucky to have gotten it at a half-decent price. Prices online have it going for as high as "Fewture Gokin" levels and more. Freaky…
Overall, thanks to the high prices, this toy has become one for the Gurren Lagann diehard fans. Which is a shame since this is such a cool looking toy to have.
The toy itself is done fairly close to the Max factory Gokin releases in terms of paint finish (even from the box and the way the toy is wrapped down to the styrofoam space for the instruction booklet). So if you have any of the Max Factory releases you can more or less expect this one to be on par with those (all speculations point to Konami outsourcing this one to Max Factory, though I haven't read any official statements about it, it's just too much of a coincidence).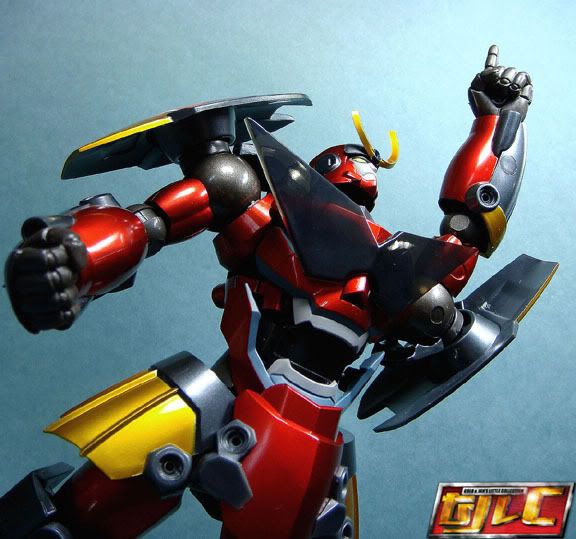 Gold