Soul of Chogokin Gx-33 Leopaldon
It comes with a "Soul of Soft Vinyl" Spiderman figure.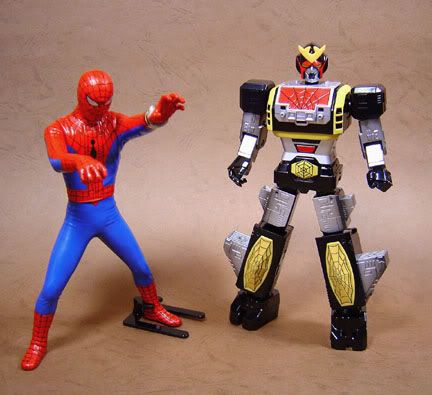 "Soft Vinyl" Spidey is a bit taller than his "Marvel Legends "counterpart. Comes with a diecast "Webshooter" on his arm(at least I think it's diecast, feels cold to the touch).
Has almost no poseablity except for his right arm(the left arm looks bad if you move it out of the default position)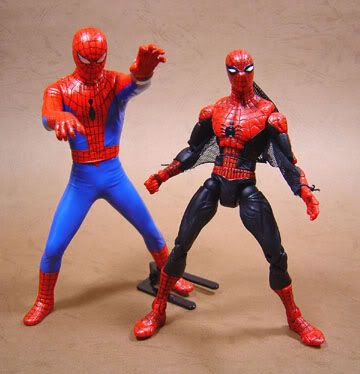 The plastic used for "Soft Vinyl" Spiderman is really soft, it almost feels like bendy plastic. Hopefully, the plastic won't become smelly with age.
Leopaldon itself comes with two sets of arms:
– Diecast shoulders, the "transformation" arms(comes with fist firing gimmick)
– Plastic shoulders, but with more articulation.

As far as weapons go, it's got the "Sword Pick" and "SpiderProtector" shield

.. both of them are plastic by the way.
Leopaldon is roughly the same height as Gx01R Mazinger Z.

The Marveler ship. Doesn't really come with any gimmicks other than transforming into Leopaldon and having a "docking" section for the SpiderMachine car.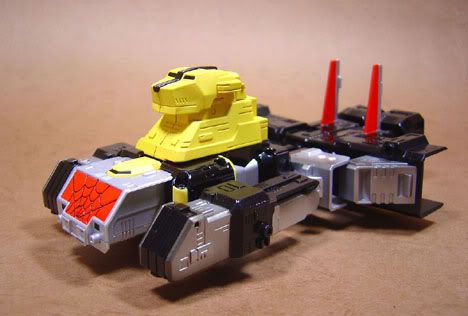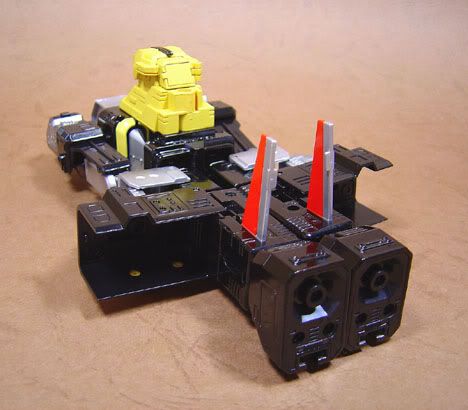 For the Display stand you can pose Leopaldon in either Robot or "Marveler" mode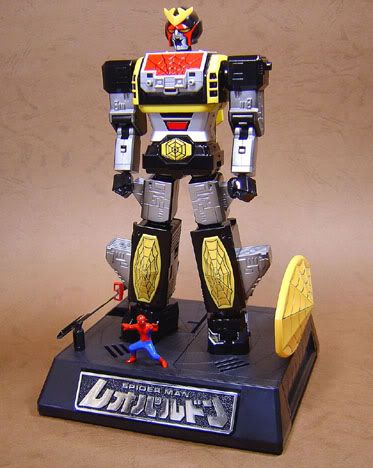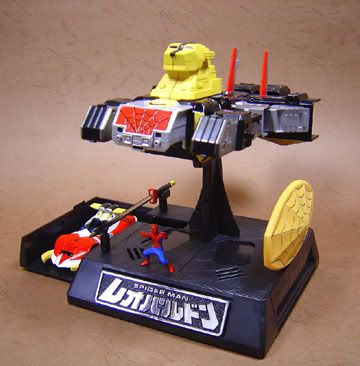 Bandai seems to be taking a different approach to their SOC Display bases. Similar to the Gold Lightan, the Leopaldon base has "hidden compartments" for storing accessories(unlike previous display cases where all the extra fists are exposed out in the open)

The Spidermachine GP-7 car. The big one has diecast, the little one does not. "Mini Spidey" aint diecast either.
Also, the "mini Spiderman" isn't in scale for the big SpiderCar(needs to be a bit smaller)

A few miscellaneous thoughts
– Leopaldon is heavy! It clocks in at 450 Grams(Diecast shoulders) and 400 Grams with the plastic shoulders. It's heavier than the Gx01R Mazinger(only 320 Grams).
– Plenty of diecast parts in the body, legs(except for the skirt/ Marveler's "wing" plates) The toy feels really heavfty when you hold it in your palm, kinda like holding a big lead pipe.
– be careful when using the fist attachment plugs for the "spring loaded fists/Rocket Fist" gimmick.
I had a hard time pulling out the fist plugs from the fist(no problem with the "plastic shoulders" arms since they have their fist plugs fixed in place)
– Marveler is solid, unlike the old Popy toy where the wings keep collapsing when it "climbs" the skies, the SOC version's wings can be locked in position. The "Leopard's head" still runs off center when Leopaldon's head isn't inside though(just like the Popy )
– The "Arc Turn" forehead projectile has a bit of a hair-trigger, there's no way you can transform the toy without shooting it off(can pretty much gently nail you in the eye if you're not careful)
Overall, a very decent surprise, I really liked the diecast content and the poseablity of the toy, it definitely beats Battle Fever, Gold Lightan and Xabungle IMHO
Gold