Soul of Chogokin Gx-59 Mirai Robo Daltanious
Box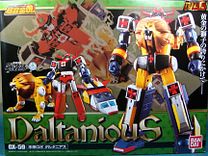 Interestingly, the box has English text on it describing the toy and its character (an SOC first?). Too bad it's obscured due to the toy images. From what I could make out the text goes :
"Daltanious is a giant robot 56 m high weighing 678 tons that is formed by the three machines Atlaus, Gunper and Beralios. It is made of special super alloy and power by Sigma Energy. Later it will be driven by hyperspace energy that combines antigravity energy, antimatter energy B, and hyper electromagnetic energy a. Daltanious can convert and store the energy from enemy attacks, explosions and other sources. It is said to be able to store and amount of energy equivalent to one star. The joining goal sign is "Cross In" A cross pattern that garnishes each part of the machine floats up during the joining as the machines join into a cross shape as the name suggests."
….. Ok… that was an ordeal. I had to repeatedly read each side of the box along with the manual cover to get the complete message. Thanks a lot Bandai! I wish they just added an extra page for the uninterrupted text.
Story
Set in the Year 1995 (series aired in 1979), Earth has been invaded by the aliens known as the Akrons. Our main hero, Kento Tate, encounters the Helian scientist Doctor Earl, a refugee from another planet that was also attacked by the Akrons. Kento is forced to pilot the Robot Atlaus which combines with the cyborg lion Beralios and the Gunper (piloted by his friend Hiiragi Danji) to form Daltanious.
Later on in the series, it's revealed that Kento is actually the son of the king of Helios, Harin (aka Hayato Tate), who was exiled to Earth after being believed to be a clone of the king of Helios, Emperor Kroppen.
Helian scientists cloned their kings to originally serve as "organ donors" should there ever be an accident and spare organs were needed to save the life of royalty. But due to corrupt officials, the true king, Harin, was swapped out and secretly replaced by Kroppen, a clone of the king, who would serve as a puppet for the corrupt officials (taking a page from Alexander Dumas' "Man in the Iron Mask". Daltanious' name also supposedly originates from the Three Musketeers' D'artagnan )
Close to the end of the series, Kroppen finally accepts the reality that he is the clone and gives his life to save the true king, Harin, who suffered a mortal wound while under attack from the Akron. Daltanious faces off against Emperor Dolmen (of Akron?) in the final battle, who is also revealed to be a clone himself of the true Emperor. This final twist in the story didn't really have much impact as Dolmen is only revealed in the final episodes of the show.
Dal Fighter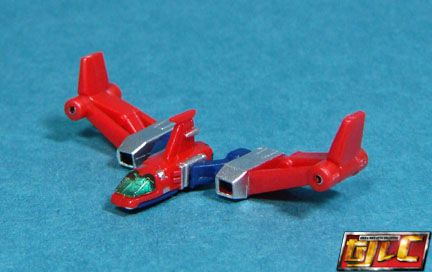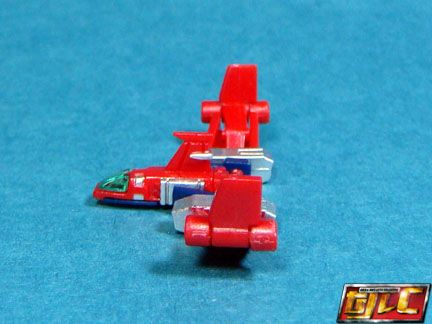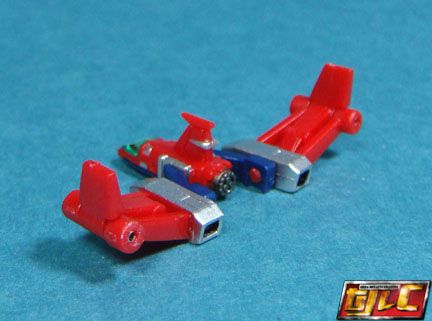 Converting Dal Fighter to docking mode.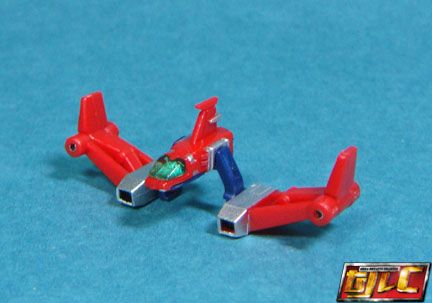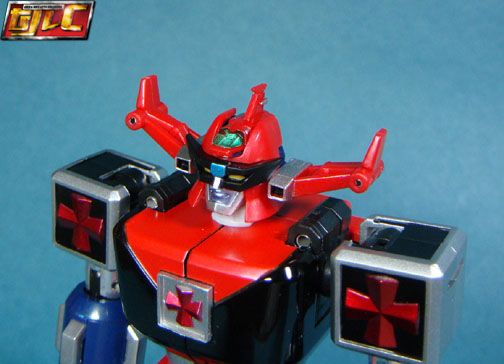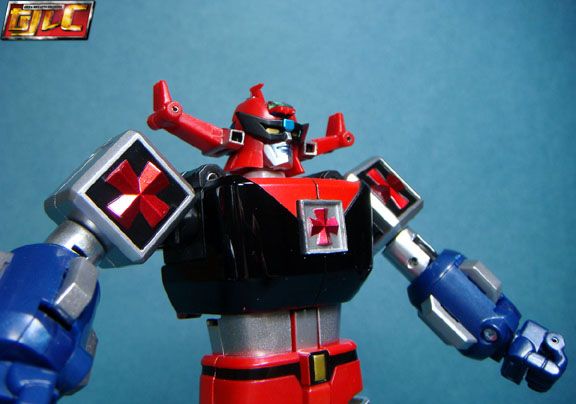 Mirai Man Altaus
Ht. 38M
Wt.280t
Actual toy weight – 233 Grams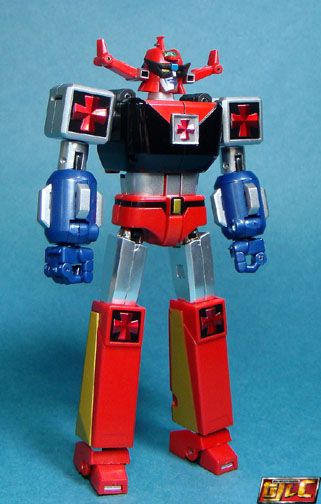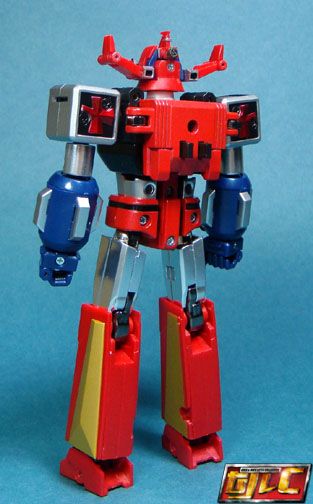 Atlaus stands about 6.25 inches tall. About the size of Gx-45 Shin Mazinger Z.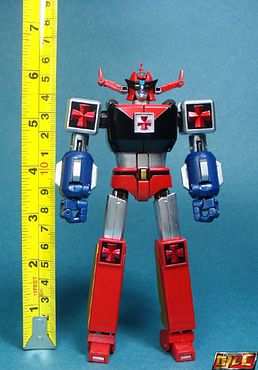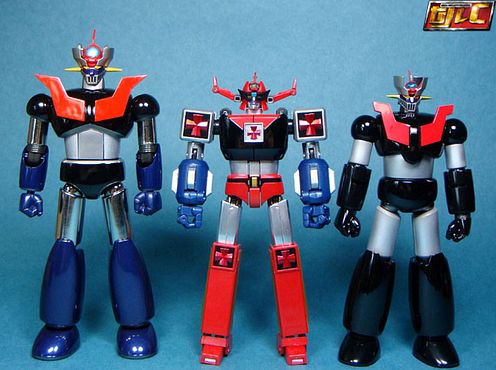 Atlaus' weapons
Hand Slicer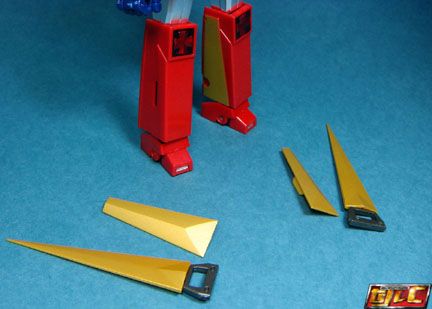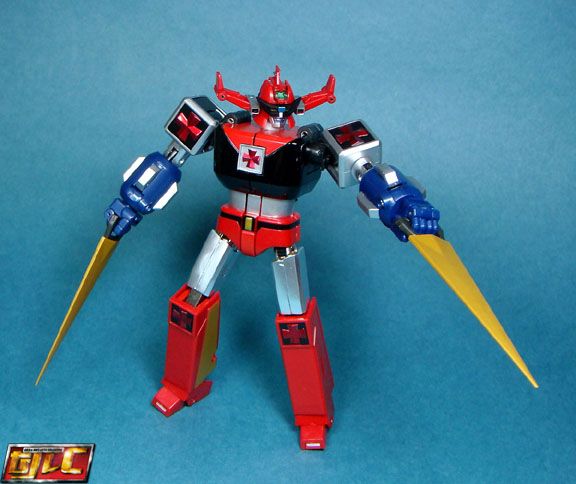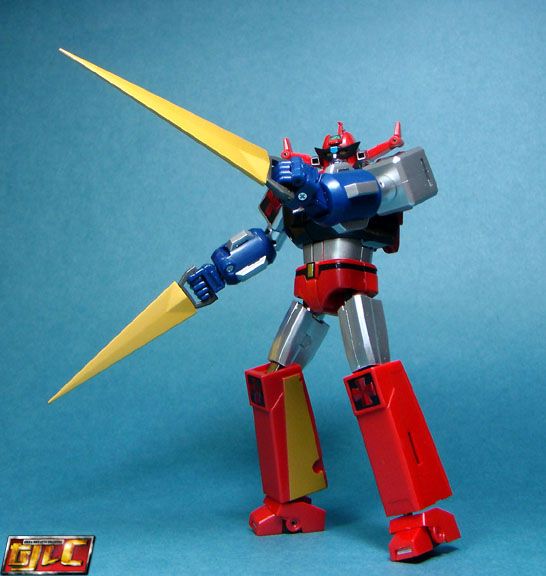 Gatling Flasher

Boomerang Cutter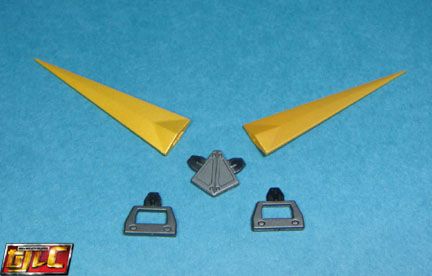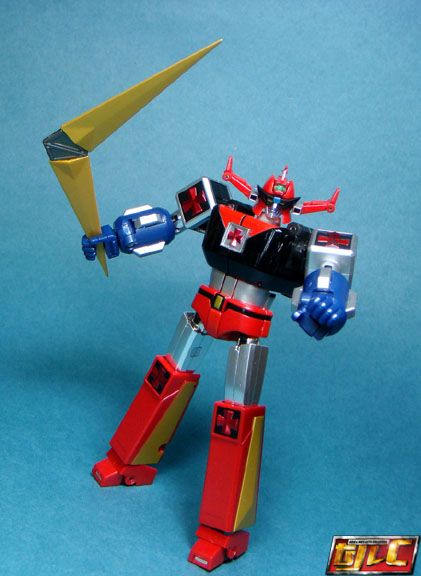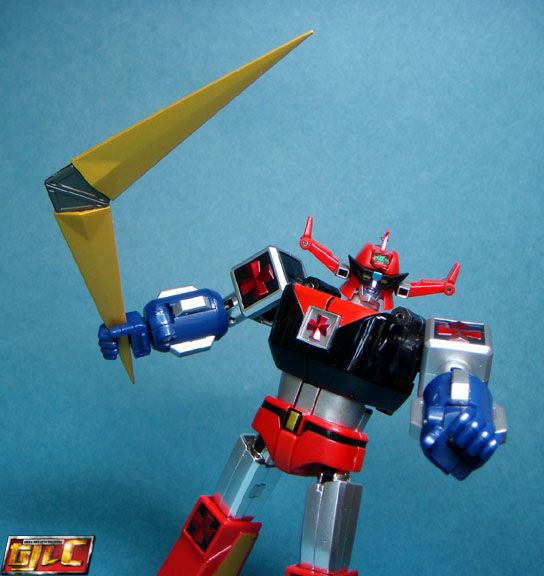 Shredder Punch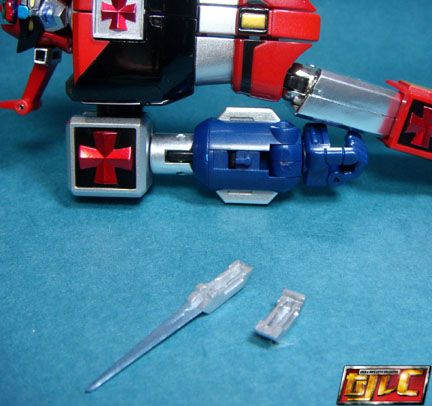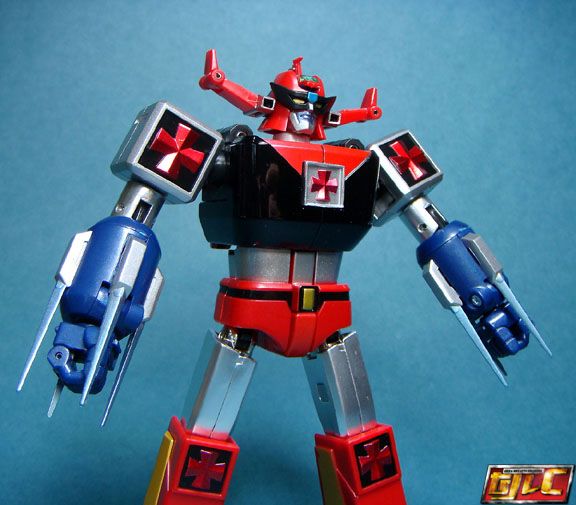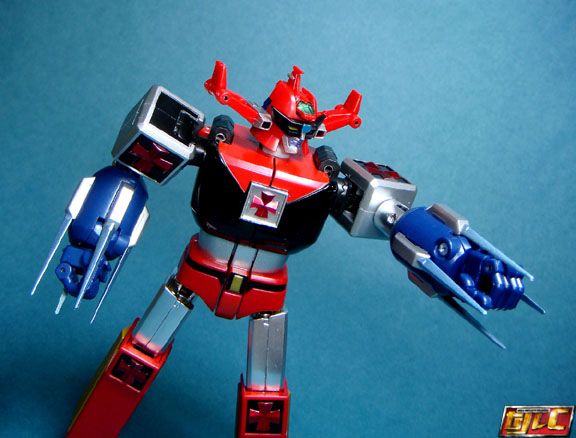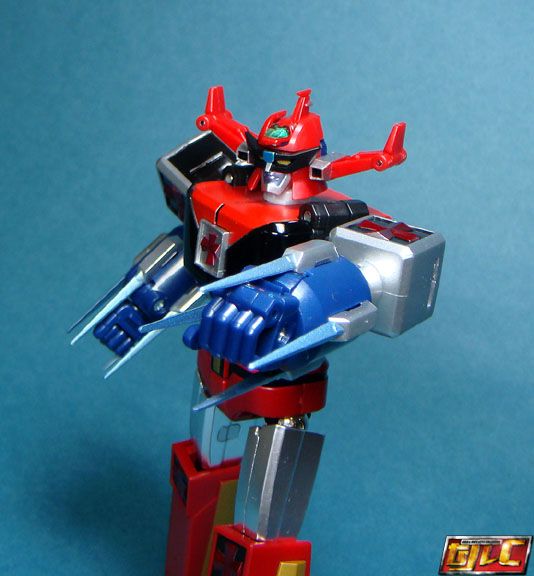 Mirai Lion – the Cyborg Lion Beralios
Ht. 29M
Wt. 195t
Actual toy weight – 264 Grams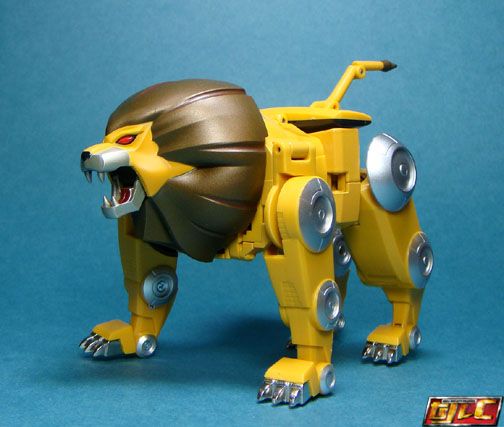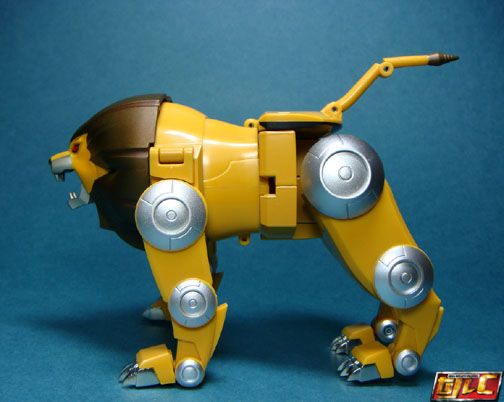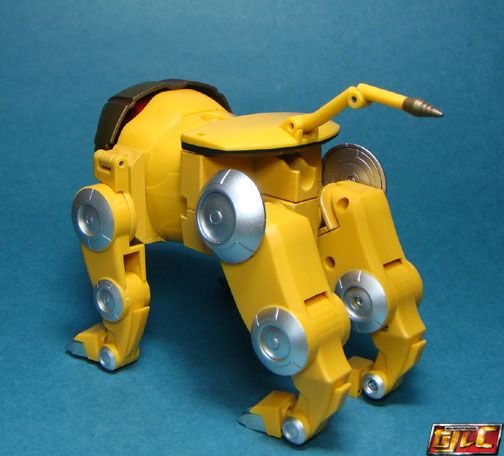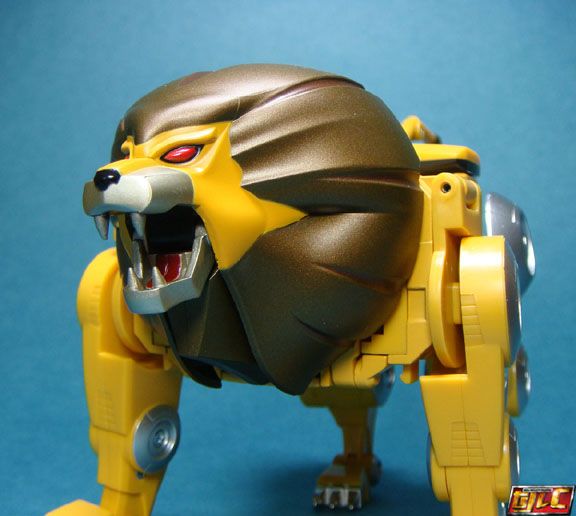 Weapons – Chuuseishi Missile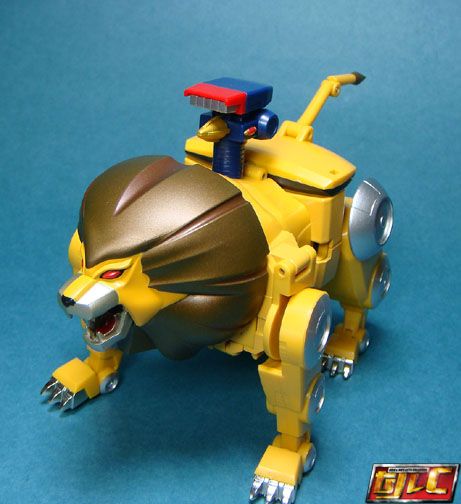 Mirai Machine Gunper
Length 40M
Wt. 155 t
Actual toy weight – 340 Grams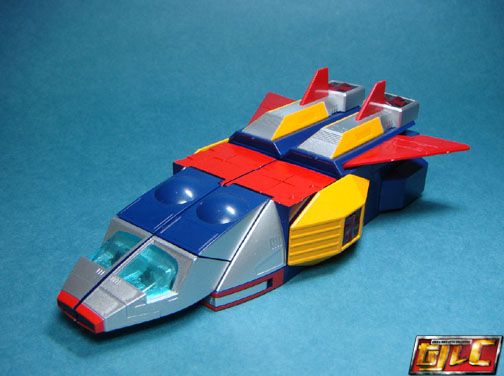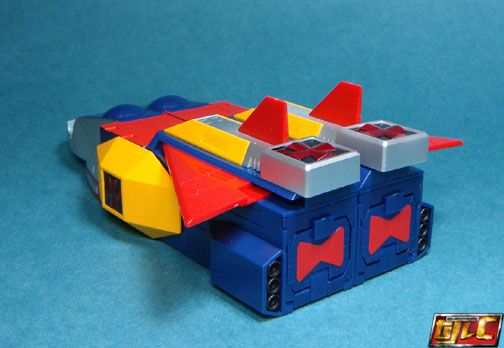 Power Arm (at first I was skeptical about this, turns out it does appear in the Anime, used to pluck the non-flying Atlaus out of danger, it appears in the clips I used)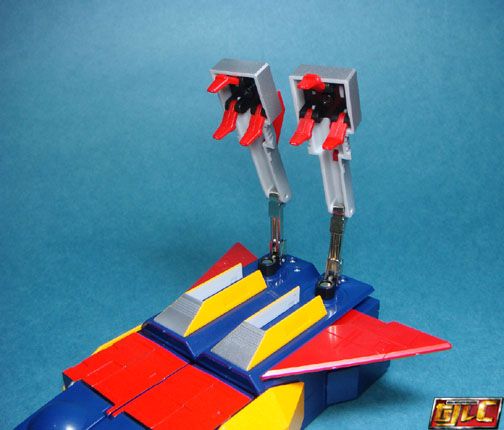 Gunper Cutter (the chrome blades need to be manually attached)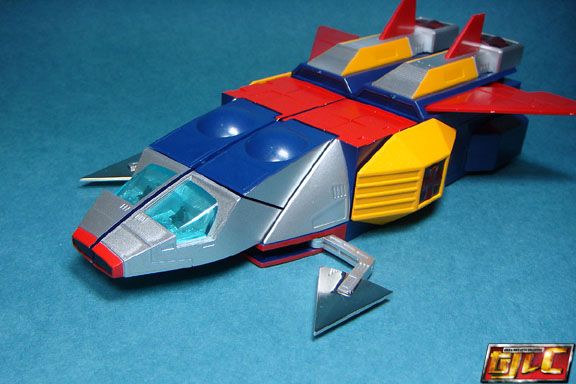 Handle bars for Atlaus (Atlaus can't fly). Need to be manually repositioned. Note this is plastic on plastic contact. So there is a chance something might break after repeated repositioning of the handle bars.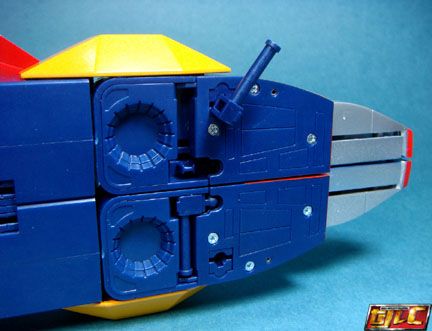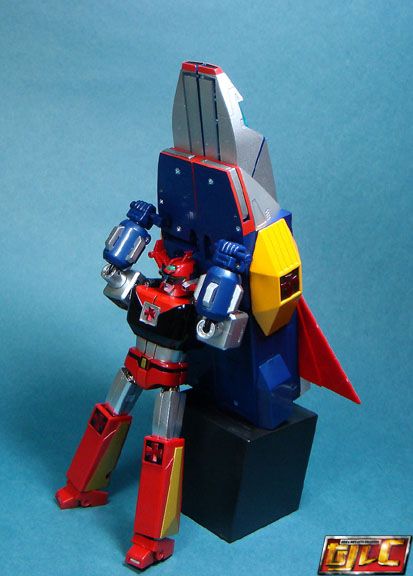 Other Gunper weapons – Resha Missile, Pulse Yuudou Missile, Double Driller
Daltanious actually forms up about 5 episodes late into the series. Kento is mortally wounded in the Atlaus and is magically healed. This realization leads Doctor Earl to Kento's true lineage and starts to call the young boy "Kento-Sama" (Master Kento) as shown in the video clip.
CROSS IN!

DALTANIOUS!!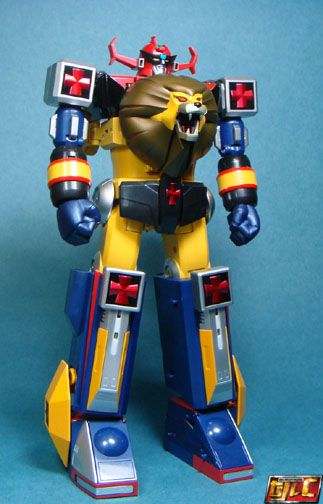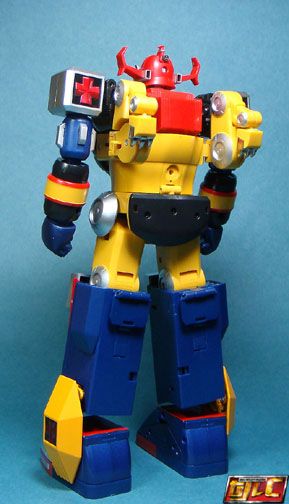 Parts swapping is a must, as the default parts are just so wrong in terms of proportion.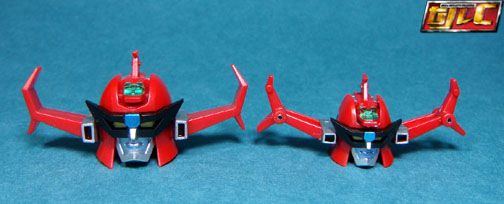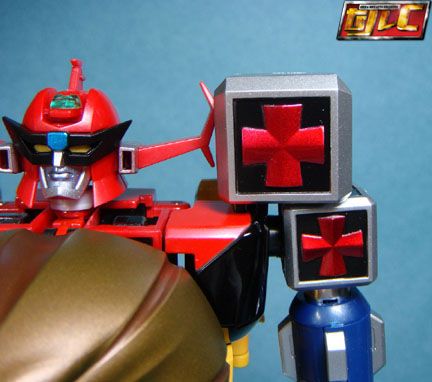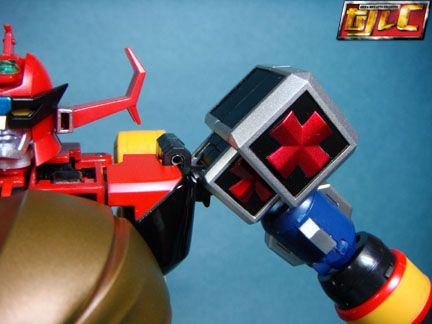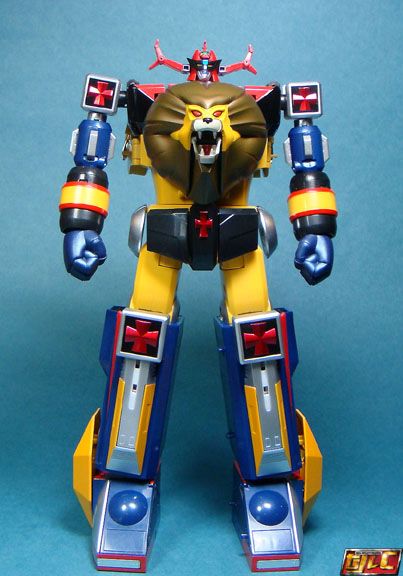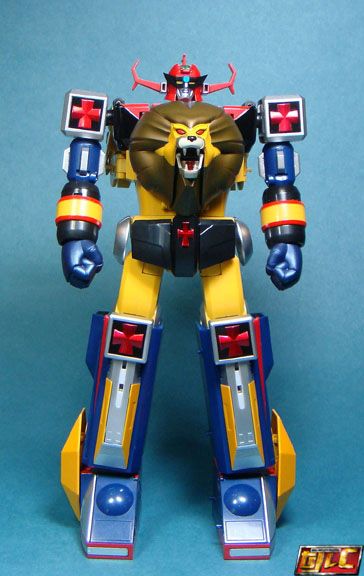 Daltanious' Weapons
Rai Thunder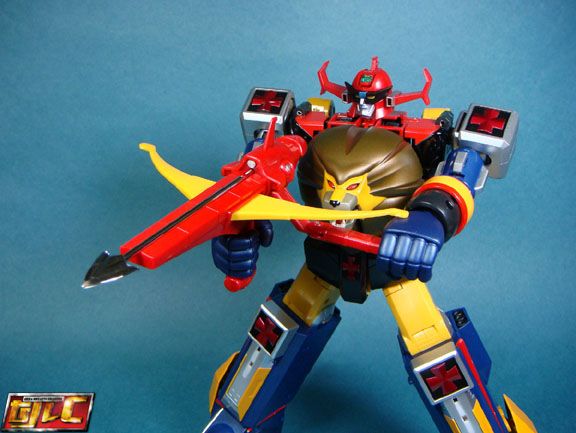 Gyro Spinner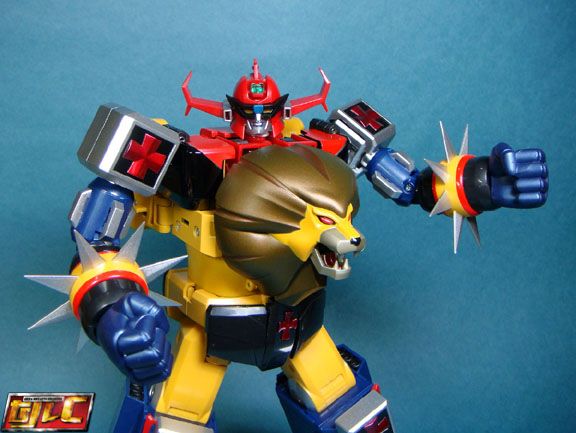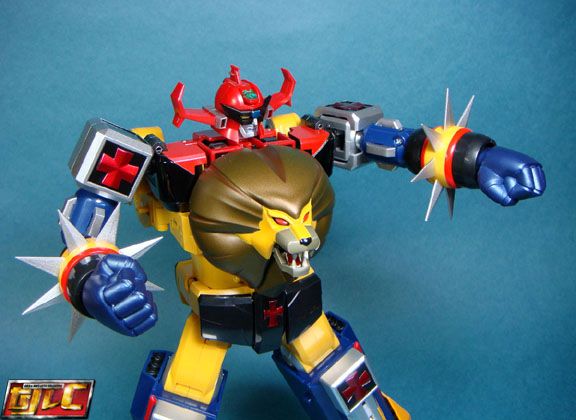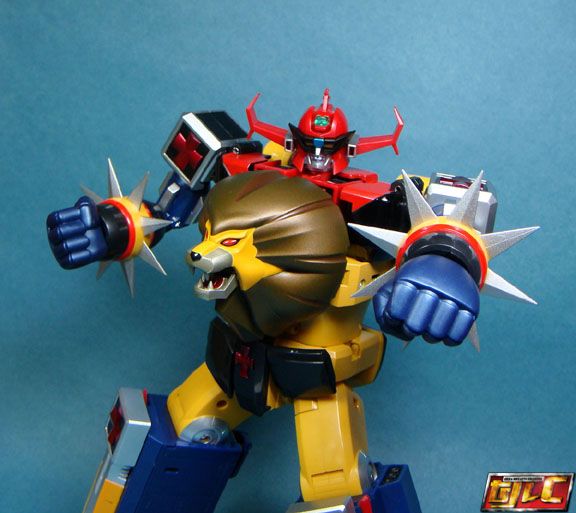 Tran Shield and Tran Saber (both spawn from Daltanious' hip plates).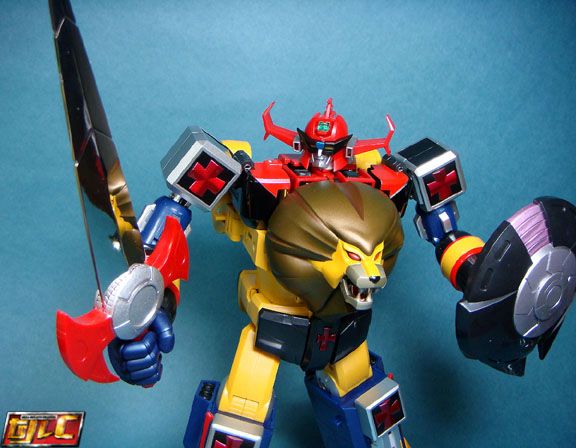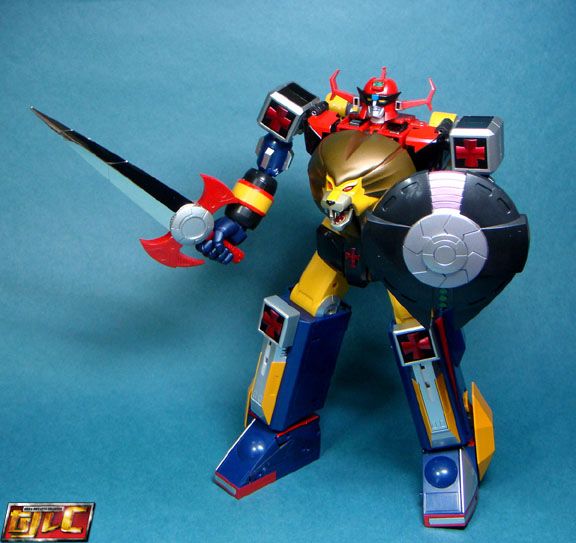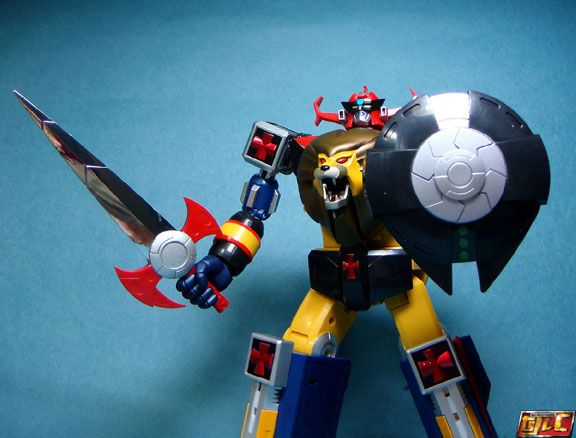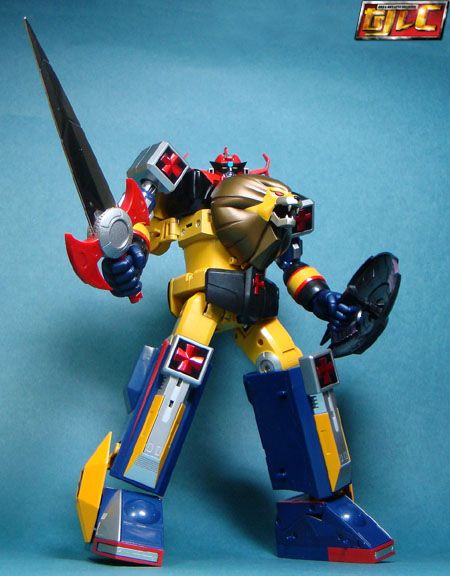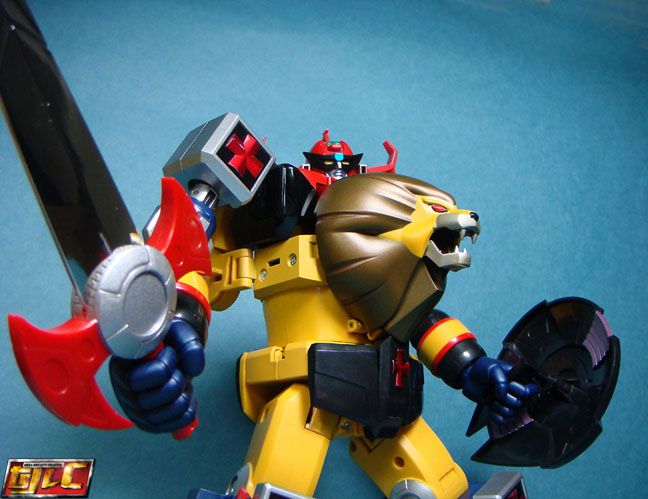 Sigma Beam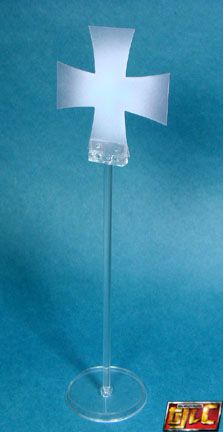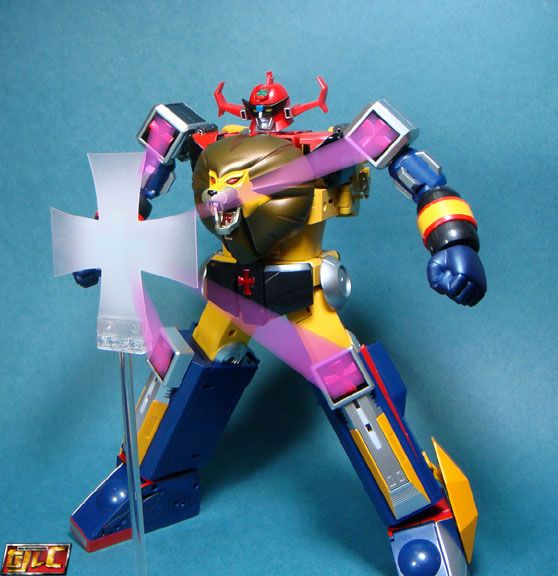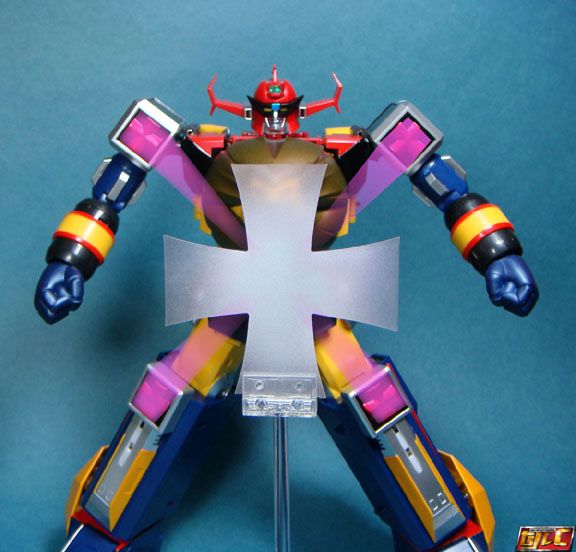 Choudenji Eraser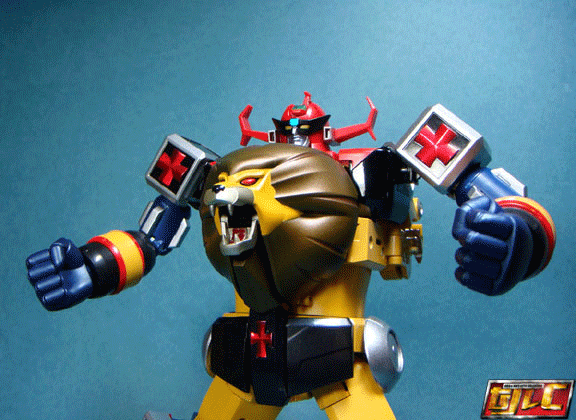 KAEN KEN! Jumonji Giri (Cross Slash)!!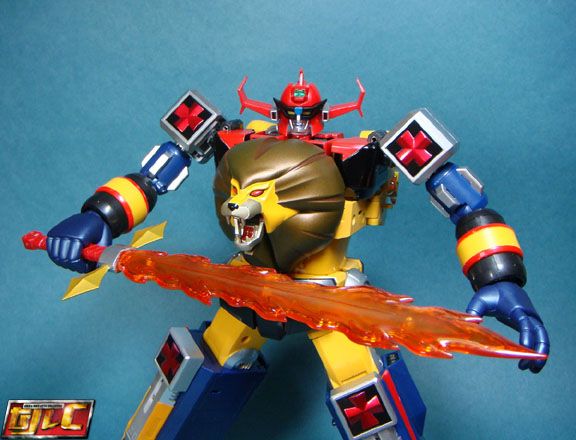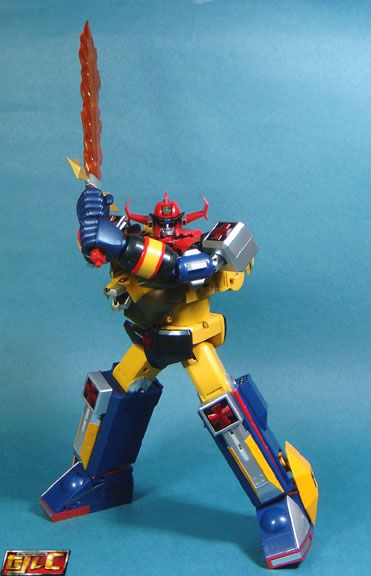 How to insert the Kaen Ken:


Later on, Daltanious gets an upgraded version of the Kaen Ken, it now spawns from Beralios' eyes into the sky instead of its maw. A rolling flame attack before the Cross Slash is also added (similar to Voltes' Chodenji Ball "setting up" the V-slash)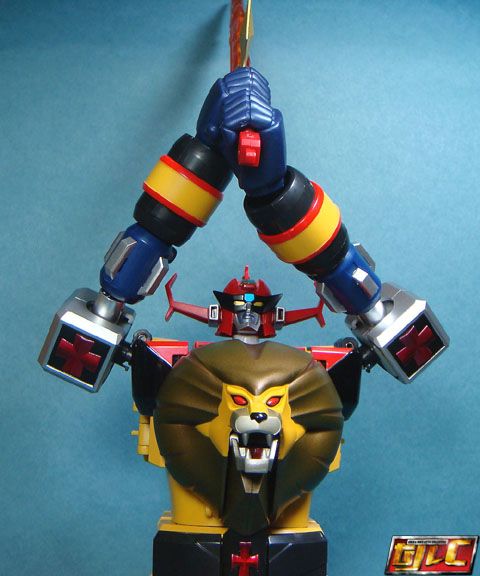 KAEN ATTACK! KAEN JUMONJI GIRI!!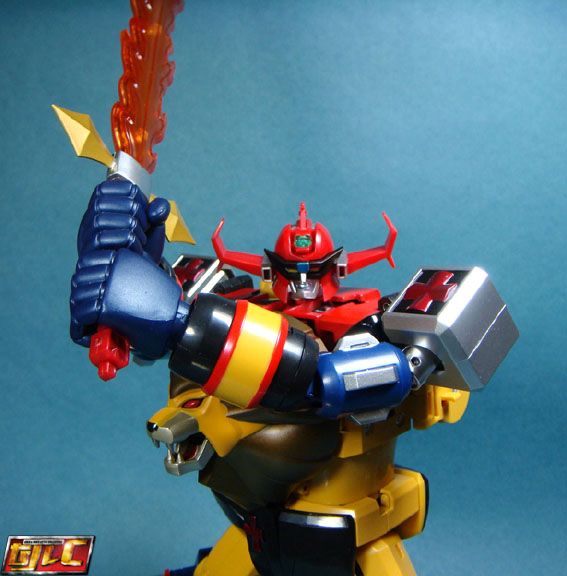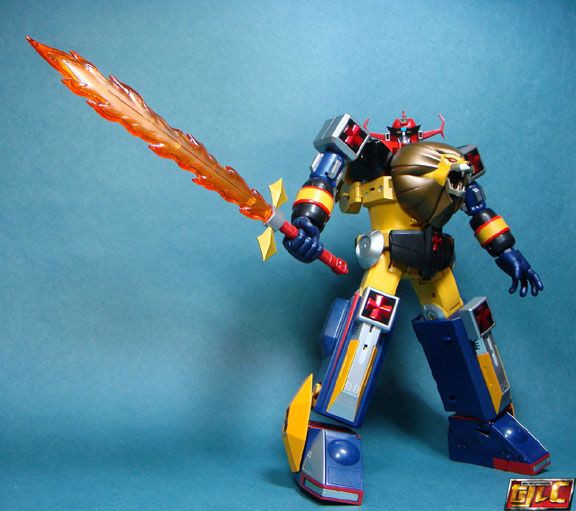 Surprisingly, unlike Combattler, Voltes or Daimos, Daltanious doesn't get beat up first by a more powerful new version of the "monster of the week" for it to order up upgrades and powered up weapons. He just sort of gets them after Doctor Earl and one of the kids discover a new way to improve Daltanious power output. No dramatic, suspenseful build-up, just BAM! Here're your new weapons, have fun.
Display stand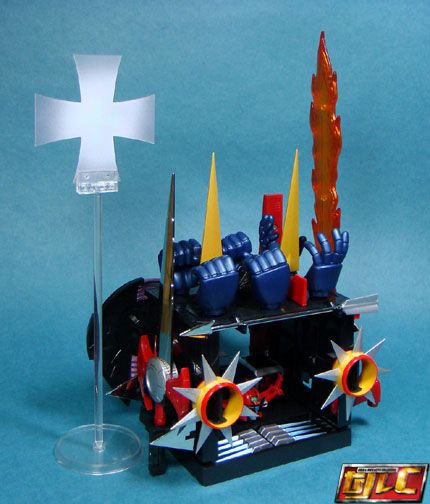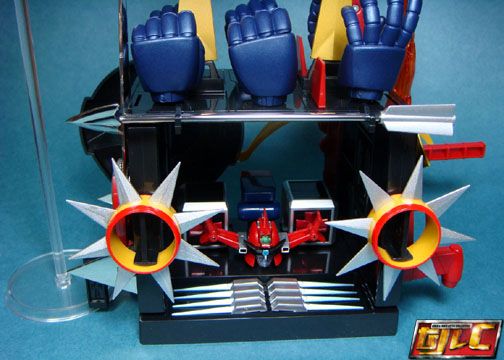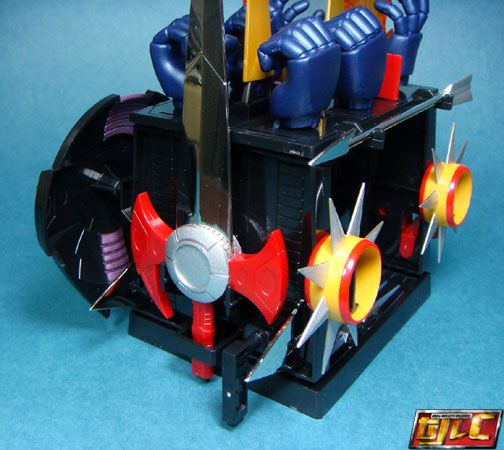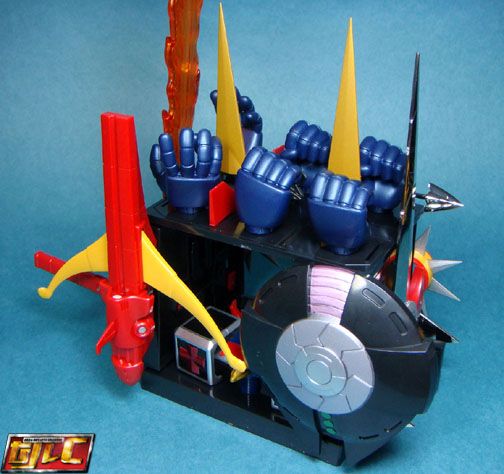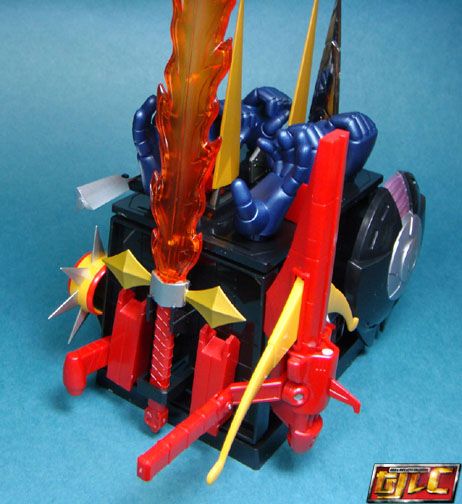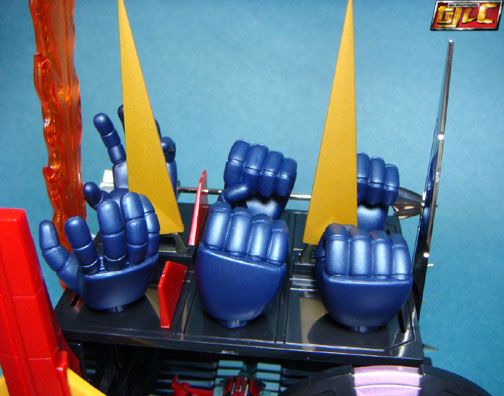 The Good
-Daltanious weighs roughly 874 Grams (Combattler is 600 Grams, Voltes is roughly 700, Daimos is 650 Grams, Daitarn is 940 Grams)
-Daltanious stands 10.25 Inches tall (Similar to Daitarn 3).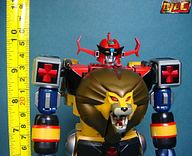 Diecast parts
-Atlaus — Main torso
— Thighs
— Biceps(?)
-Beralios — Claws
— Hips and crotch area
— certain sections of the torso (surprisingly, the lion head is plastic)
— Groin joints
-Gunper — Yellow areas that serve as Daltanious' "ankles"
— Main shaft of the Power Arm
-English text on the box and manual featuring backgrounder of sorts on the character.
-New innovative design for the tray cover to help "lock" it in place. I don't know about the rest of you, but this really struck me. I find it clever how the SOC design team puts thoughts into details like this to improve their product. Kudos to them.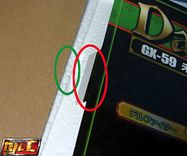 -No tape on the accessory tray except for one part. Which is good since the tapes don't really do much as everything on the trays are held in place by the tray "lock" design.
-Flip out "horns" on the Dal Fighter head.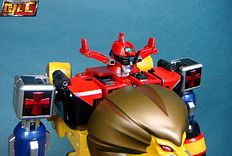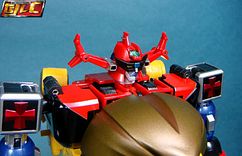 -Daltanious' forearms can be stored in the Gunper just like in the Anime.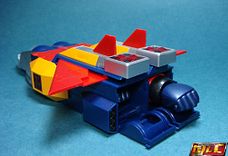 The Bad
-Some parts removal/adding needed. Can't be helped though.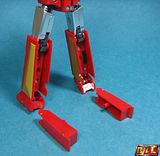 -Possible fading on the metallic red paint on the crosses over time? Not too sure about this. But ever since the metallic paint on my Toybiz Galactus started fading, I've been wary of metallic paint finishes. But I think maybe the quality of the paint might have something to do with it…?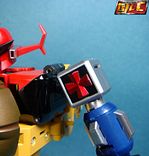 -Missing Ankles. Can't be helped though.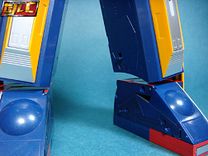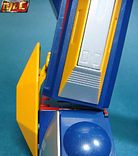 -Missing Weapons!!! No Cannon Cubic arm attachments or Chain Slicer accessories. These weapons are part of his "powered up" arsenal.
The Ugly
No major complaints here. Bandai pulled off a solid release with this one. If ever there was one big problem that stood out, I would have to say the tightness of the transformation joints on the Atlaus. But, the pins are metal so I would assume that it should withstand repeated "wear and tear". But personally I think it feels a bit unsettling. But I suppose your mileage may vary.
Overall, I loved this one. The transformation isn't as bad as I thought it would be. I was half expecting paint chip prone areas but that doesn't seem to be the case here. Plus there's decent amounts of diecast spread throughout each unit. I would've loved it more if Bandai gave us the missing weapons but I guess it wasn't going to help keep the price down.
If you plan on watching the series though, sadly, it isn't as good as Voltes or Daimos. Most of the character interaction scenes are a bit too annoying for my tastes (mainly due to so many of the supporting cast being small kids). The Voltes character scenes seem more grounded with no-nonsense and more action-oriented in comparison.
Things to note
When returning the figures back into the box, take note that Beralios' hip plates must be returned back to his hips from Daltanious' hips. Otherwise Beralios might not fit properly back into the styro tray causing a bulge in the tray (had to figure this one out myself).
Likewise, repeatedly swapping out the "discs" on Beralios' thighs to Daltanious' might lead to wearing down of the peg or joint.
When extracting (volting out) Beralios from the Gunper, remember to use the release buttons to unlock Beralios' legs.
Funfact – Tadao Nagahama, the creator and director of series such as Voltes V and Combattler V, and director of Tosho Daimos, was also involved in Mirai Robo Daltanious as art director, hence the strong similarities for the character designs. He was also the director for the later episodes of Yuusha Reideen.
Funfact 2 -Tadao Nagahama was also involved in the direction of the theme songs for both Voltes V and Tosho Daimos. He passed away at the age of 43 from Hepatitis.
Funfact 3 – World Events Productions initially wanted to order Mirai Robo Daltanious to make into Voltron. Thanks to a misunderstanding due to WEP ordering "the one with the lion", Toei Animation shipped Go Lion instead, and this became the Voltron series we all know.
Funfact 4 – Combattler V, Voltes V, Tosho Daimos and Mirai Robo Daltanious appeared in a 13 part manga series called "Victory Five".
Gold