Super Robot Chogokin Gaogaigar
Super Robot Chogokin Key of Victory Set 1 ~ Goldion Hammer!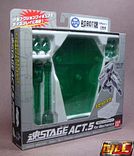 Overload Effects parts. These are supposedly free, a promotional item of sorts celebrating the Super Robot Chogokin line's first anniversary.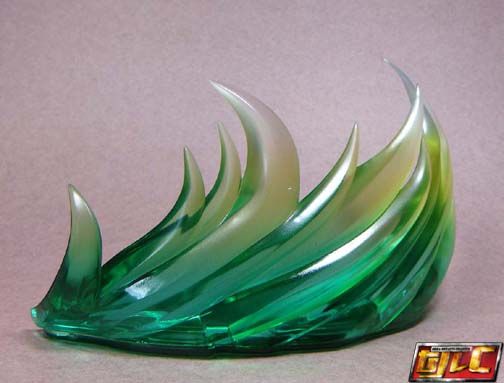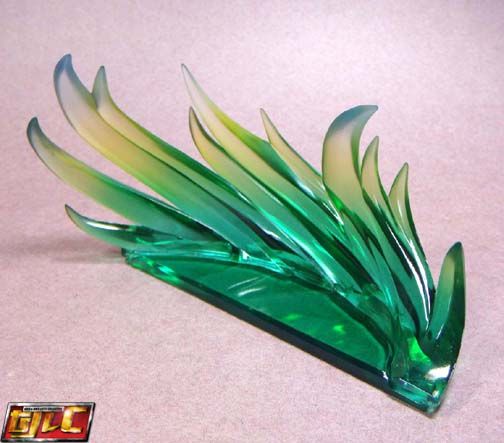 The parts are easily assembled, but they don't exactly lock into the base. So they will topple over if you accidentally hit them. I also find the base a bit too big, would be cooler if GGG could stand closer to the "flames".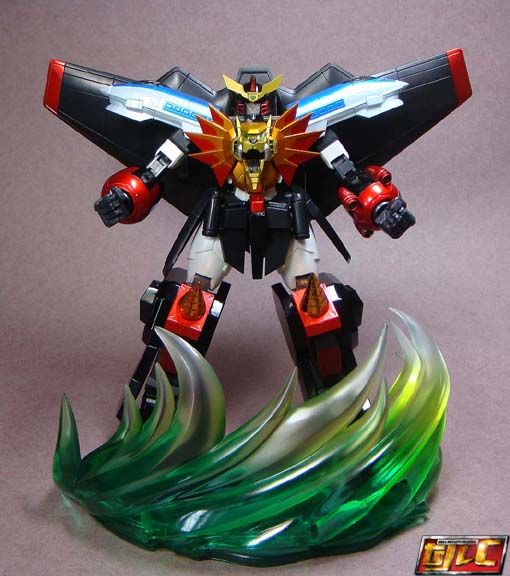 GAOGAIGAR!!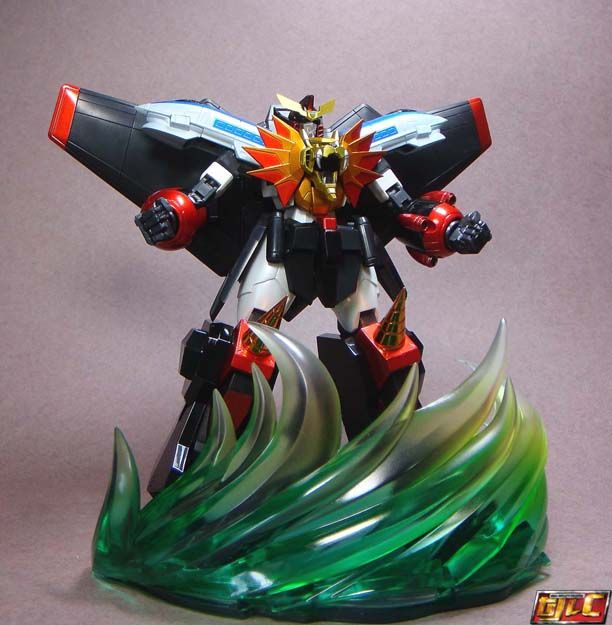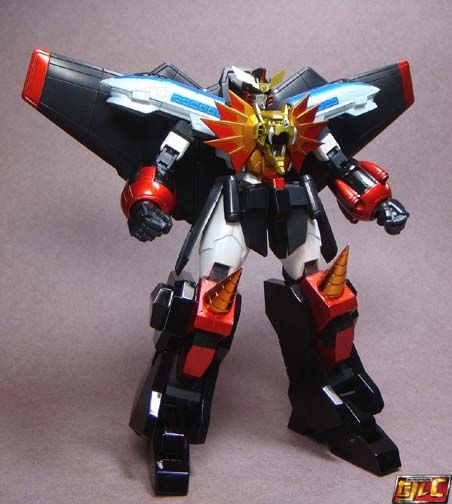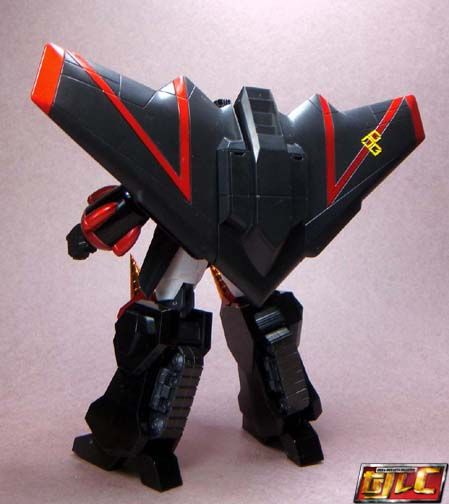 Gaogaigar in Action!

PROTECT SHADE!
Interestingly, the plastic is very thin, almost similar to the plastic used for the trays.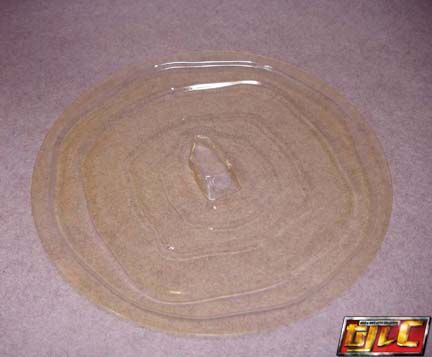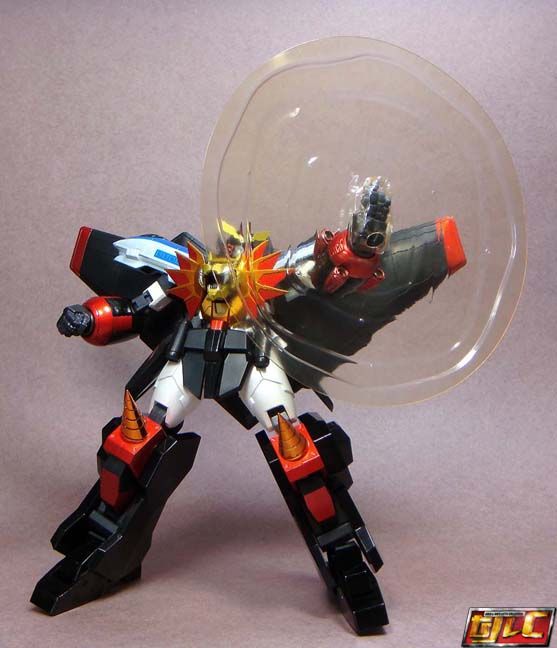 There's actually a proper way to attach the Protect Shade, the palm has to be on the outside.
Wrong way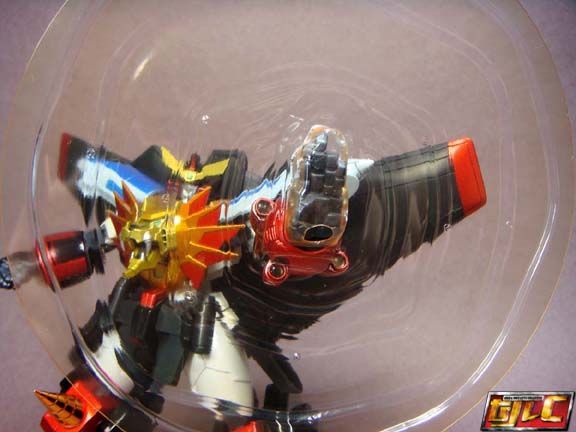 Right Way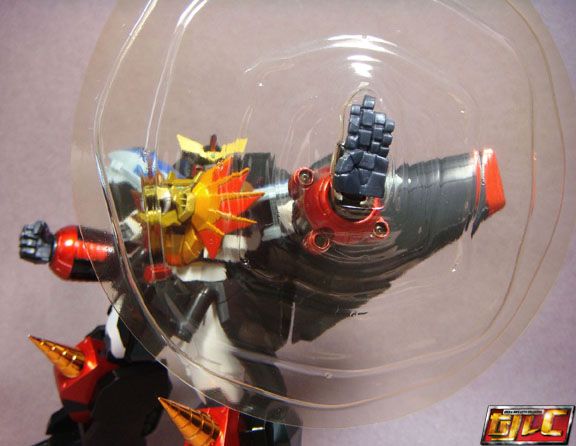 DRILL KNEE!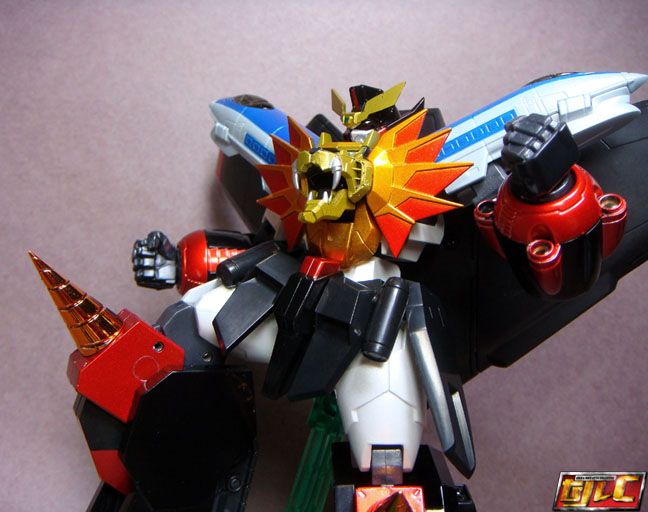 To get the Drill knee to properly pop up, slide up GGG's knees by pushing the red part of his knee, it will slide upward.
BROKEN MAGNUM!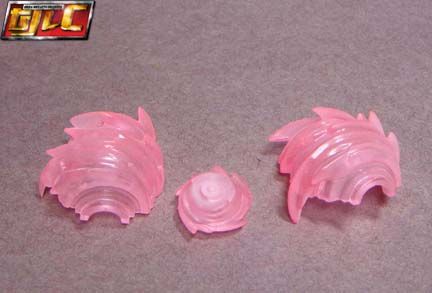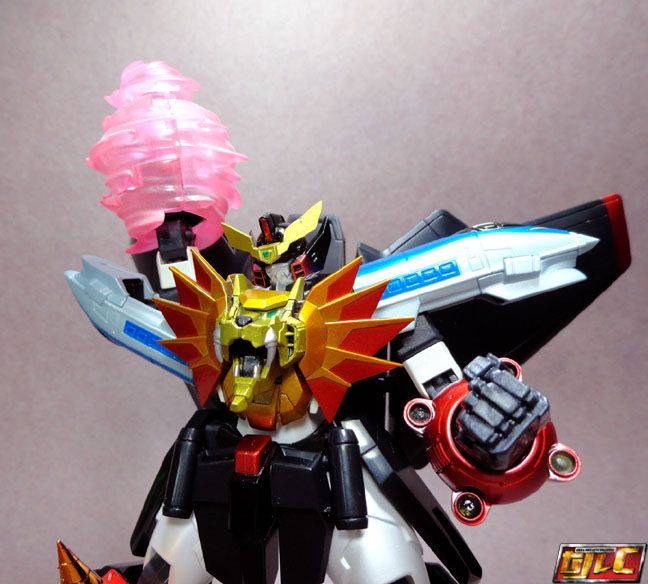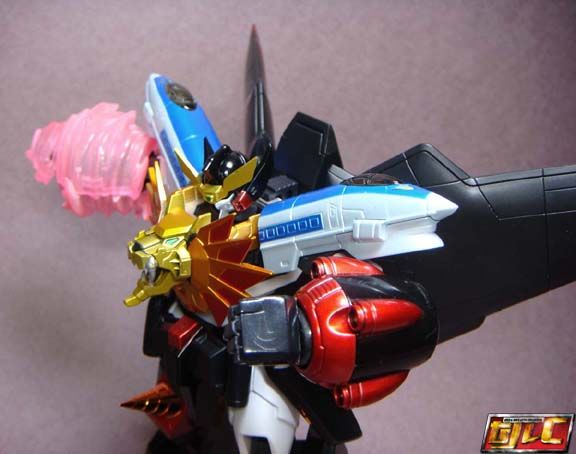 Adapter Plug part for attaching Broken Magnum to Soul Stage Act 5 base.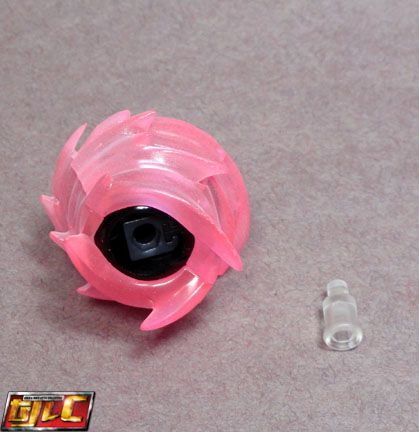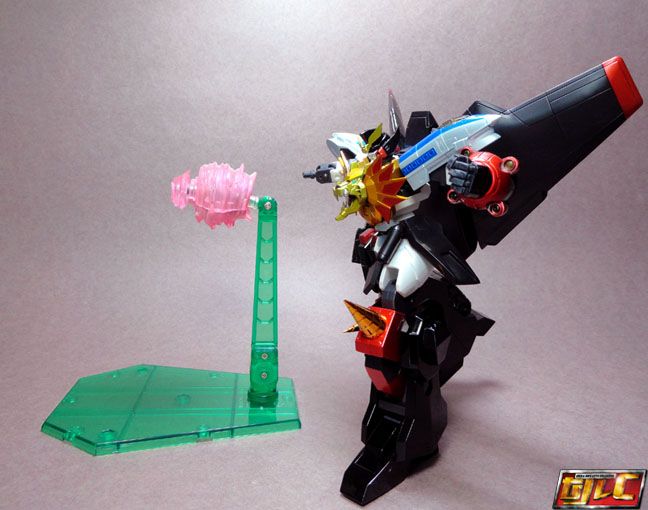 PLASMA HOLD!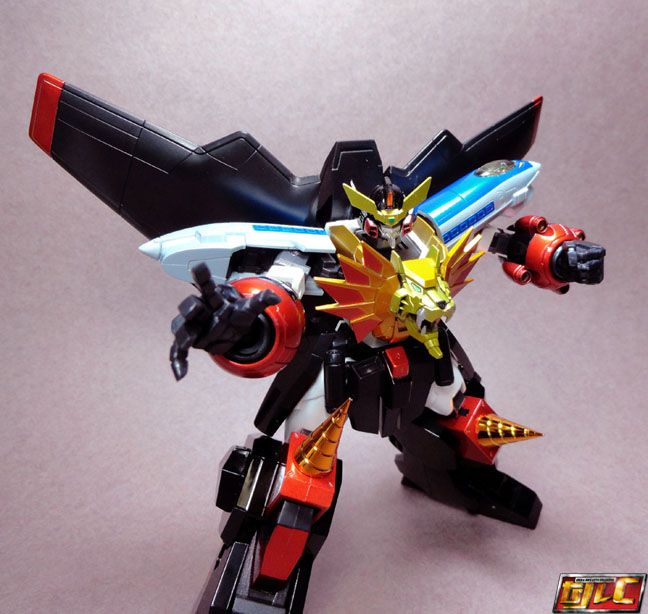 (Note: it should actually be the left hand that's able to do the Plasma Hold, not the right. Sorry about that. )
DIVIDING DRIVER!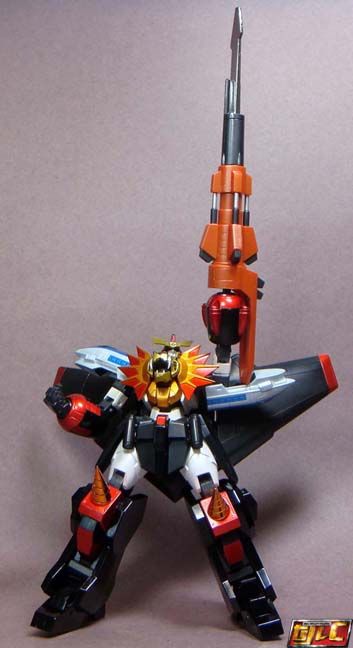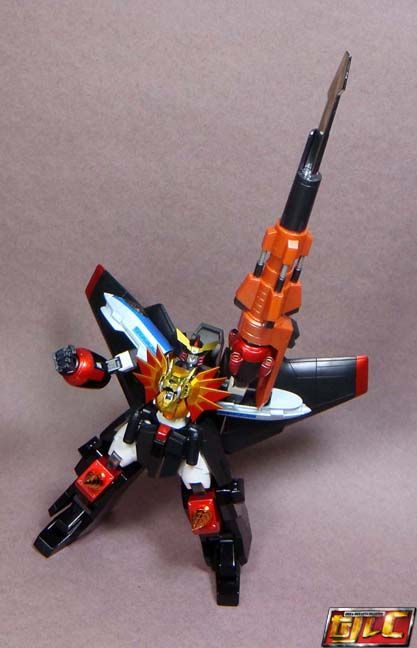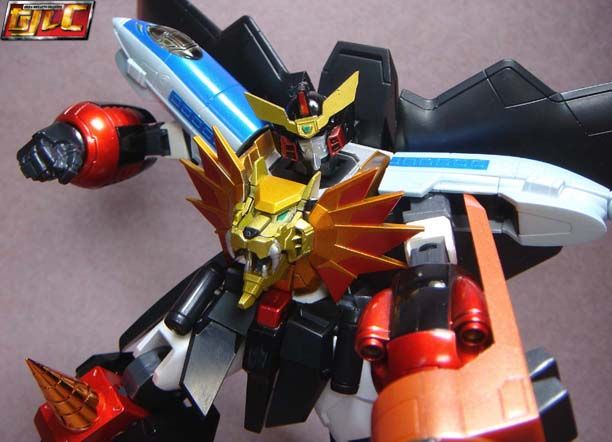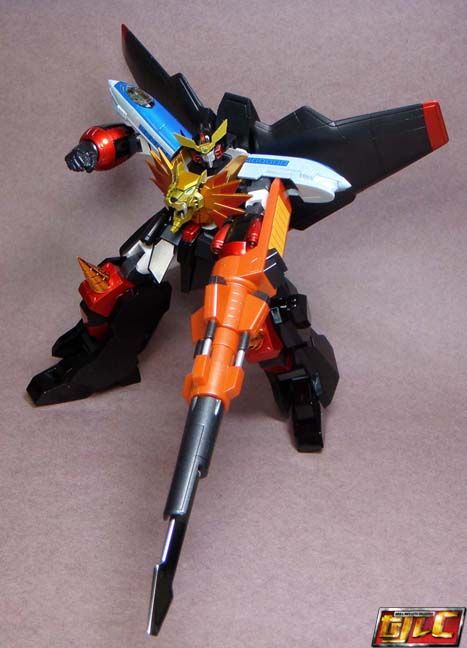 HELL AND HEAVEN!!!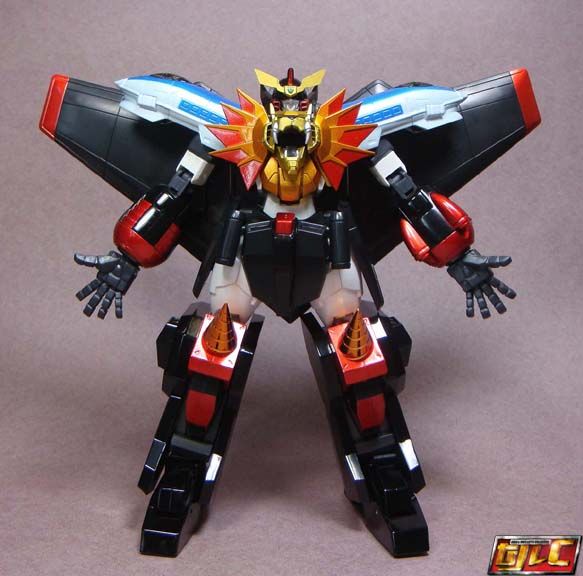 Some parts need to be swapped in before you can do H and H.
-Swap in the vent plates for Anime accuracy.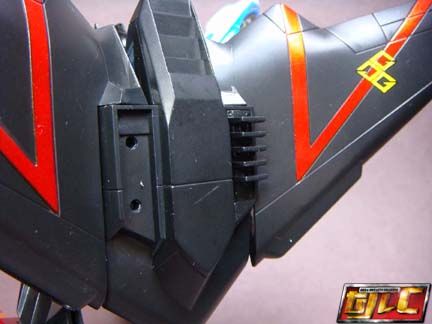 -chest plates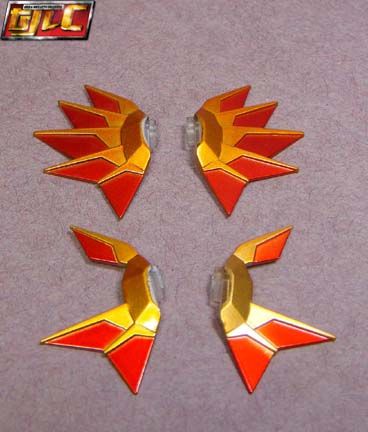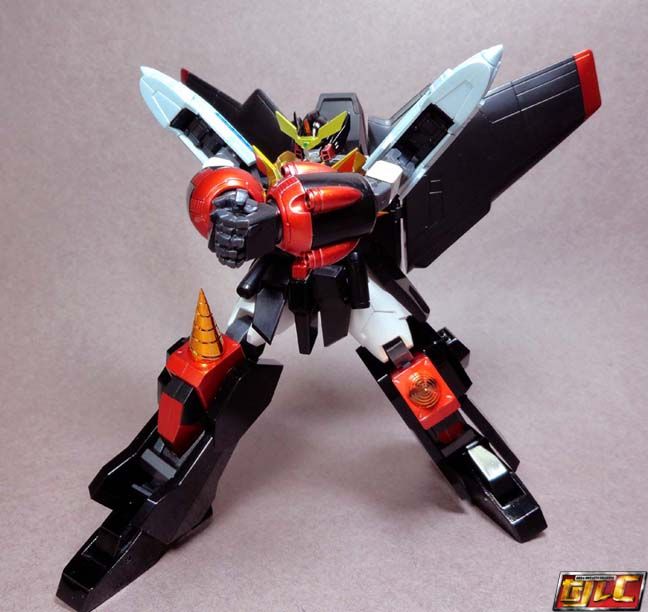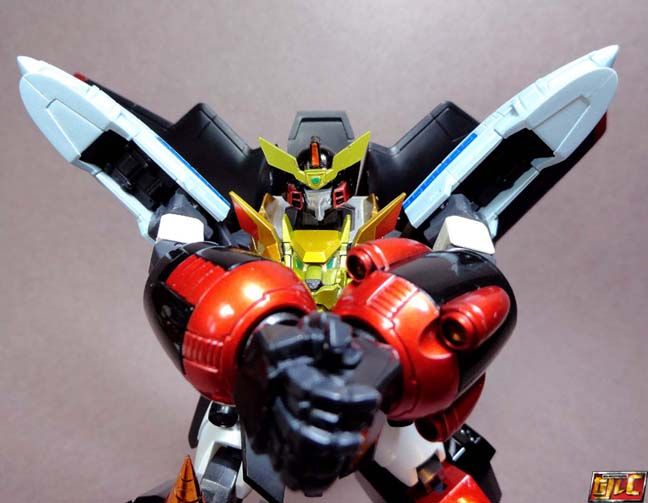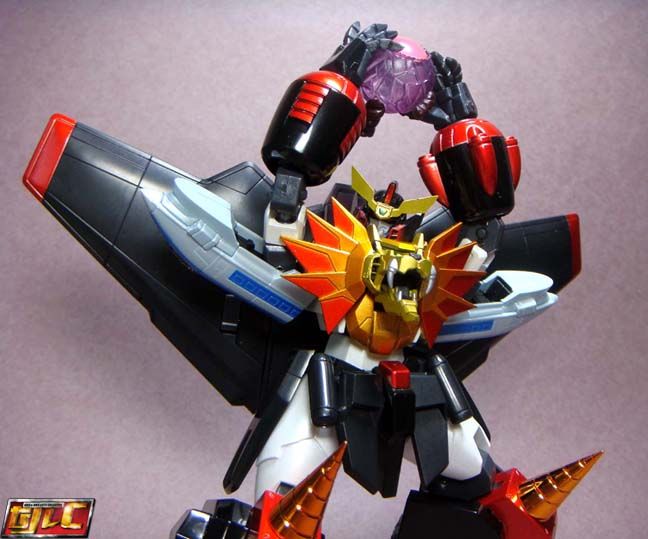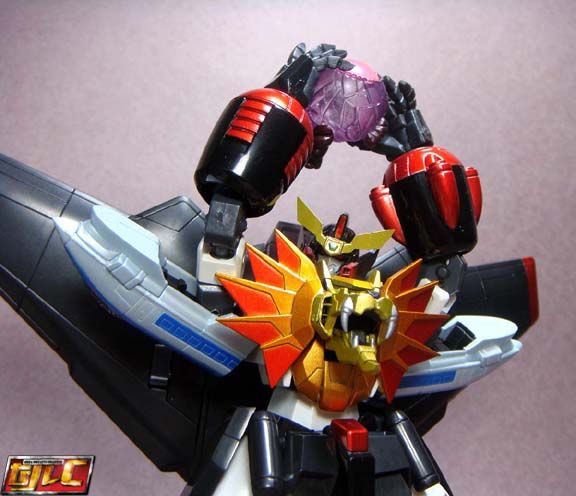 Goldion Hammer Approved!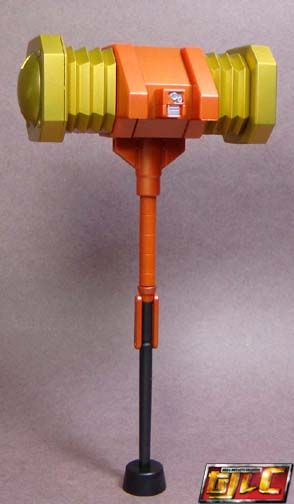 Optional clip for holding onto Soul Stage Act 5.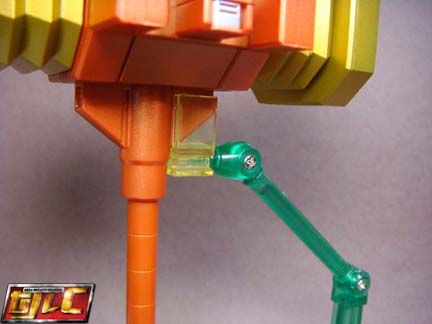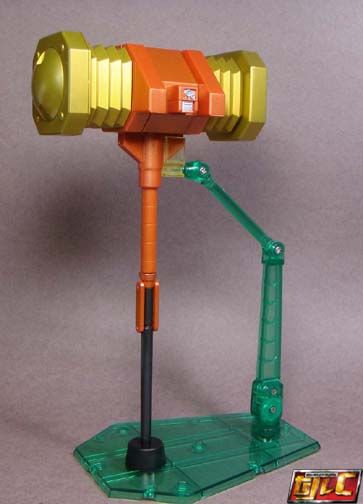 To make GGG more scene accurate, you have to pluck out the wrist joint before attaching it to the wing, using a pair of pliers, it was relatively effortless. 🙂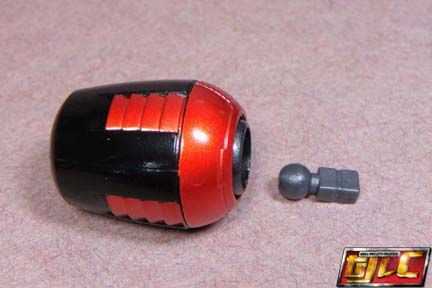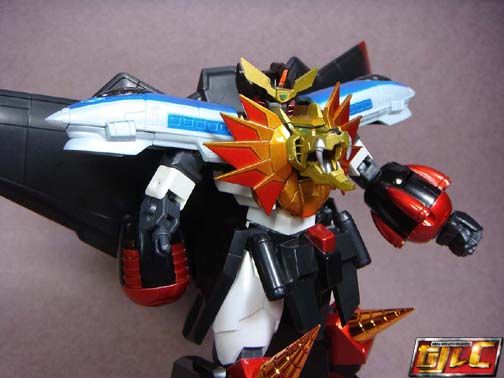 ARM CONNECT!!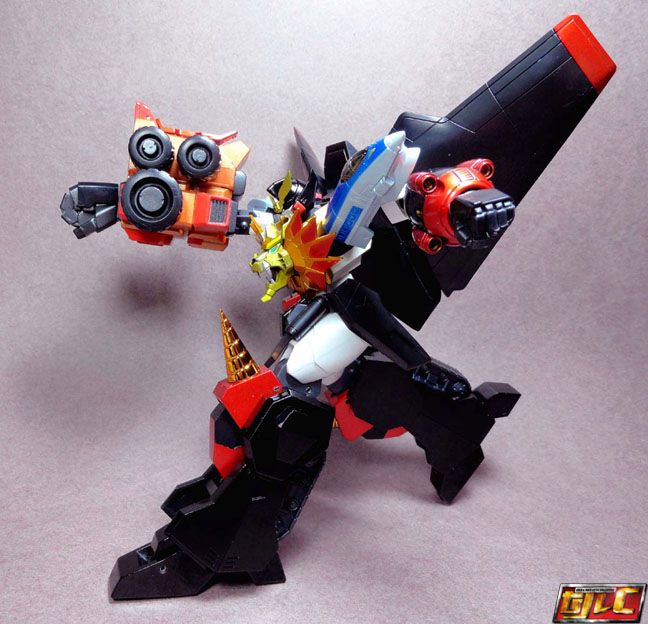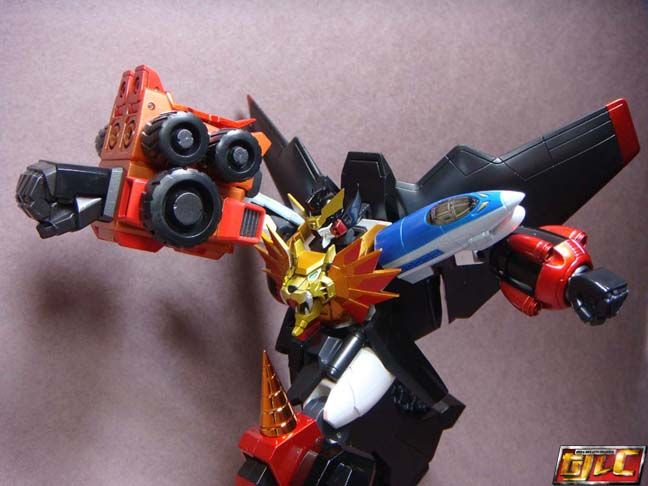 HAMMER CONNECT!!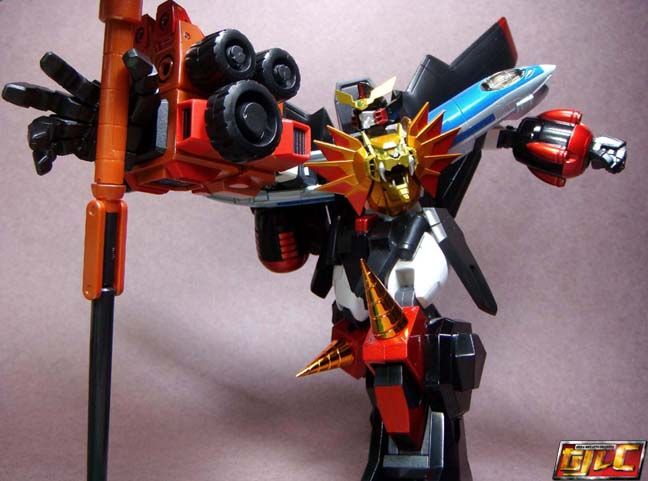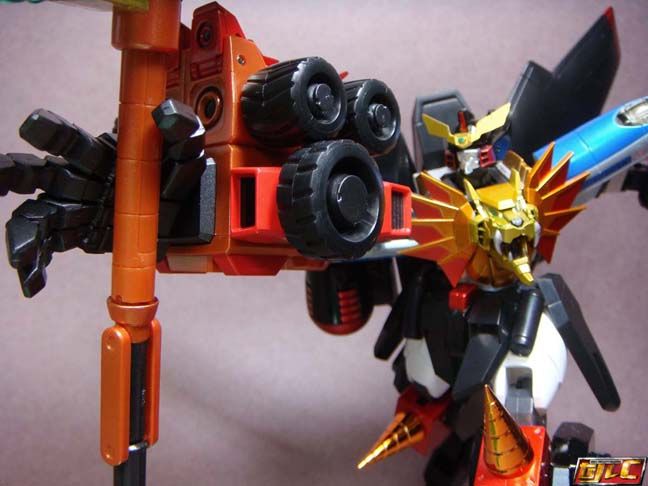 GOLDION HAMMER!!!!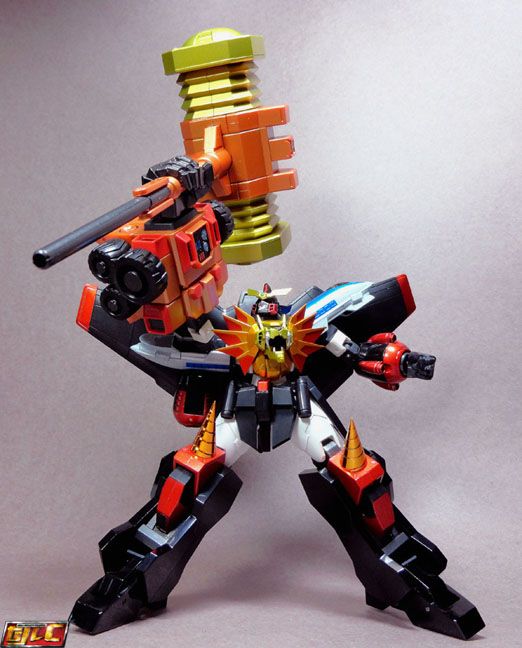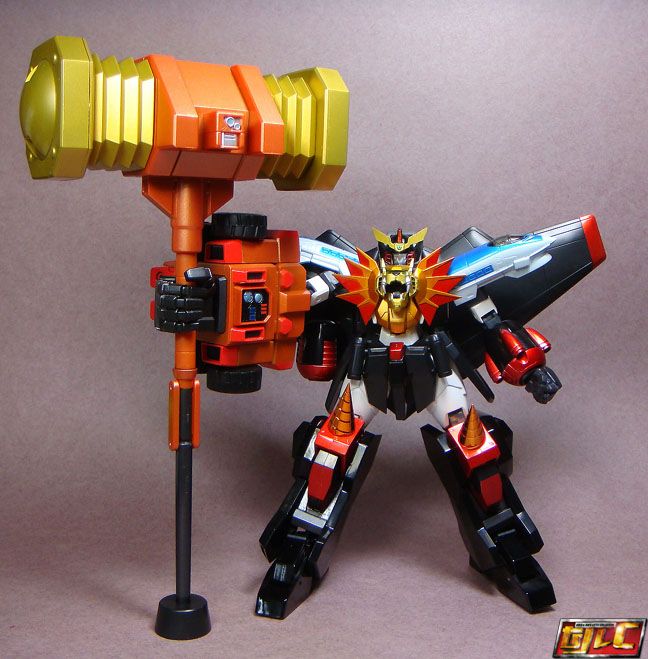 HAMMER HELL!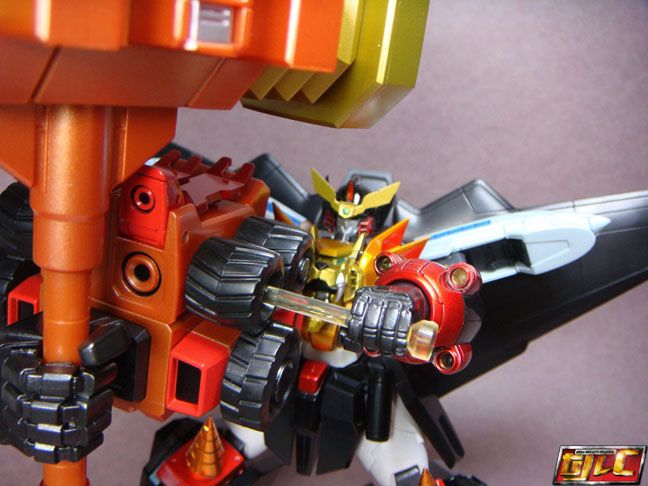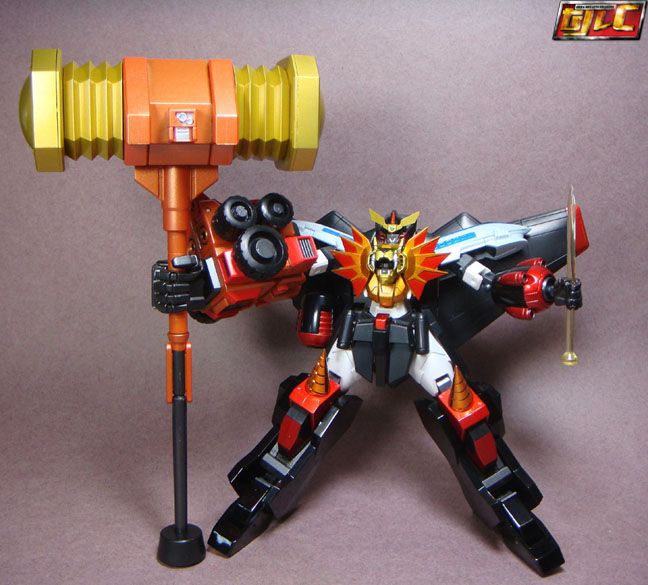 HAMMER HEAVEN!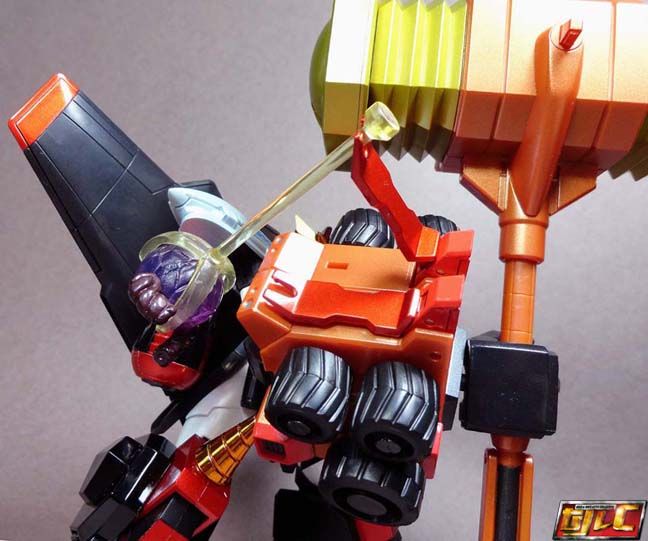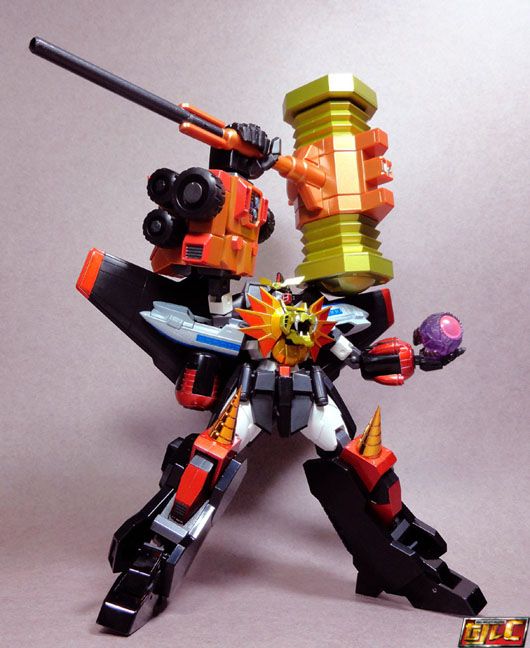 TRANSFORM INTO LIGHT!!!!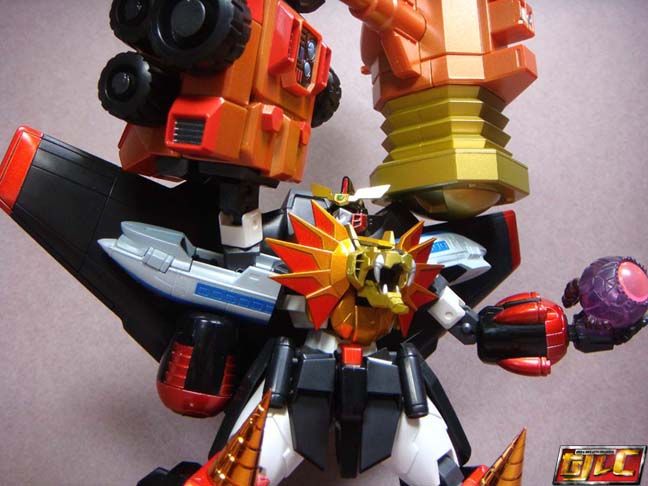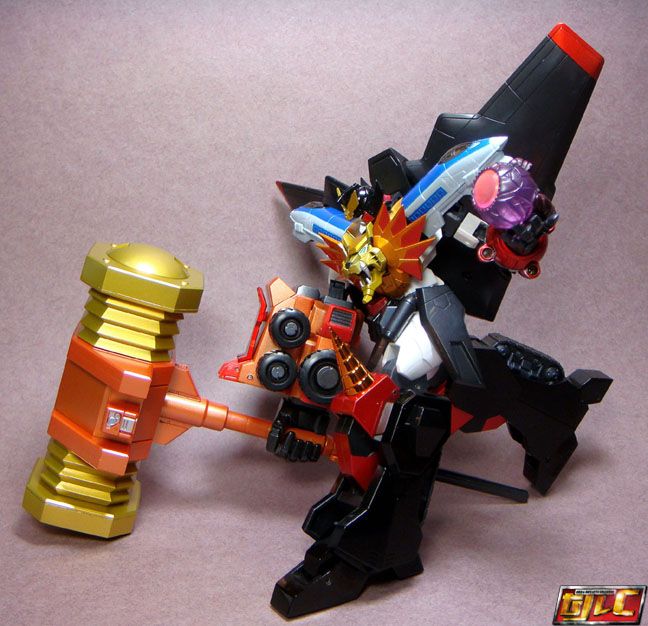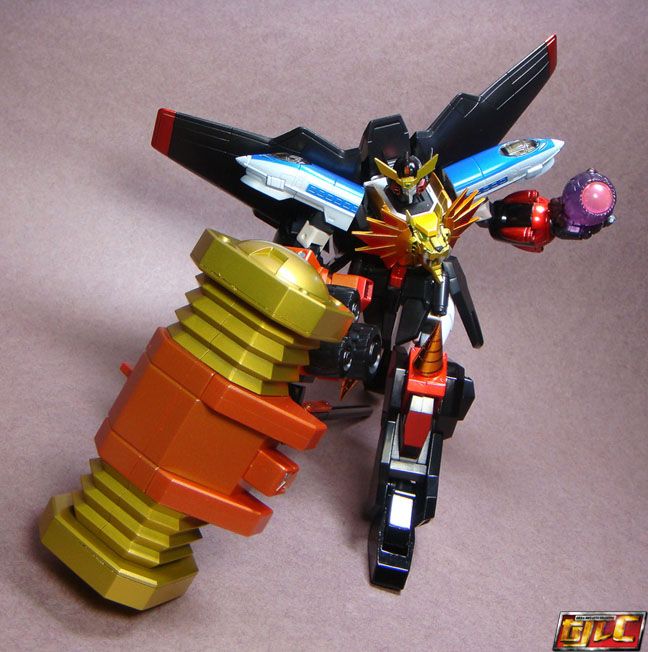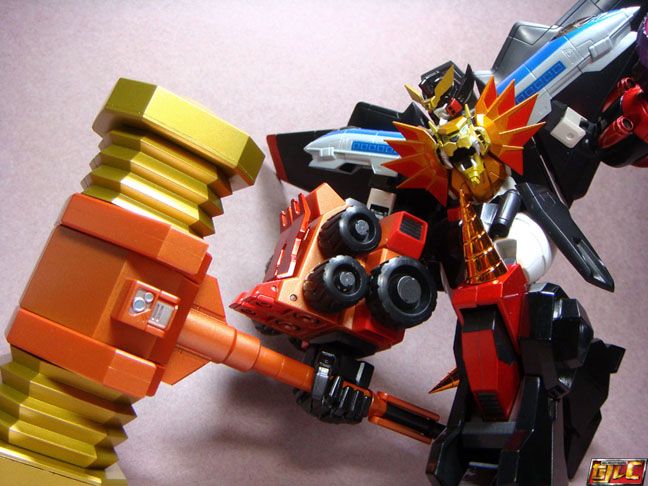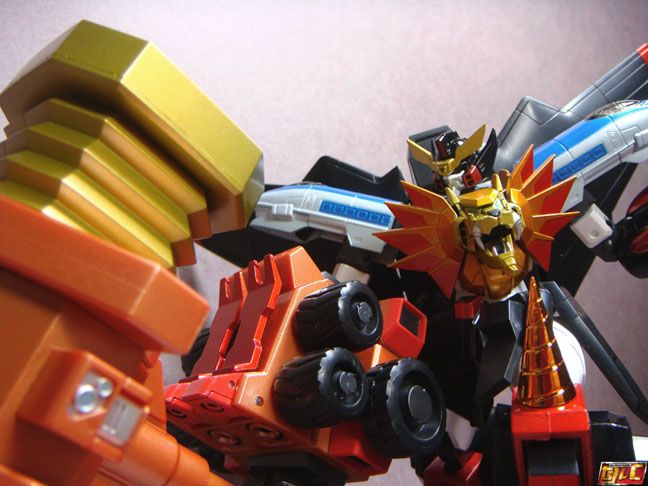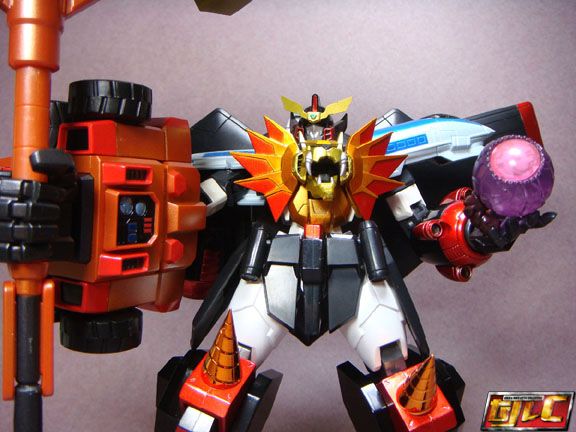 Extras
-Bandai included an extra set of helmet "fins" but unlike the default pieces which are hard plastic, the extra piece is made of soft plastic (PVC?)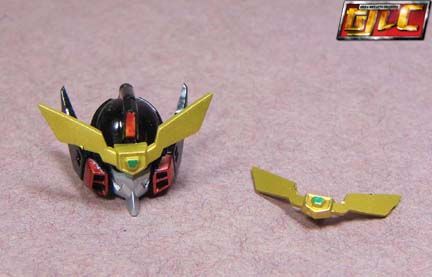 -Gaigar Faceplate. Gaigar's faceplate is usually shown right before the end of the Final Fusion sequence, it was also "revealed" in the final battle against the Z-Master.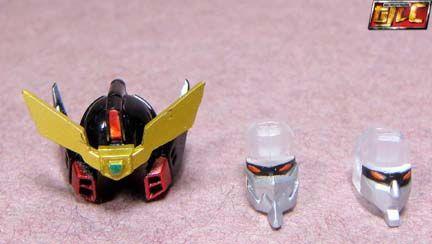 -Diecast parts include the feet and side parts of GGG's calf areas. I'm not sure about the main torso though if they're also diecast.
-Clear windshield pieces on the Linear Gao.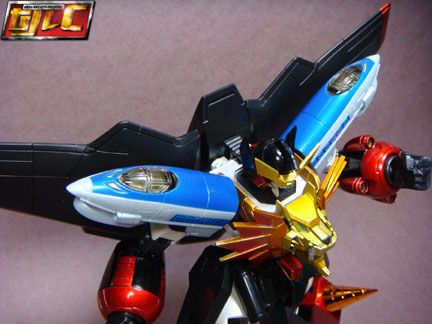 -It's got toe articulation!!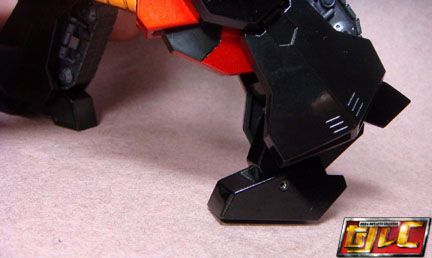 -The wrist plug design takes some getting used too but all in all, it's not too bad.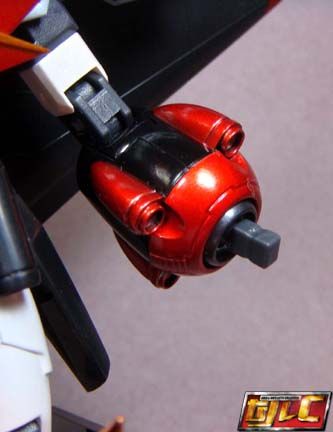 Gaogaigar stands roughly 6 inches tall and weighs roughly 235Grams. It's 5 Grams heavier than Alt Eisen.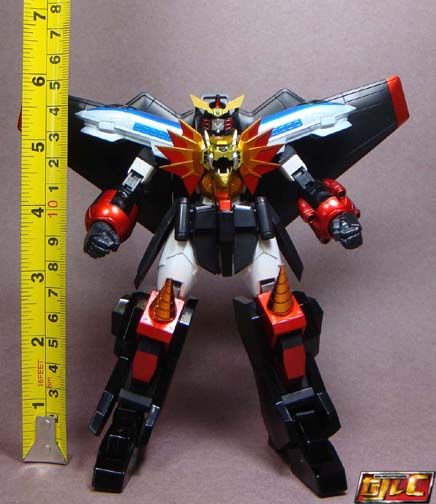 -New box design for the SRC line, gone are the window strips on the box. Which is a good call I'd say since they don't do anything but add to production costs. I love the new foil stamp motif
A word of warning though, don't bother trying to pluck out the plug for the "nail" it's insanely hard to pull out. I had to use a tiny screwdriver to pick it out, it left an ugly scratch on the "tire" tsk tsk…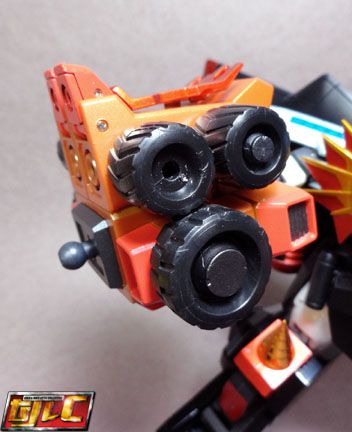 It would've been nice if they included hands for GGG to hold the Hammer directly without the Marg Arm too.
Fun poses – thanks to the crazy amount of articulation on this thing, you can recreate almost any pose from the series.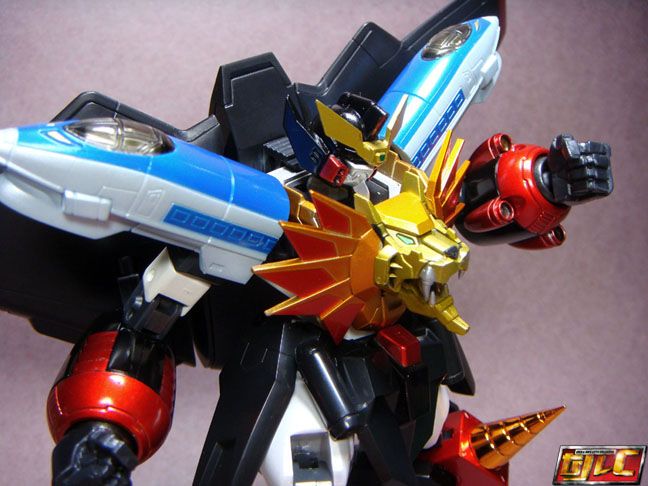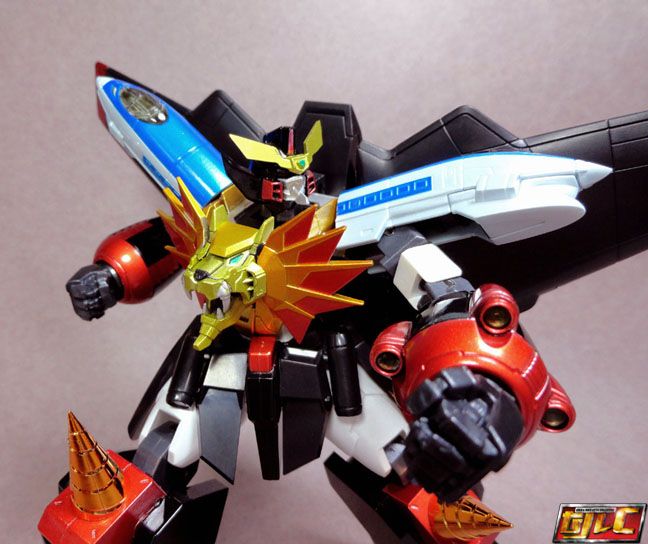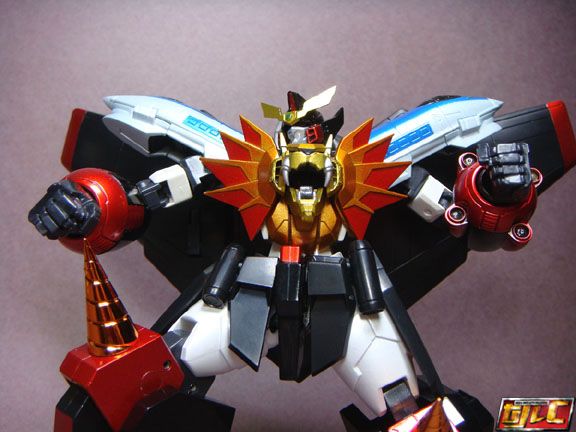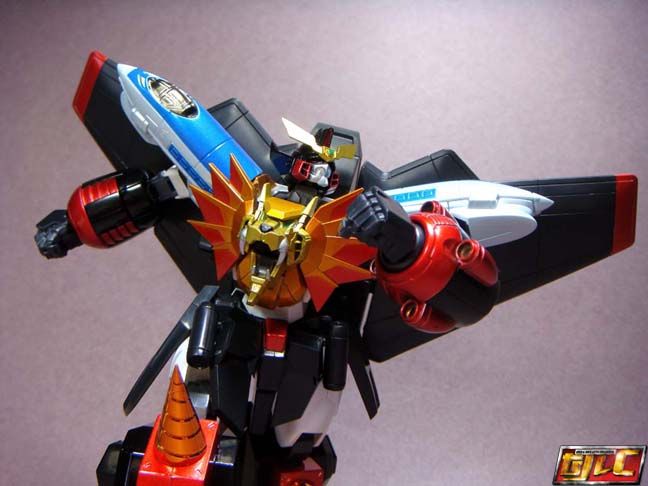 There you have it, an awesome GGG figure, I can honestly say this is the first time I handled a GGG toy without fear of anything breaking (Cm's Corp, Kotobukiya, Max Factory, Kaiyodo, Yujin). I was beginning to think any GGG toy except from Takara was cursed.
But there are still a few misses here for me, the groin joints do tend to be a little loose, but it doesn't affect posing or stability. They just swing around easily when you're lifting or moving the figure. There are also a few QC problems here, like paint chips (see GGG's helmet fins) and paint pools (Stealth Gao's red paint). I guess it's luck of the draw.
My biggest surprise was the lack of any ratchet joints. Likewise, the shoulder joints seem to pop out way too easily on mine (posing the train shoulders to point up in hell and heaven was pure hell for me), but it's so bad that the shoulder joints popped out with the Hammer set on, so I think it might be in the way you twist the shoulders that cause the joints to pop out.
Still, all those negatives and I still love this figure and highly recommend it.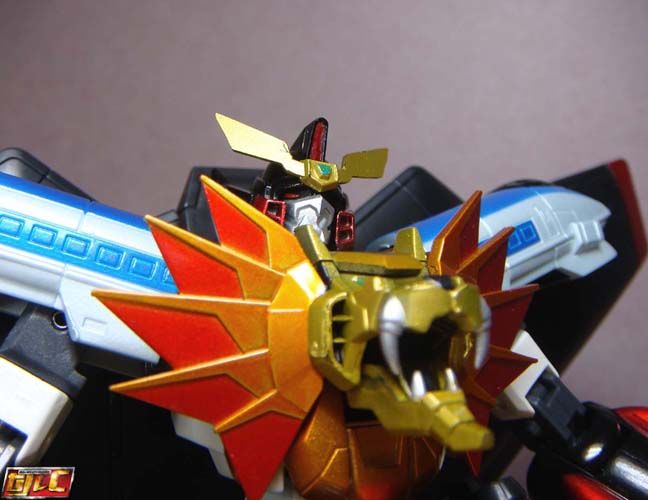 Gold