Super Robot Chogokin Trident stage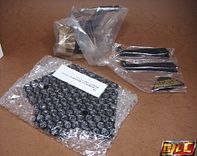 Wow. The bubble wrap left some ugly marks here. Good thing they can be wiped off.

Well.. here it is, I don't really know if this is worth it, as the design is somewhat lacking, as the arms are fixed in position, they can't be elevated like the Soul Stages, so they can only rotate 180 and 45 degree angles. I didn't have time to open out the GGG team so it's only Might Gaine on the thing for now.
Gold