Transformers Device Label MP3 player Soundwave
The Mp3 Player Soundwave. Retails for about $85. Comes in two colors, "Sonic White" and "Spark Blue". I chose the Spark Blue version for obvious reasons.
Box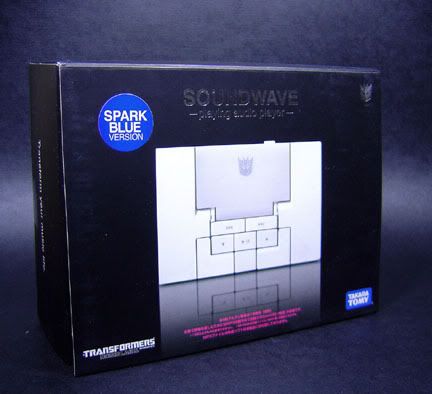 Tray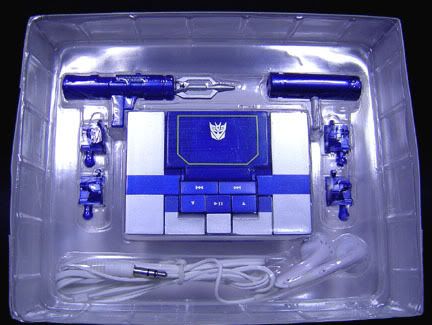 Transform!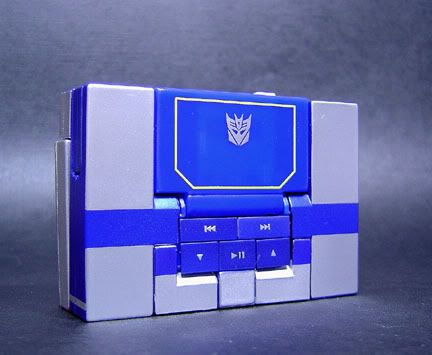 Look out for the locks on the toy. The plastic feels a bit brittle in certain areas.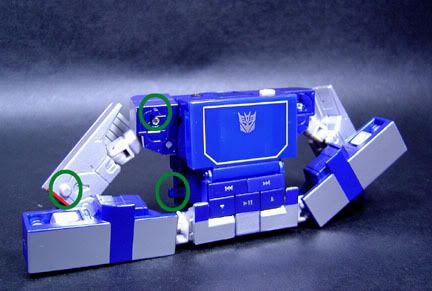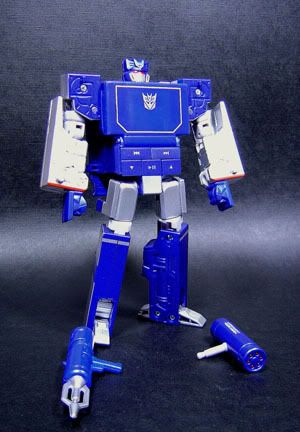 Decepticon Communications officer -Soundwave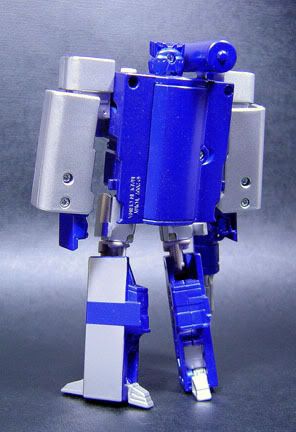 Part of TakaraTomy's "Music Label" line. This MP3 player really works. Mini-SD chip and AAA Battery not included. No diecast parts.
I got this to go with my Classics, Generations figures
"Cries and screams are music to my ears."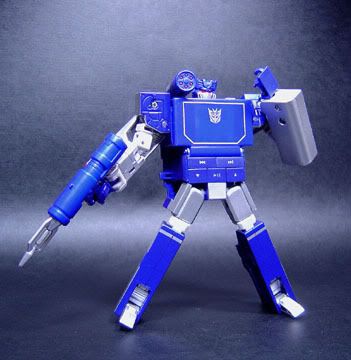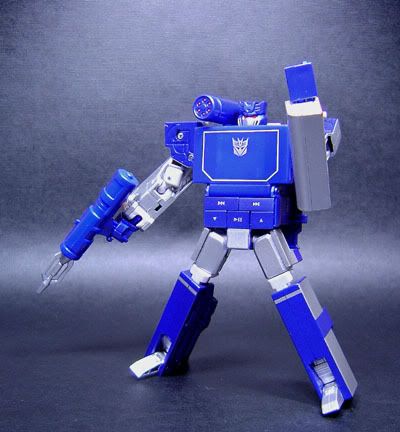 "Laserbeak eject."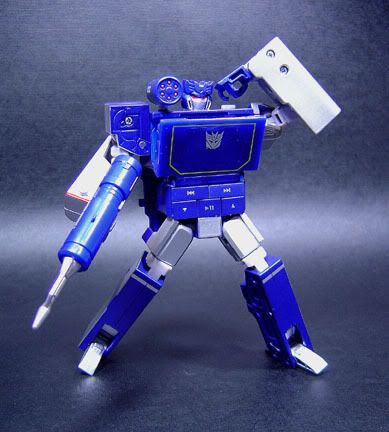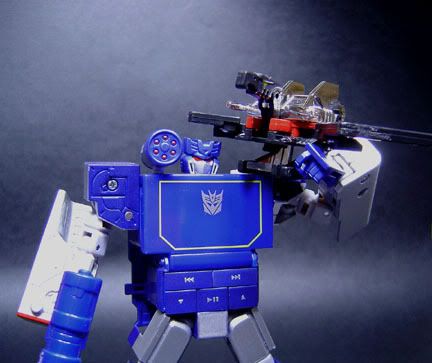 Okay.. so he doesn't really come with Laserbeak, but instead the chest panel does open for you to insert the Mini-SD card to load your Mp3 music and play via Soundwave (Soundwave comes with analogue headphones and optional "Rumble and Frenzy" transforming headphones that are sold seperately).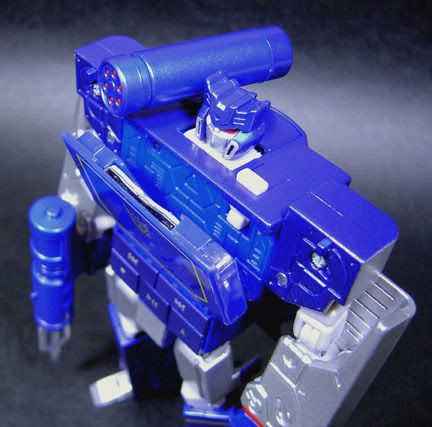 The Mini-SD card can be ejected from soundwave by pushing it downward so it will spring-release.
Comparisons with the original Generation One toy.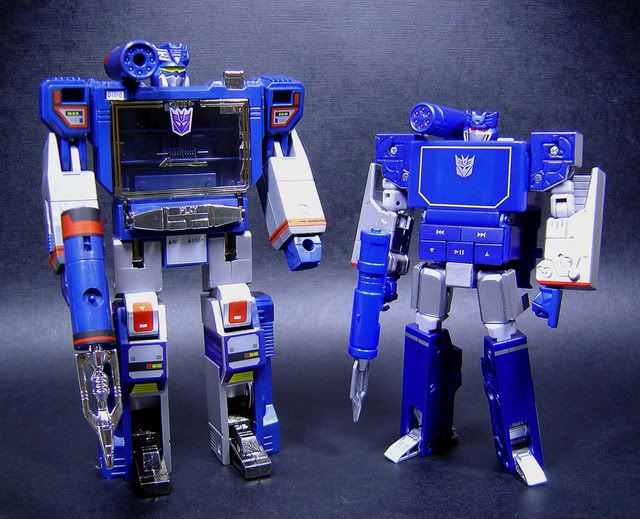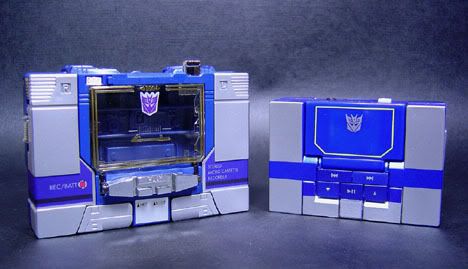 Hmm.. a bit small. This Soundwave seems to be a bit more at scale with the Classics figures.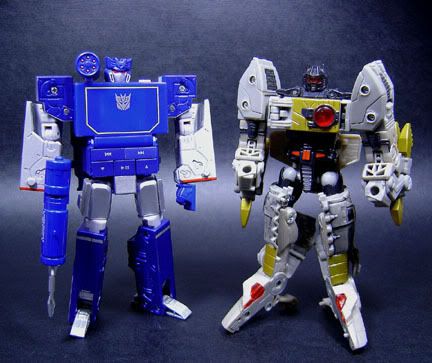 My biggest complaint with the toy (apart from the high retail price) is the plastic. It feels very brittle and feels like certain parts will break if you transform it wrong (pay close attention to the manual!!!).
Still, it's a great looking figure and it's one of the cooler renditions of old fan-favorite Soundwave. Here's hoping Hasbro will mass produce this figure under the Classics 2.0 line sans the working electronics to lower the price.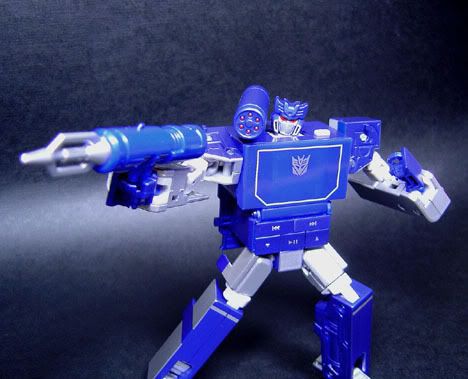 Box includes:
-Soundwave
-"Electric Launcher" – Shoulder weapon
-"Wave Bluster" – Rifle
-Headphones (Ear-Bud style)
-4 extra fists (Right and Left Rifle-Grips, and Right and Left "touch-my-own-eject-button"s)
-Tech Spec Card
Specifications:
-Can only play MP3 files
-Can only use MiniSD Cards up to 1 GB
-Audio Range: 60Hz ~ 16Hz
-Bitrate: MP3: 128 kbps
-Output: 2mW
-Battery: Says something about a type 4 Alkali Battery, but the slot fits AAA Batteries.
-Assuming the use of the above-mentioned Alkali Battery, the player will supposedly play for 6 hours.
Alt Mode/MP3-Player Features:
After inserting an SD card, you press the "play/pause" button for "2 seconds" to turn the MP3 player on. Once it's on, a blue LED will start flashing in the upper left-hand corner of the tape deck door. This light flashes slowly while music is playing and a little faster when paused. It's actually a little distracting.
Strangely, the tape deck door doesn't need to be closed for the player to work. Be careful not to blind yourself with the LED
That, unfortunately, is about it for the Alt. Mode. The MP3 Player can skip forward and back, but can't fast forward or rewind. You can adjust the volume up and down, and it can get decently loud. Sound output seems pretty good – but that depends on the headphones I imagine…
Edit: I used a 2GB Mini-SD card (from my Cellphone) and it still played. Though I don't think my music files eat up to 1 GB of disc space.
Gold