Transformers Masterpiece MP-52+ Skywarp
I'm glad Takara still does this on the back of their larger MP boxes, a 1:1 representation of the figure's actual size in robot mode.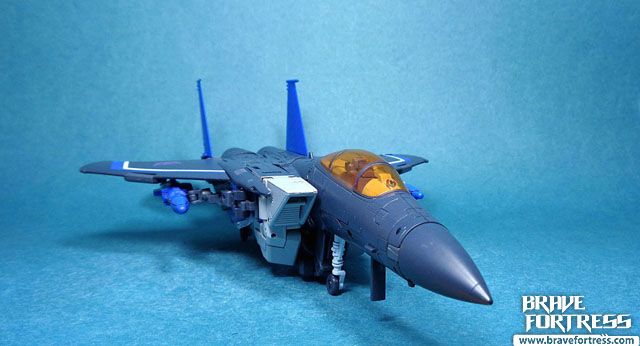 As usual with this mold, the guns can be flipped around to reveal the "missile" modes for the jet mode.

Diecast landing gears.

Adjustable engine exhaust nozzles.

Booster effects parts are included.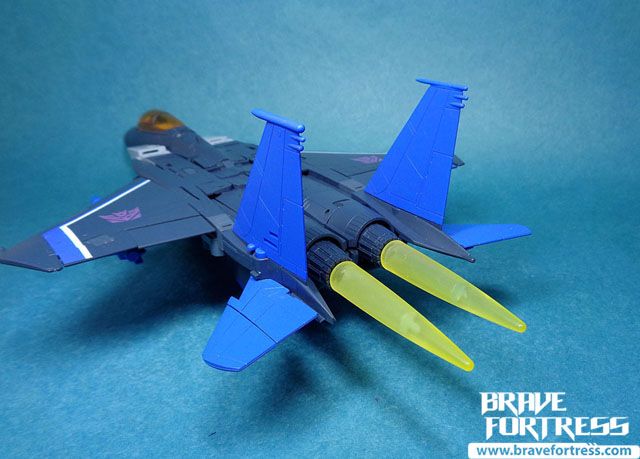 Adjustable wing flaps.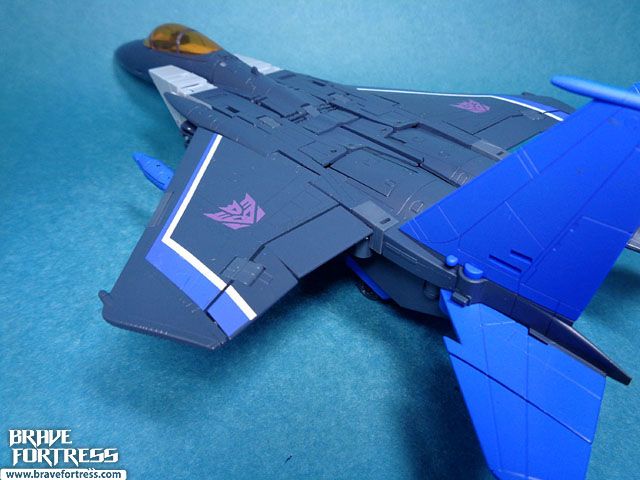 Opening c0ckpit canopy and nosecone radar.

Control panel detail (not much there, really).

Display base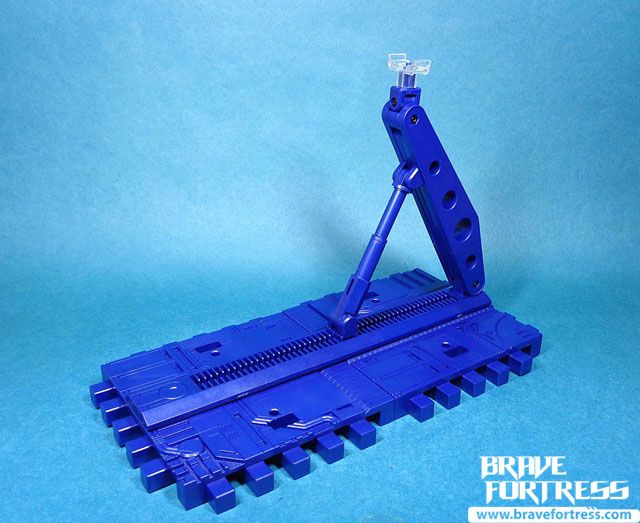 (Clear plastic) Attachment piece included with the set.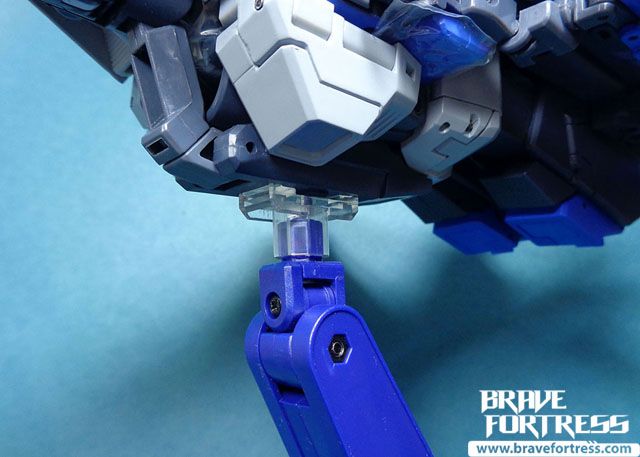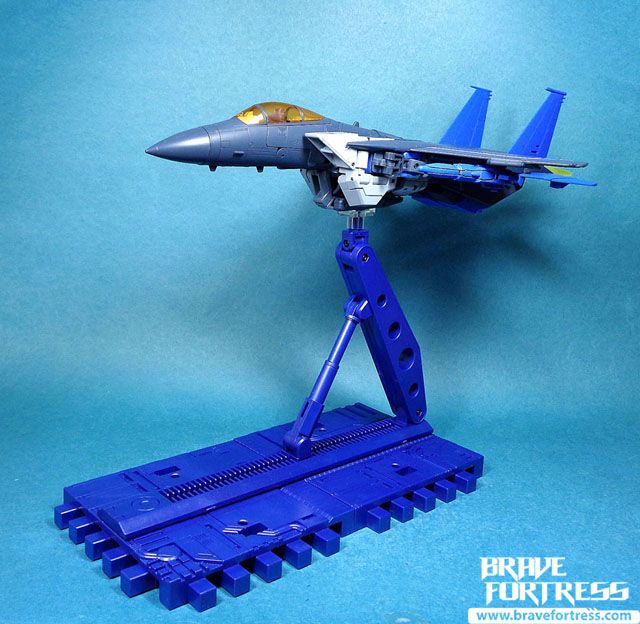 Thanks to the adjustable arm and hinged joints, you can pose the jet mode in various heights and angles.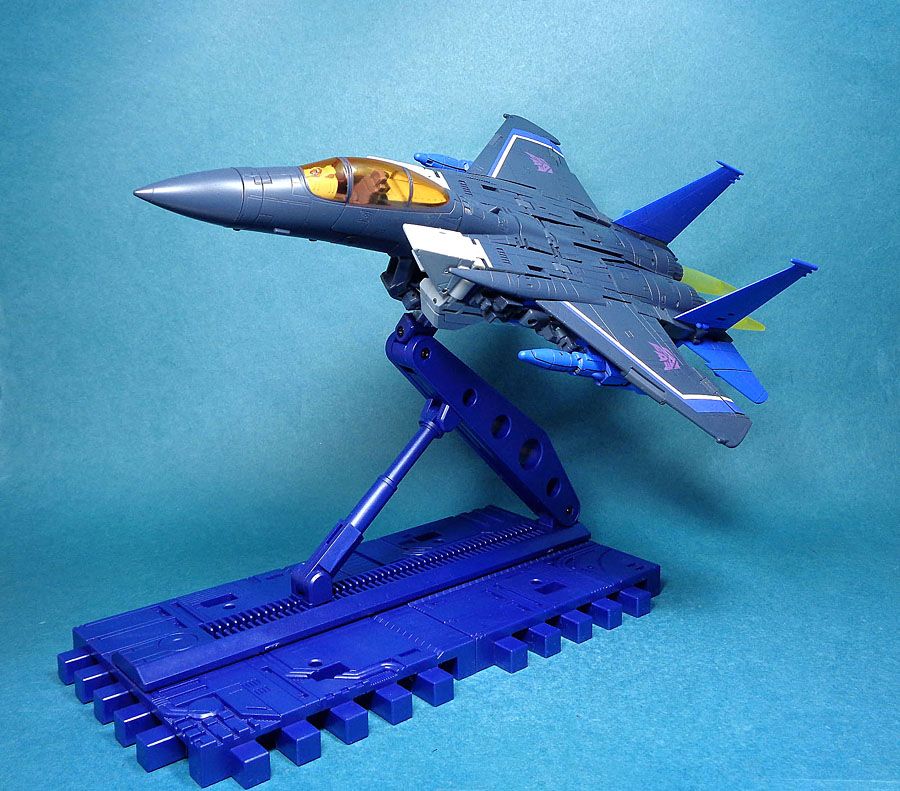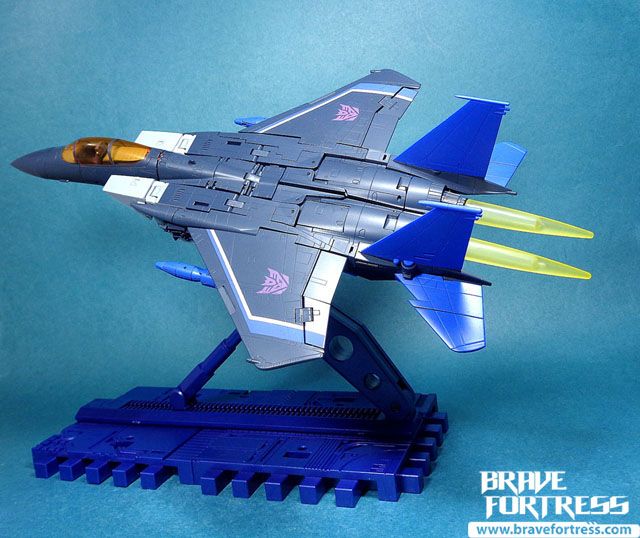 You can also plug the Megatron Gun mode into Skywarp's underside, but it will not fit into the display base's attachment with it equipped, sadly.

"Gerwalk" mode for Skywarp.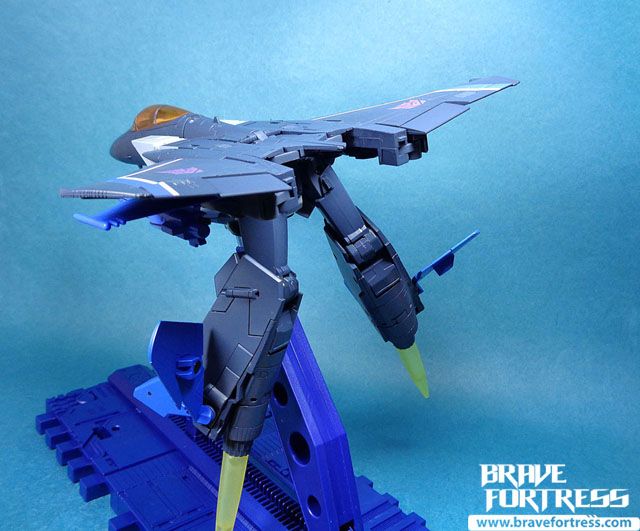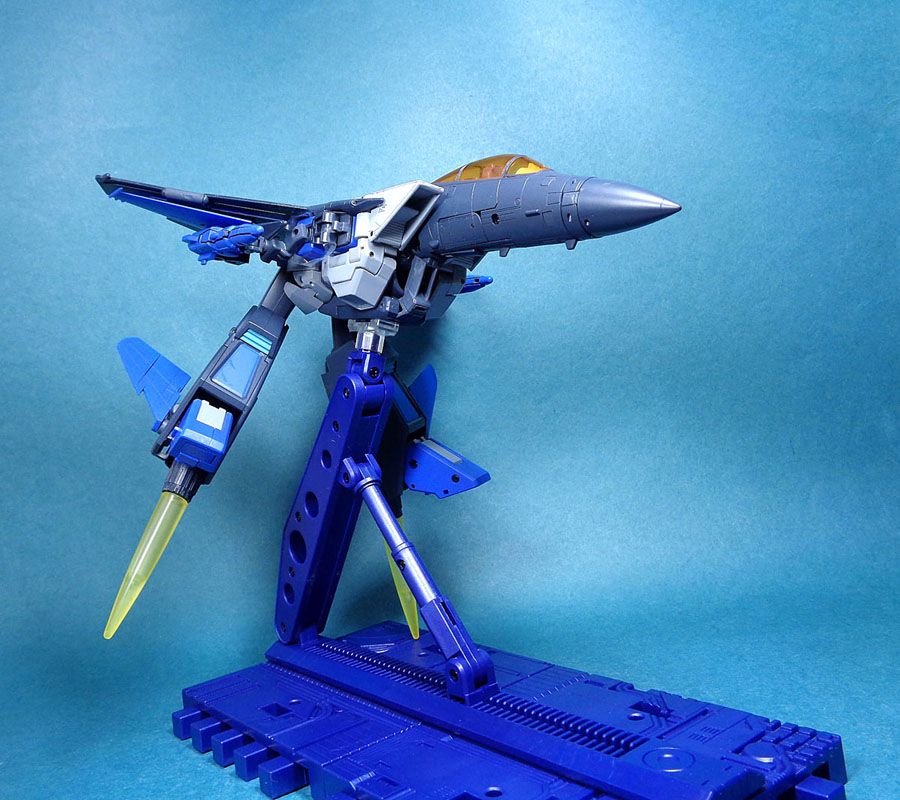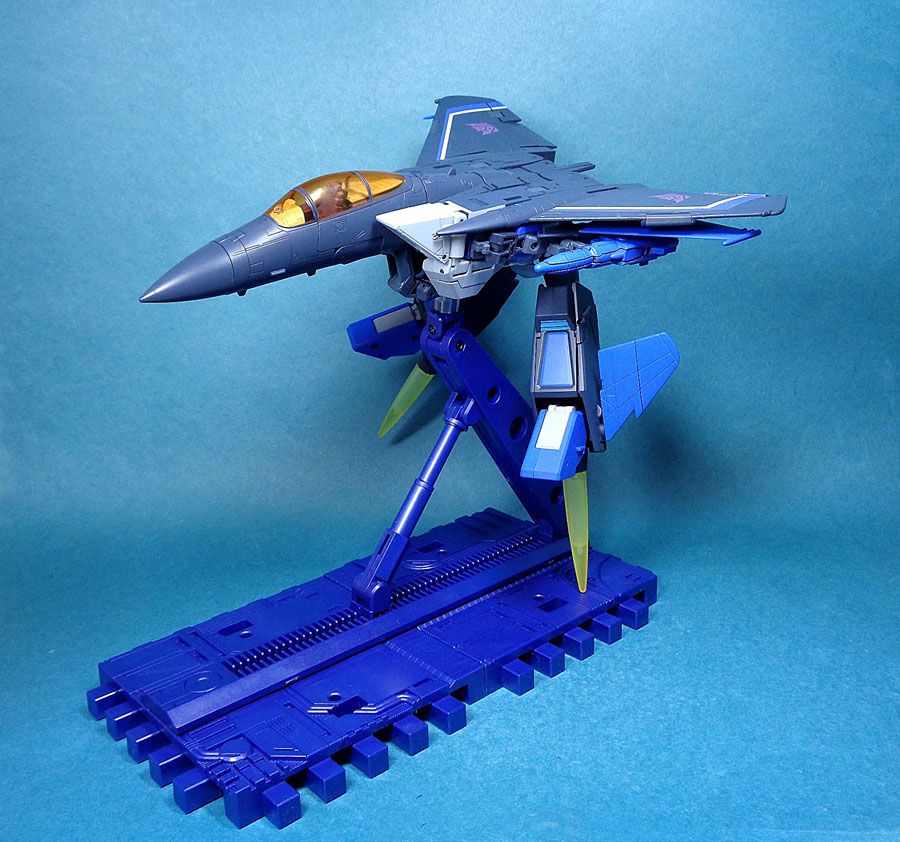 Skywarp Robot mode

The only Decepticon with the unique ability to instantly teleport to distances of up to 2.5 miles away, Skywarp's technique would be truly impressive, if only he knew how to use it strategically. Without direct orders from Megatron, Skywarp only uses his ability to play stupid pranks on his fellow Decepticons or attack Autobots without any real accomplished objectives, completely wasting his talents.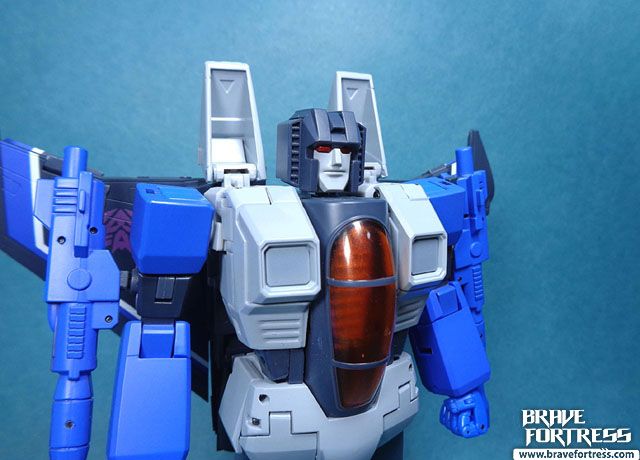 Skywarp is a straight up redeco of MP-52 Starscream and Thundercracker.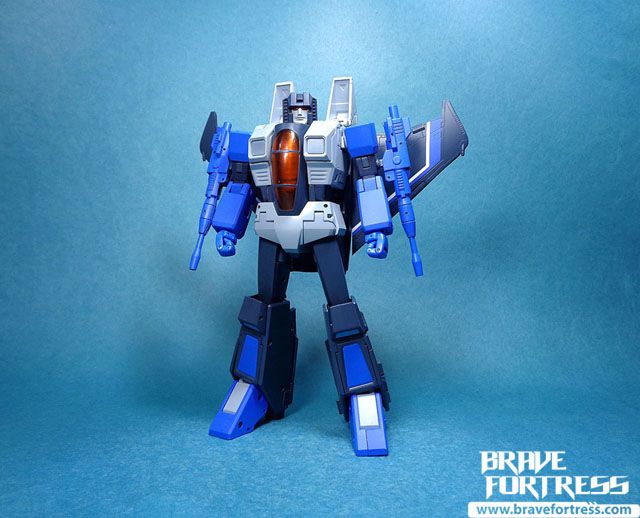 MP-52 Skywarp stands roughly 8.5 inches tall and weighs 335 Grams.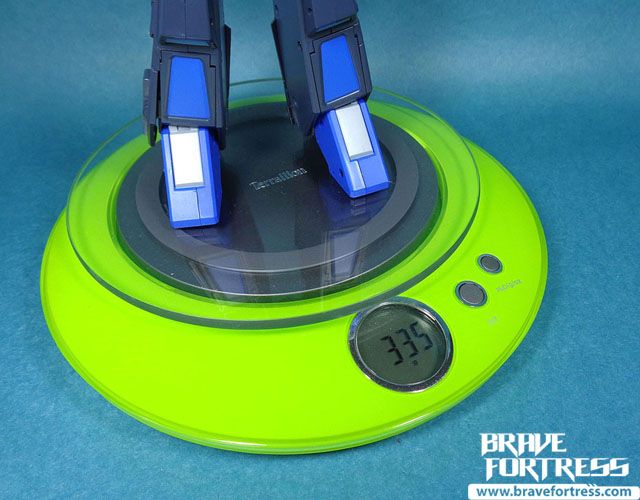 Thanks to the new design for this figure, he's now capable of doing ab crunches, just like the rest of the MP-52 Seekers.

For facial expressions, Skywarp has the same extra face plates as Thundercracker, with a slightly darker color tone.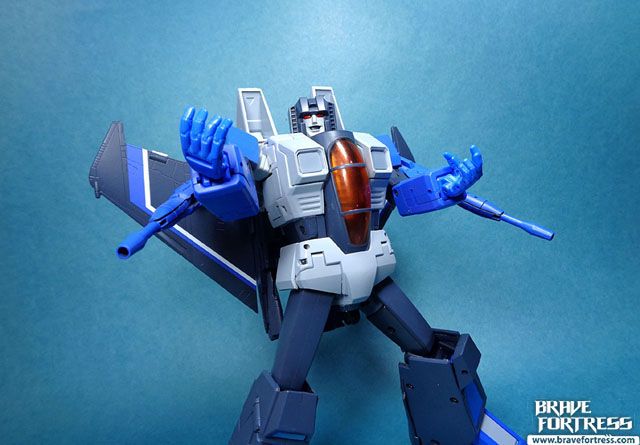 Armaments-wise, Skywarp comes with forearm-mounted Beam Cannons which can also be used as a Variable-Caliber Machine Guns. Three different effects parts can be plugged into the guns.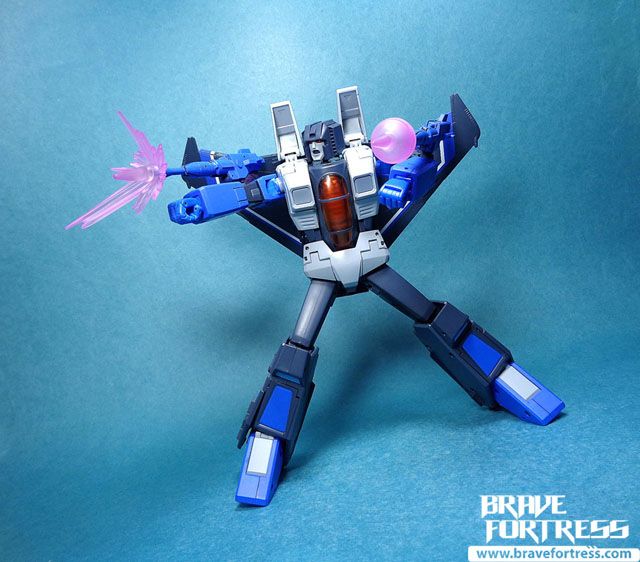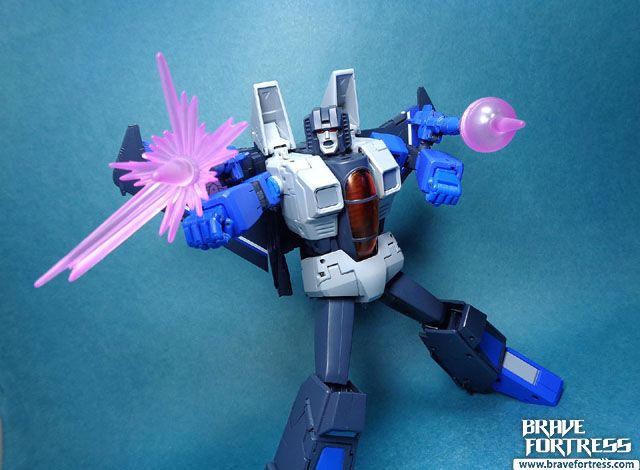 Just like the rest of the MP-52 mold Seekers, you can also remove the forearm-mounted guns and re-equip them as regular handheld weapons.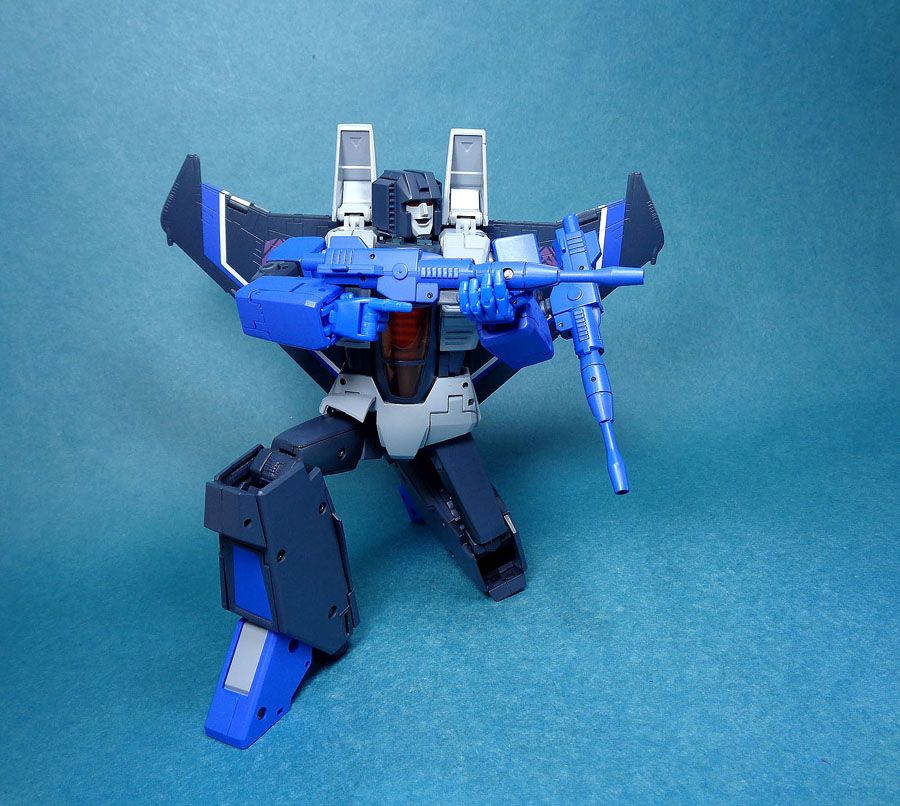 Chest missile pods.

With Megatron Gun mode.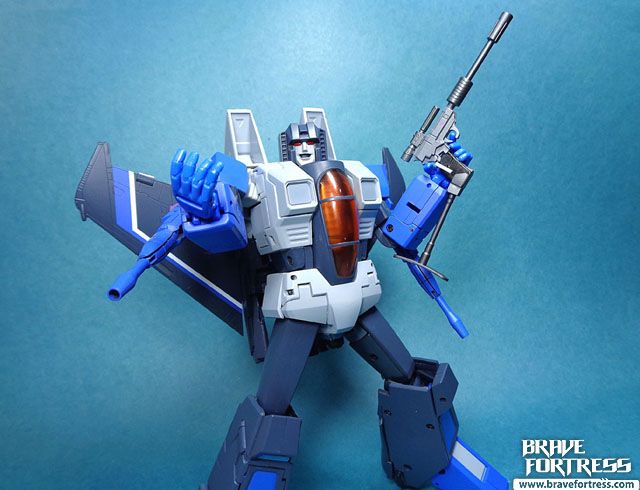 The Megatron Gun mode is the same as the one that came with MP-52 Starscream. Thundercracker is the only Seeker not to come with the Megatron Gun mode accessory.

Thanks to impressive addition of butterfly shoulder joints on this mold, you can have Skywarp hold Megatron Gun mode with both hands.

You can also opt to pose Skywarp on the display base, but, unfortunately. it doesn't have the proper height to give him any really good poses.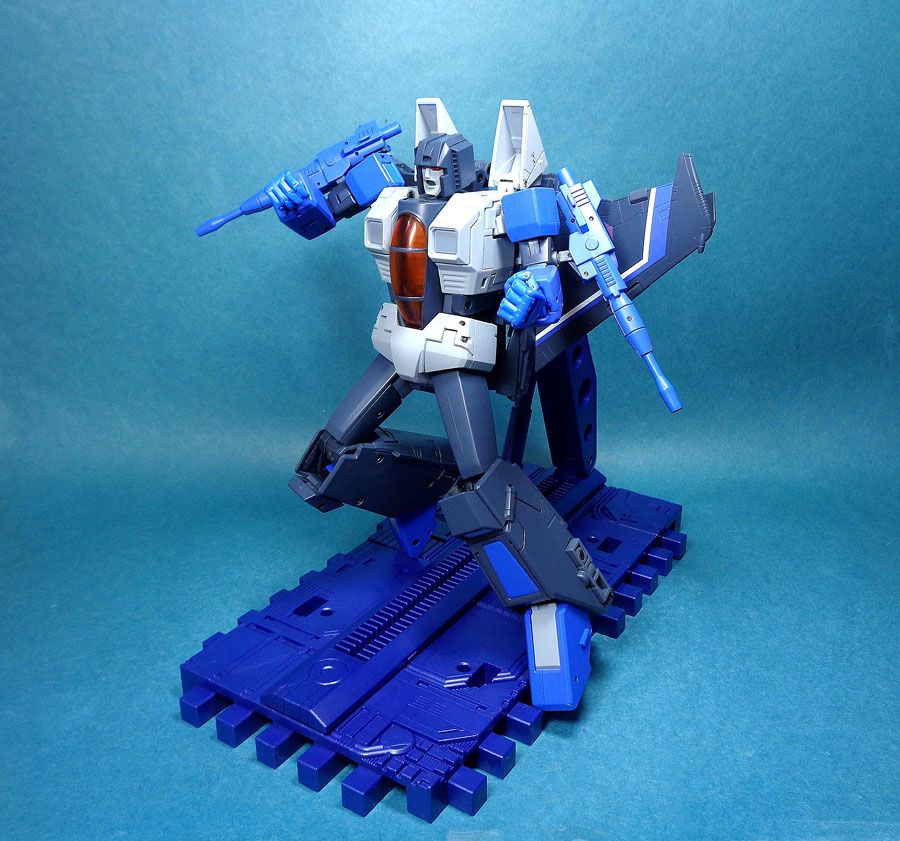 I guess it does make him sorta quake-proof though.

With the other MP-52 mold Seekers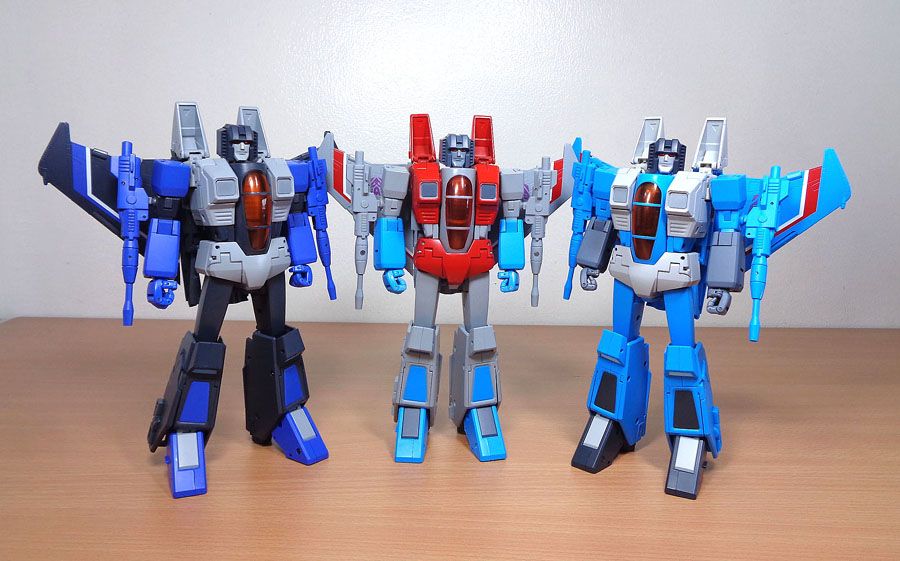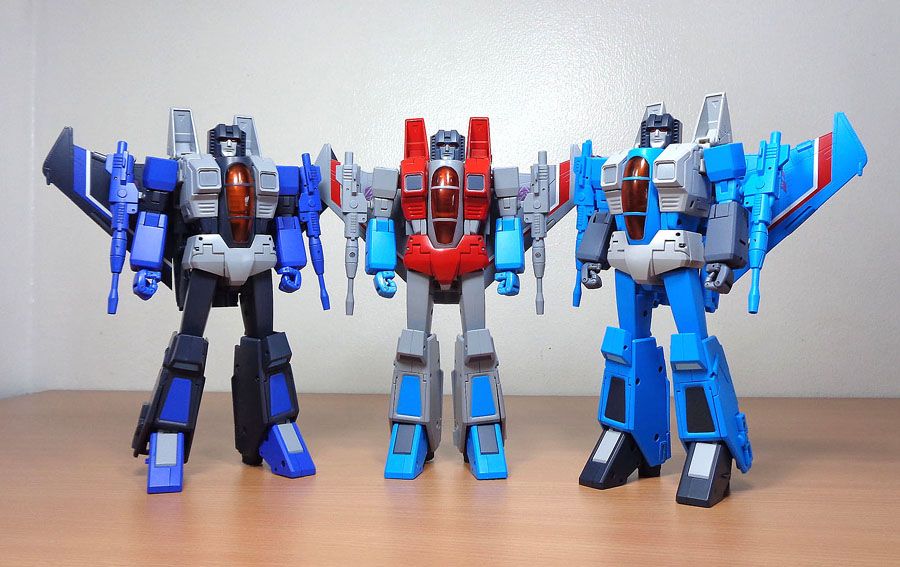 Skywarp has the lightest color clear plastic as far as effects parts go.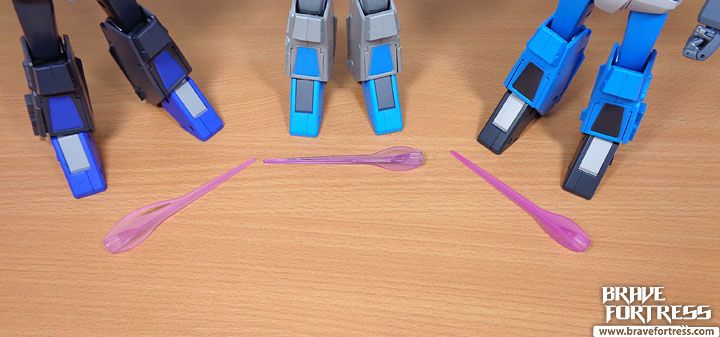 Skywarp's effects parts is lighter than Thundercracker's. The darkest would be Starscream's.

Straight up redecos. Lol… "twinning".

By mixing and matching parts, now we can finally have symmetrical effects parts assigned to each Seeker (one seeker comes with only one piece per type of effects parts).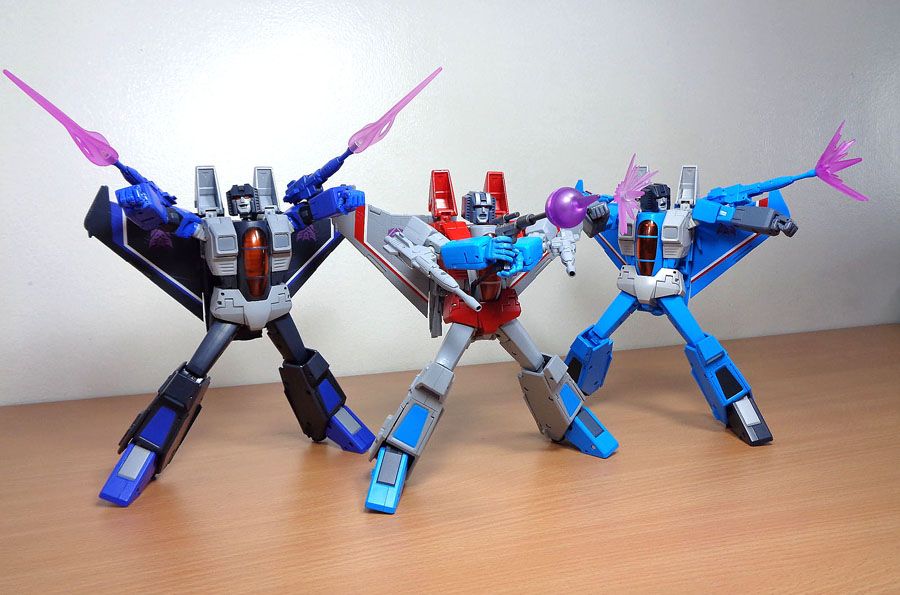 Lastly, just a reminder, because it's somewhat a long process to transform this mold and thanks to all the crazy empty space underneath the tray, you can actually store Skywarp in robot mode like so, for faster access for group shots.

The same applies to all the Seekers.

Overall, I am so glad we finally completed the main three upgraded Seekers for the MP line. This new mold totally blows the older versions out of the water! It's highly poseable, has more details and even has the crazy "Gerwalk" mode as seen in the Episode "Dinobot Island". I will probably leave the previous molds in jet mode and pretend they're other Decepticon goons, just to "fill the skies" if I ever get around to making an MP diorama. Thankfully, this set does not have any QC issues that were a hit or miss problem with the MP-52 Starscream (cracked wing posts in the rear wings).
I have no idea how I'm going to get the coronation kit for this mold's Starscream, as it was only offered as a Takara Tomy Mall online exclusive if you complete all 3 Seekers in Japan and nowhere else.
Hmm.. I wonder if they'll release more decos of Seekers in this mold later on?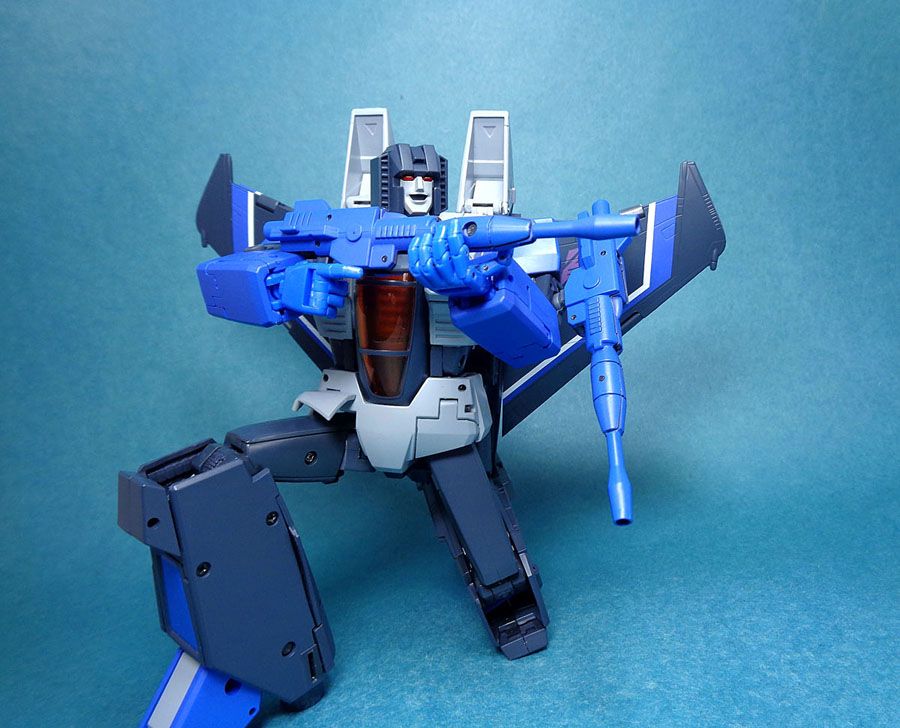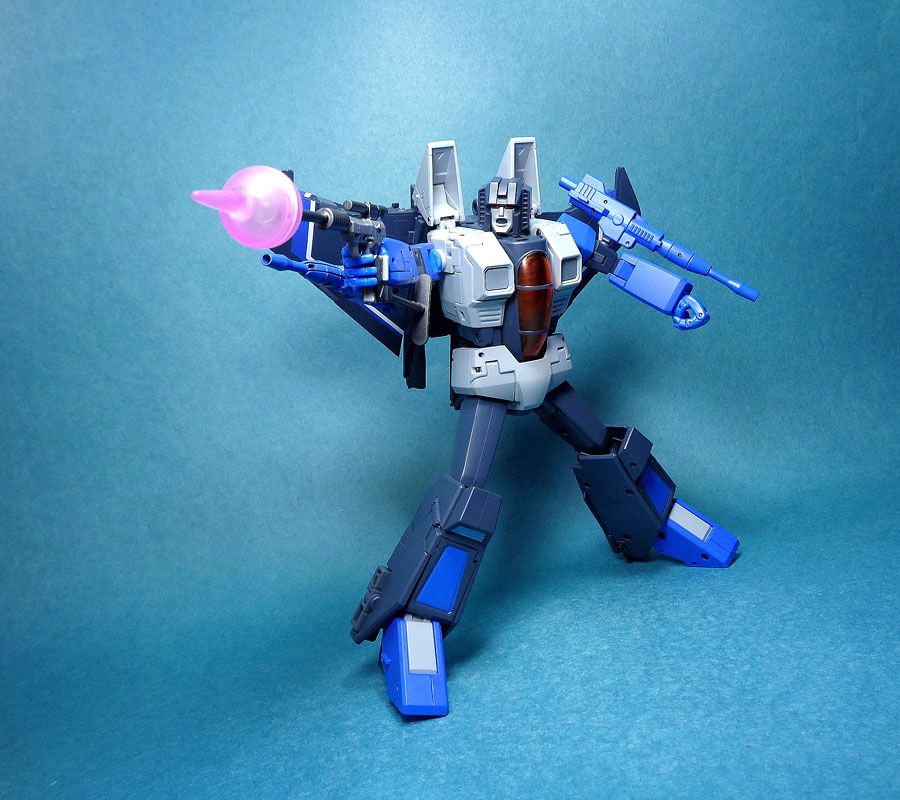 Gold