Transformers Studio Series 86 – 16 Deluxe Class Arcee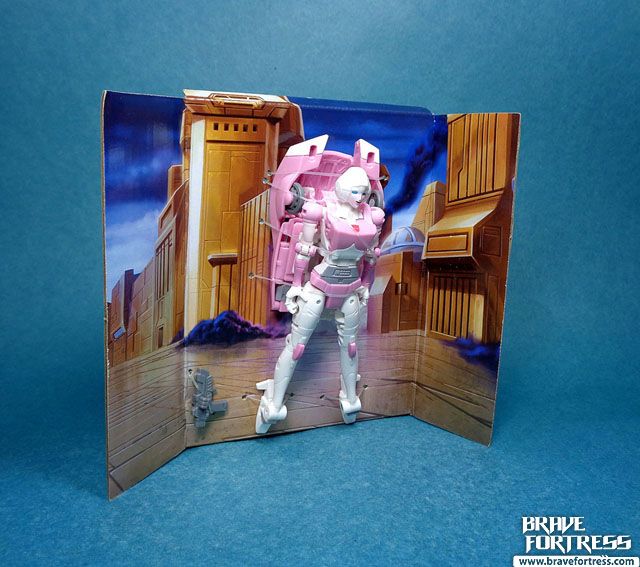 Take note of the tiny blaster that's tied to the bottom corner of the packaging.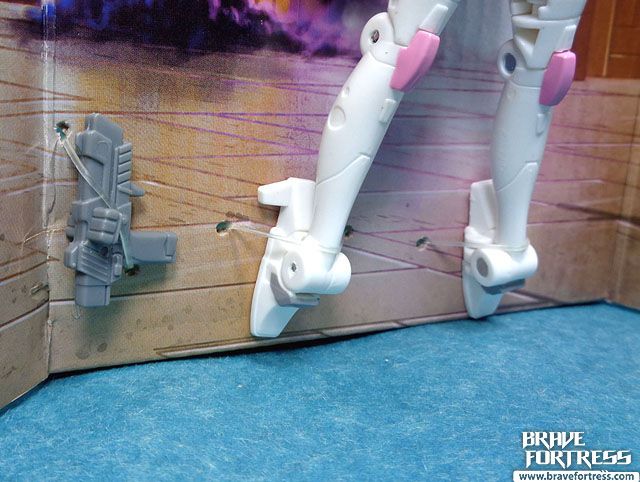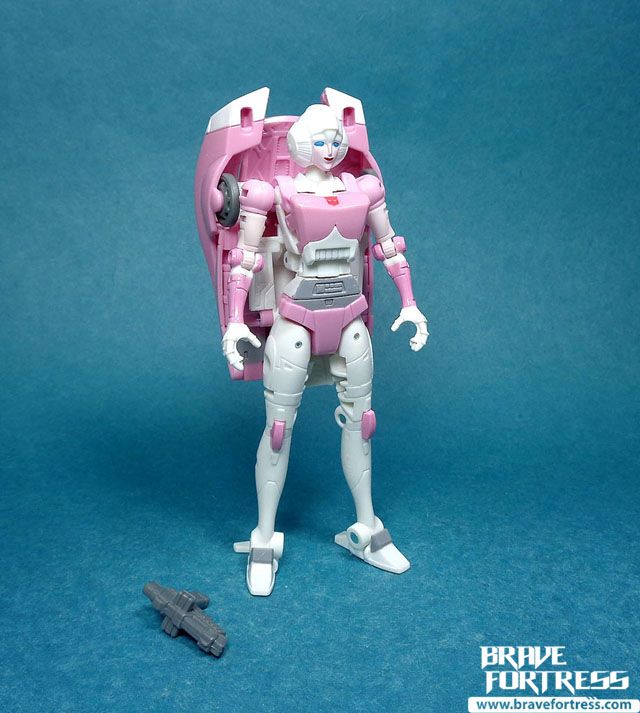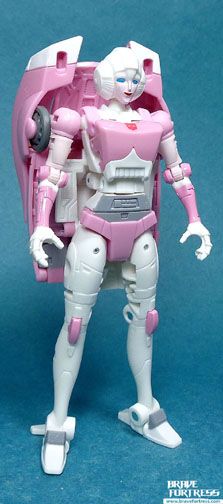 Caring, strong-willed, resourceful and brave, Arcee exemplifies all the qualities of a heroic Autobot. Despite being one of the few "Female Autobots" around, she is can tough it out with the best of them in taking down Decepticons.

Instead of repainting the Earthrise/ Kingdom figure, Hasbro actually went back and retooled the Generations one. The figure now features a redone lower body and a new back half of her vehicle mode's shell.

I believe the head is still the same as the Generations one, just with a nice paint application and lipstick.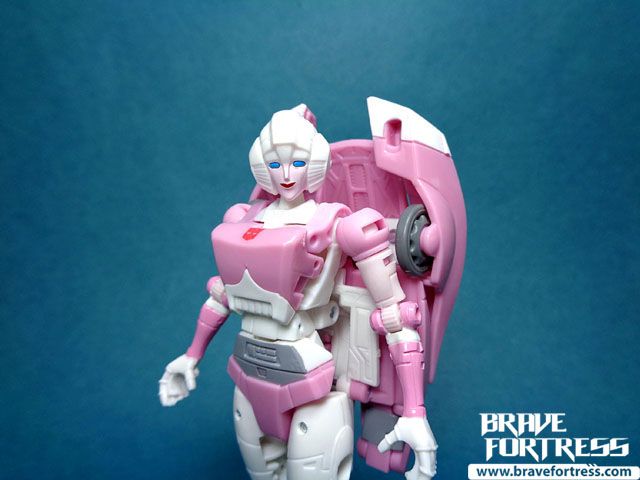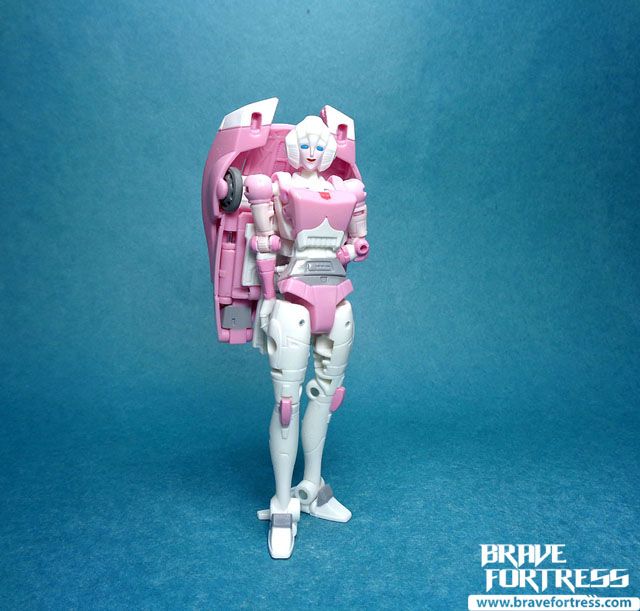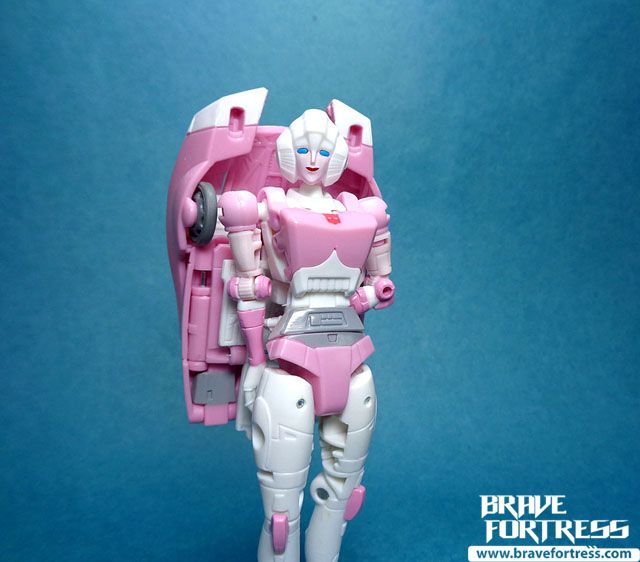 "Kup and Hot Rod are still outside the city!"

Her backpack is still a huge piece of plastic.

Due to the size of her backpack, Arcee's heels are much larger than usual to balance out all that weight.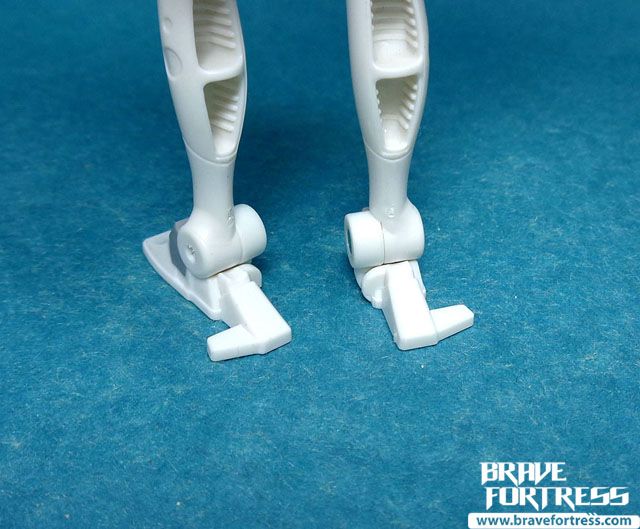 I wish they could've done something about the front wheels, they stick out too much.

Thanks to some really good design work, Arcee's actually got an ab crunch joint in her. Cool!

Arcee comes with her blaster. I think it's the same blaster as her earlier Generations/ Legends figure.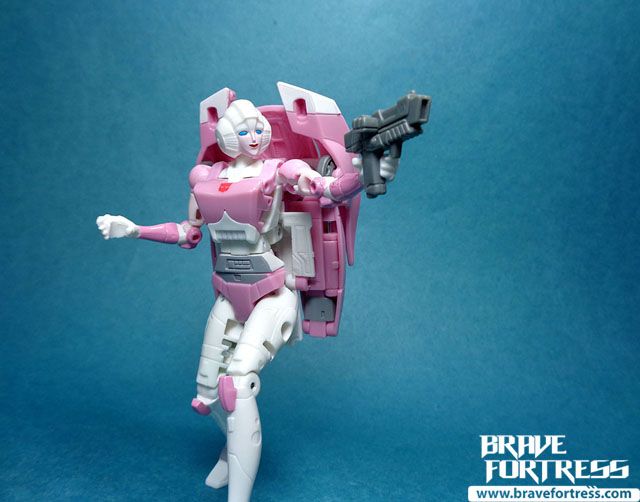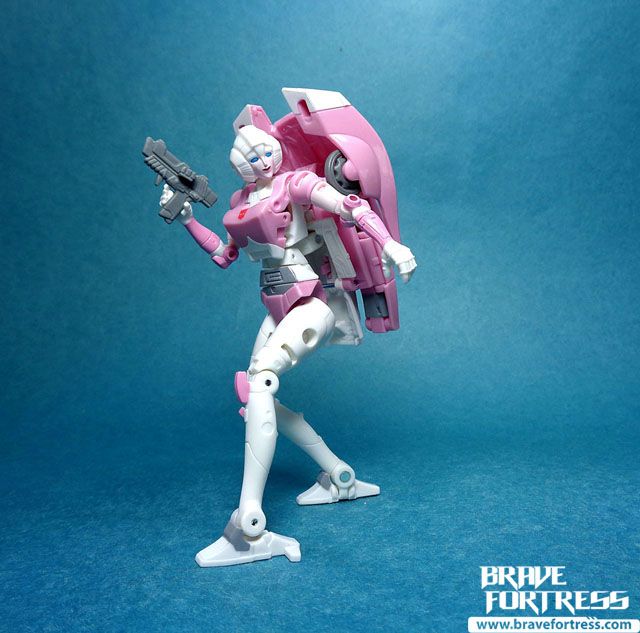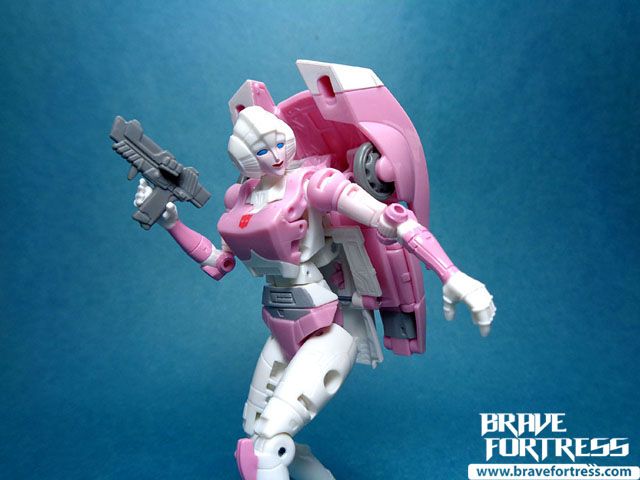 Her pistol can be pegged onto her thighs.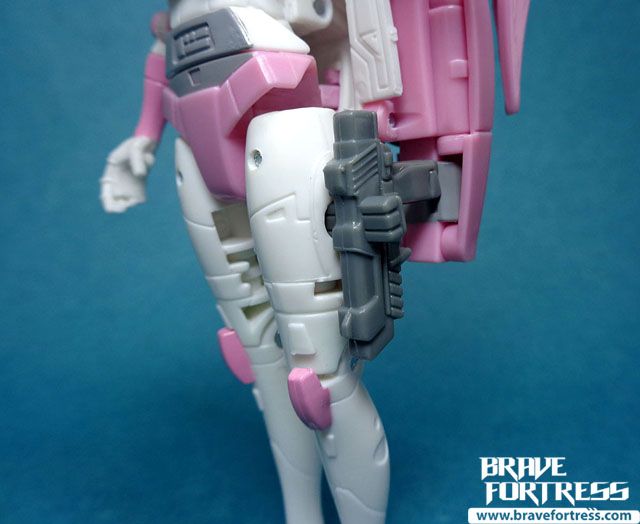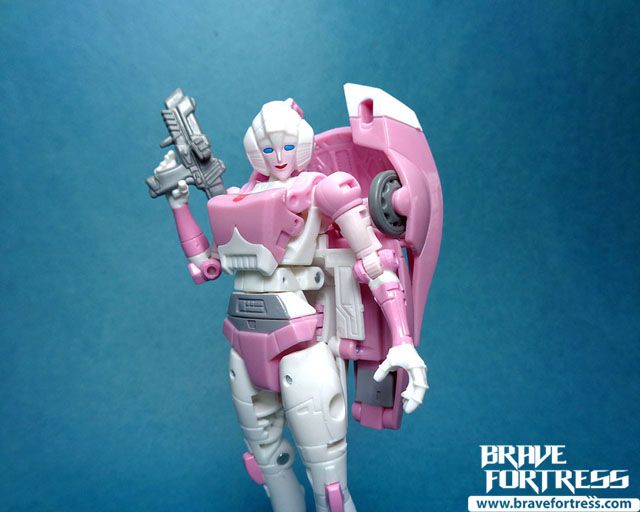 Arcee comes with the same "Battle of Autobot City" backdrop as the rest of the 1986 Studio Series core cast.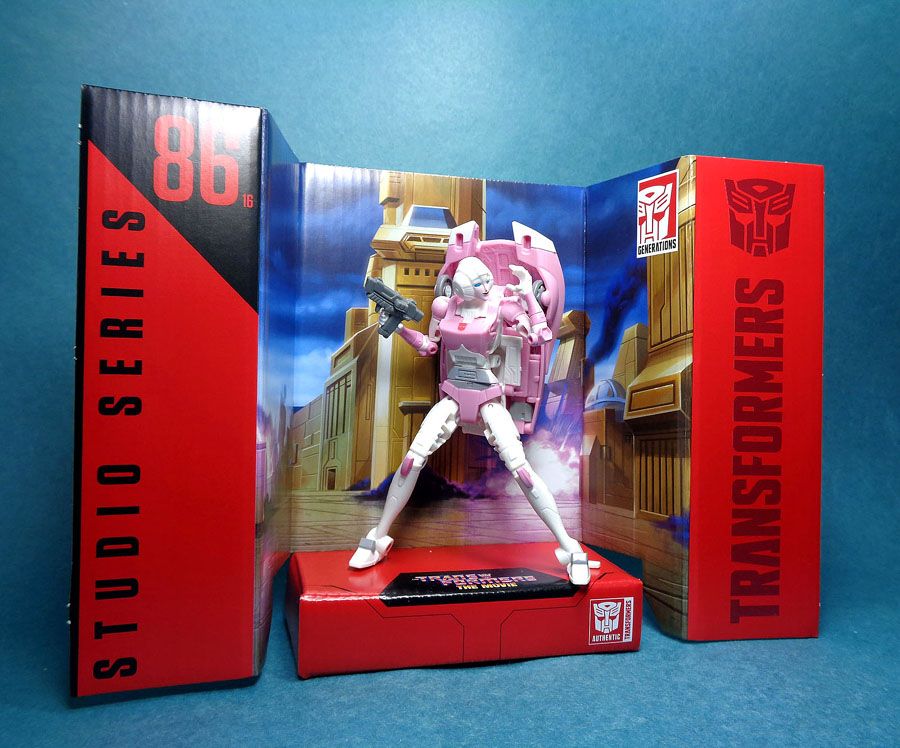 Can't say I'm a fan of the huge gaps in the vehicle mode. It's the same issue as it was before with the Generations one.

Lol… Gerwalk mode?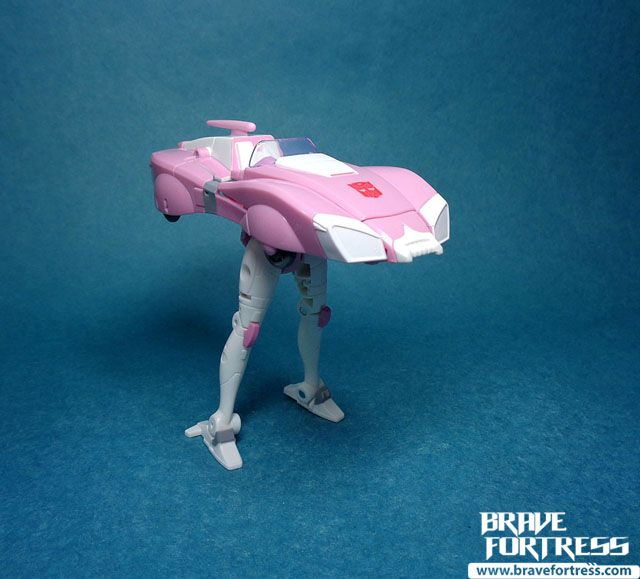 Overall, I'm happy with this one. It's definitely an improvement over the previous versions. It's definitely the best Arcee so far. I do wish it came with some more accessories, as the little blaster just by itself is a bit disappointing.
Hmm.. I should probably do a proper group shot with the SS86 crew now, now that we have all the main characters.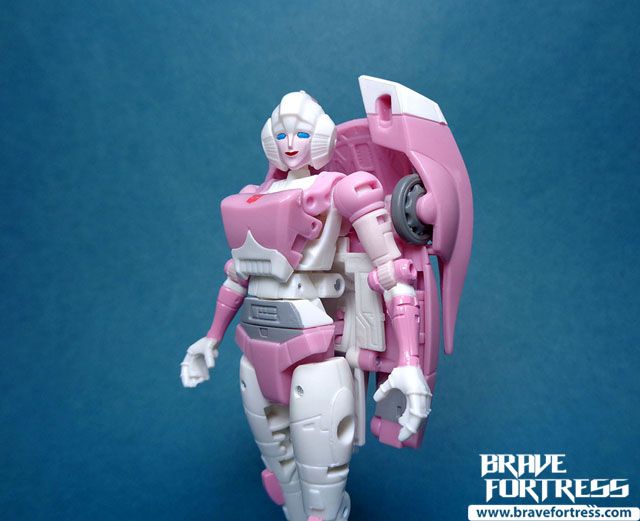 Gold