Transformers Masterpiece MP-29 Laserwave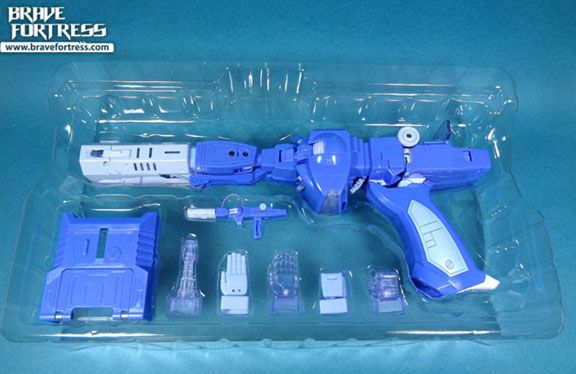 Laserwave's optional backpack transforms into his gun stand. Pretty cool idea there, Takara.
Laserwave requires batteries to operate. 2x AAA and 2x LR44 batteries. Batteries ARE NOT included.
The AAA batteries are for his gun mode. While the LR44s are for his robot mode.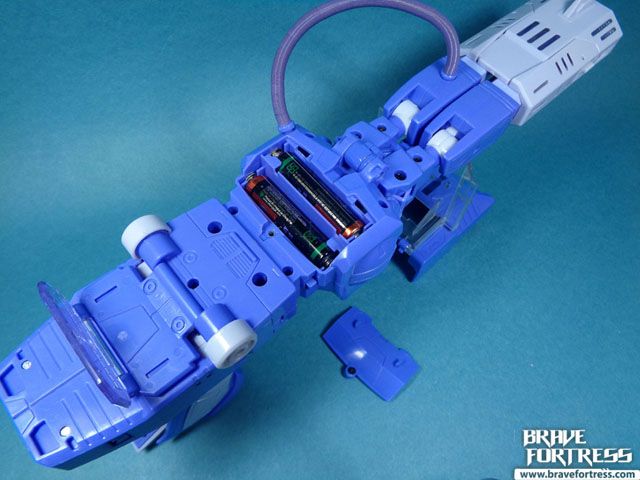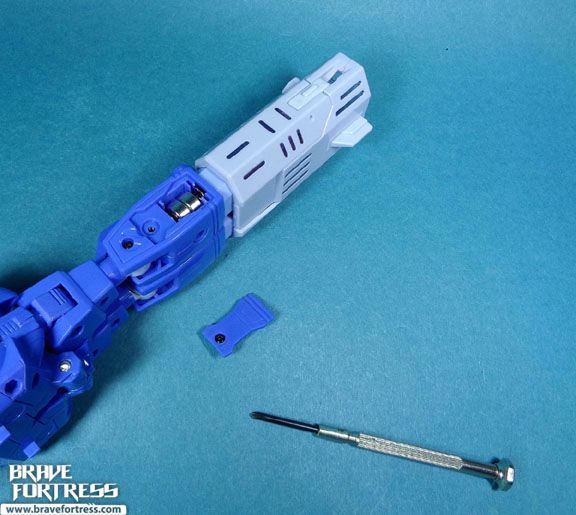 With this switch, you can toggle between 2 different light up modes. Either by "light up by holding the trigger", or "pull trigger once and the light will pulsate for 5 seconds".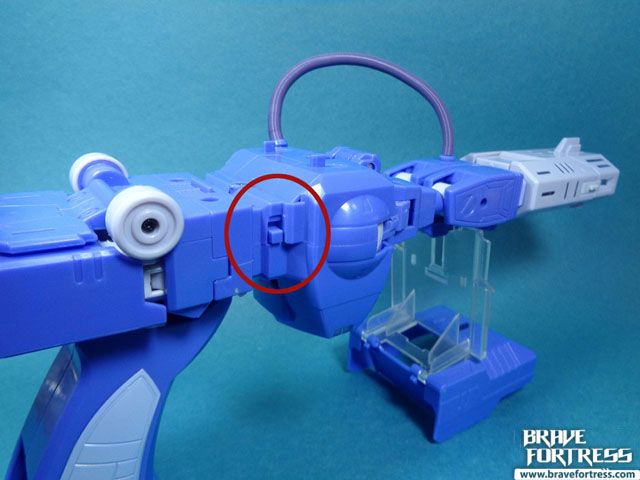 Sadly, even with so many batteries installed, this figure has ZERO sound effects (unlike his G1 toy) and his chest does not light up.
Light up effects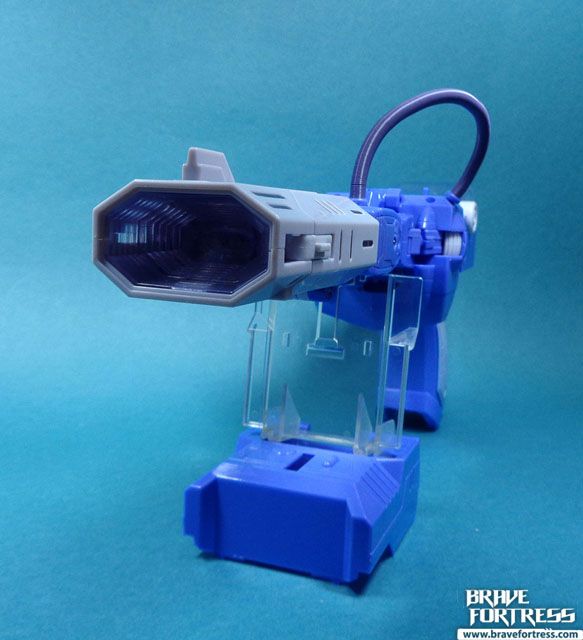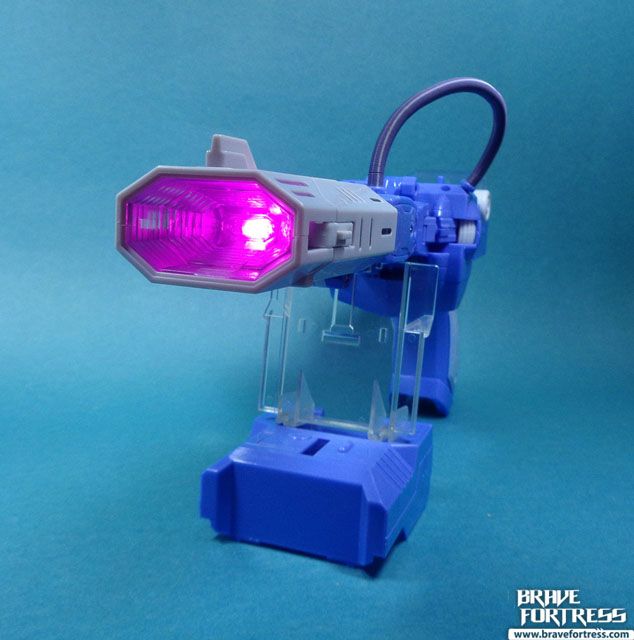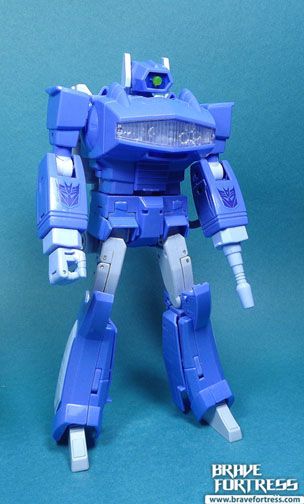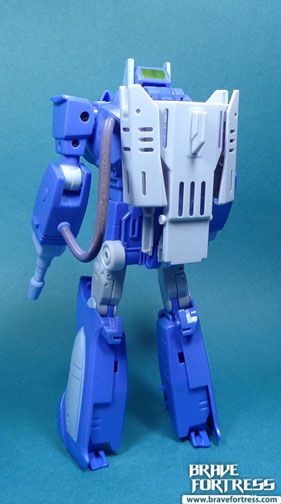 The Decepticon symbols on his forearms are not pre-applied, you have to attach them on yourself.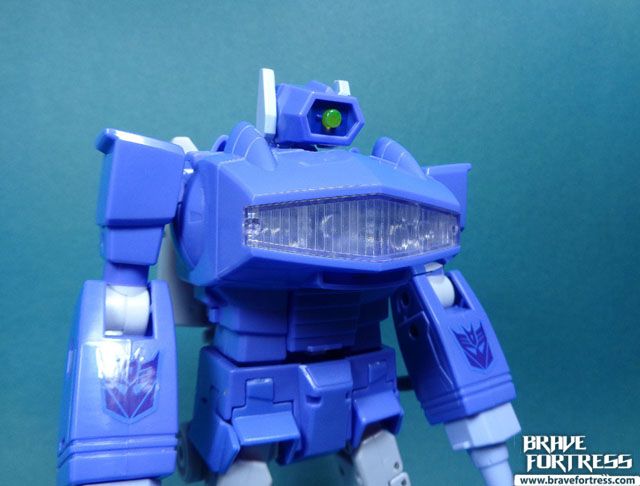 Impressively, unlike the G1 toy, his "Magnetic impulse Diffuser" attachment no longer needs to be be removed, it folds in neatly to become his backpack.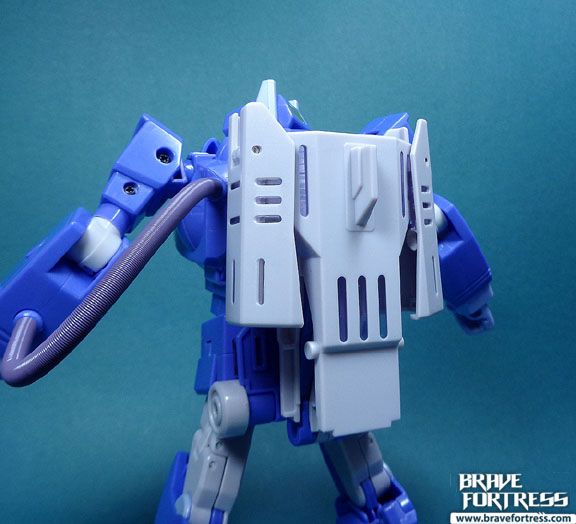 This alternate backpack can be equipped, since in some animation scenes his backpack is drawn differently than his default one. This piece, which also serves as a gun stand, does the trick nicely.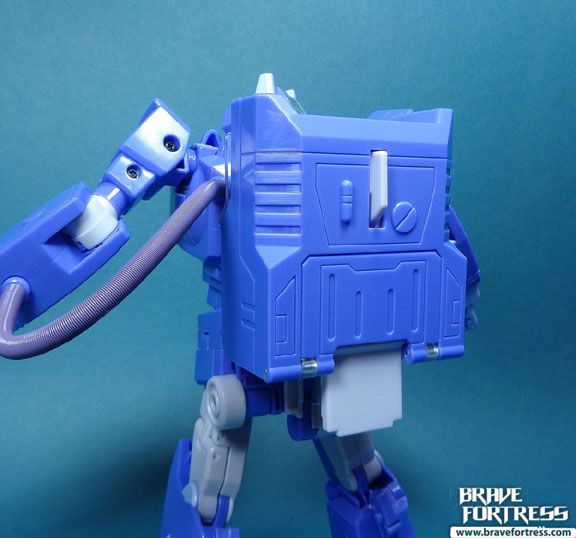 I love this design idea here, the trigger folds neatly into this torso and there's a plate that slides down to cover it. Genius! Plus, mid-torso ab crunch joint! Wow!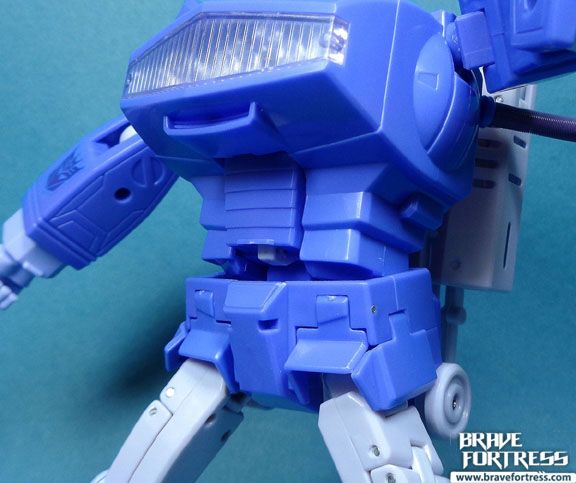 Laserwave's cannon hose is very flexible. I'm glad they didn't use a simple rubber hose and called it a day but man, they really impressed me with the choice of material here (some sort of spring?) Very nice.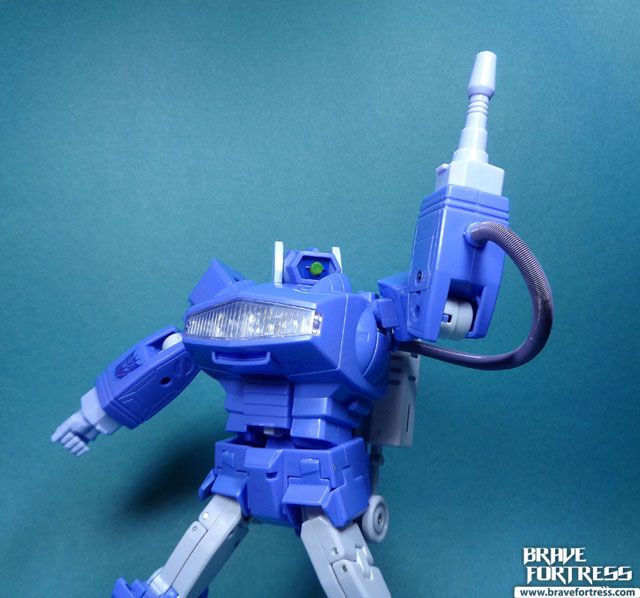 Lol.. I really don't know what the animators were thinking, adding a mini-me version of Laserwave as his firearm. But Takara did a cool job including it as an accessory for the figure. I love the little piece of thread they used as a "hose" for the mini-Laserwave.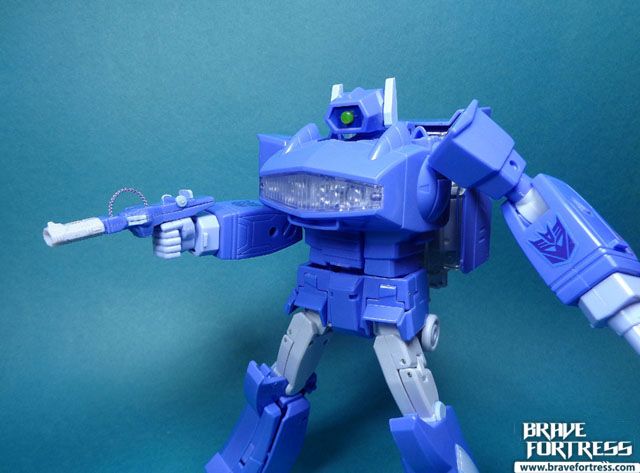 Heh.. this looks cool and awkward at the same time.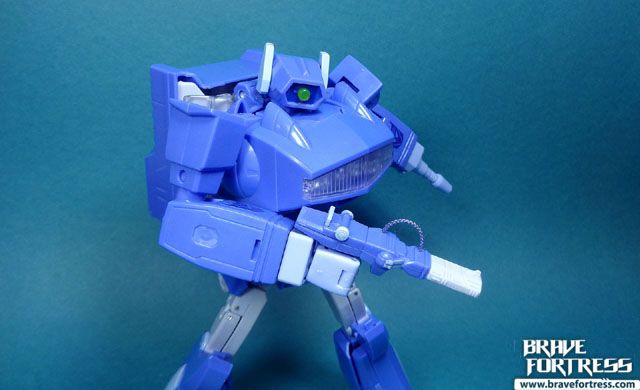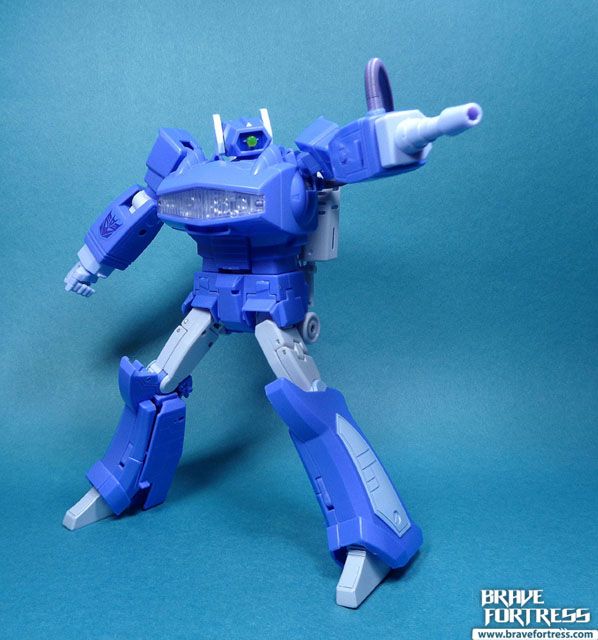 You can swap out the "solid" hands with the clear one for the light up effects. Note that this is only available on the left arm.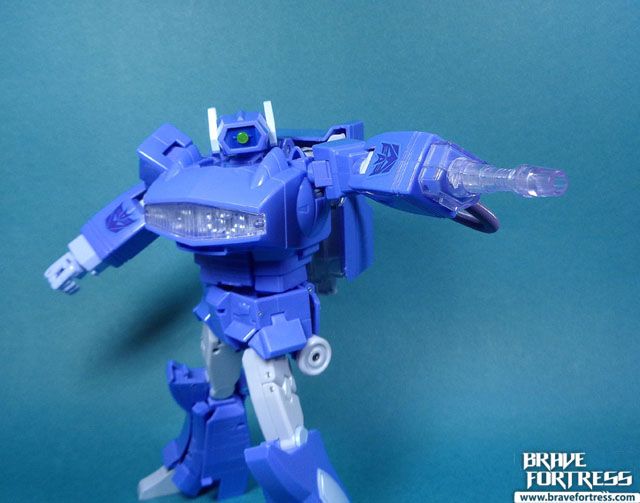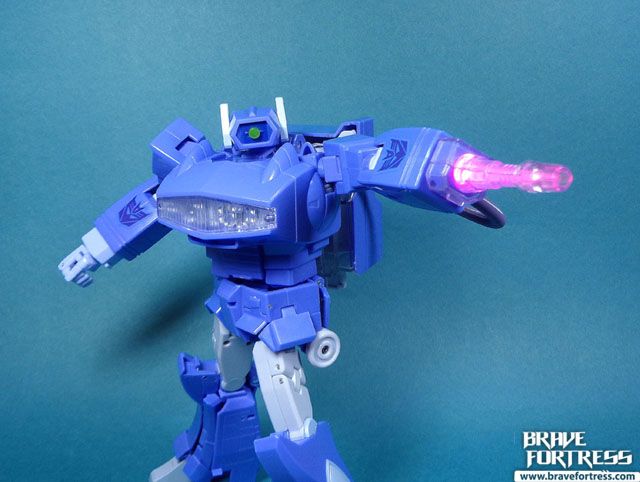 You can set the light in the left hand to "pulse" mode too, just like in the gun mode.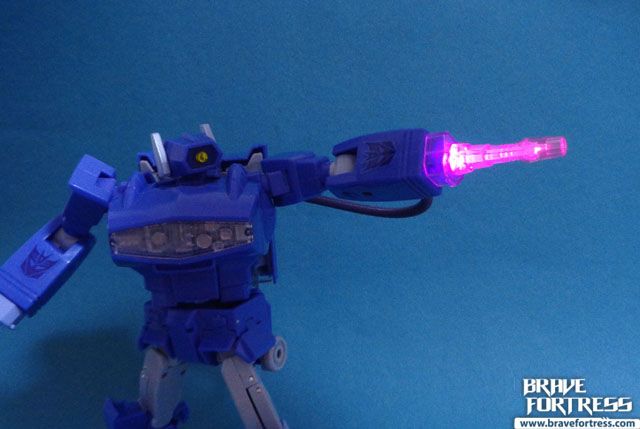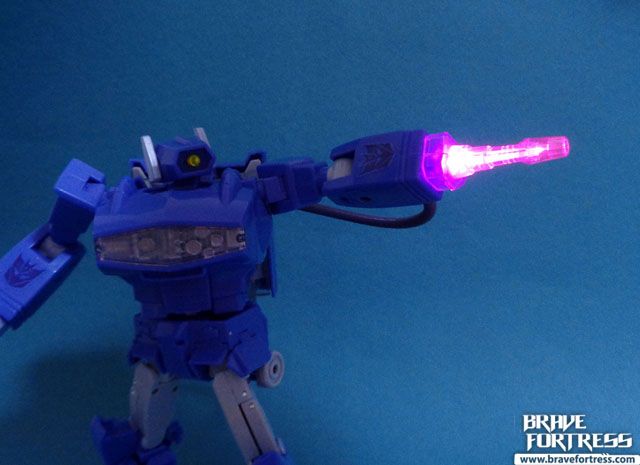 Notes:
-Laserwave weighs 372 Grams and stands roughly 9 Inches tall.
-Laserwave also has diecast (as per norm with 9-incher MPs). Diecast is present in the "spine" of his backpack, and in his feet.
-Optional hands. Solid and clear. The clear hands are a homage to the original G1 toy.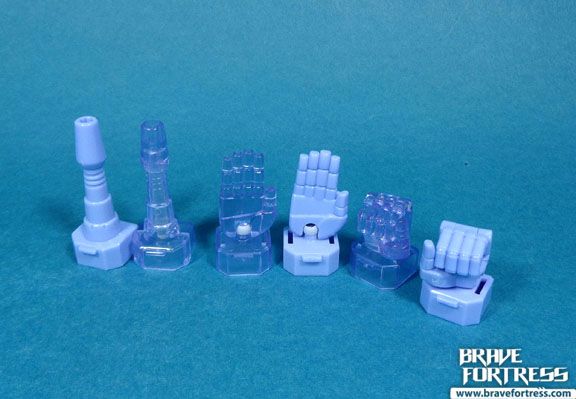 -Personally, I'm not okay with the shade of purple of this toy. I find it to be too light. The Fanstoys Quakewave had the more "Anime-accurate" shade of purple for this character. Which makes me think Takara might pull a "Anime colors" reissue later on, like with how they did MP-14 Red Alert.
Please proceed here for the Fanstoys' Quakewave: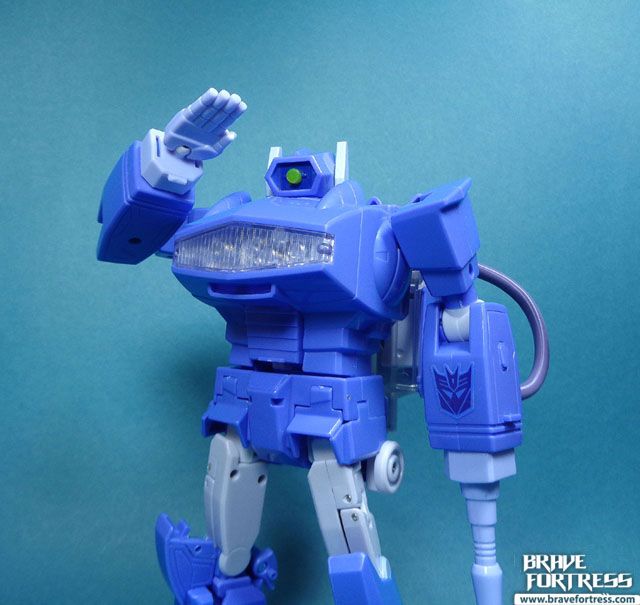 Gold