Transformers Toys Alliance MAS-01 Optimus Prime
Inner box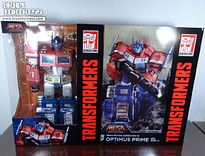 Box is huge! Measures 21.5″ x 15.25″ 7.5″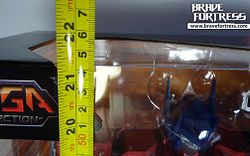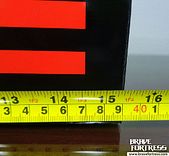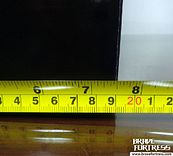 Limited Edition "lucky draw" poster signed by artist Andrew Griffith, from the IDW comics.
It comes in a pearl white envelope. Classy.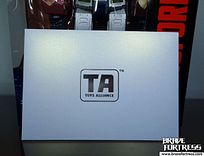 Sadly, the poster is roughly only bond paper sized. I would've loved something a little bigger. It's just a scaled down print of the outer box sleeve, complete with the backside of the box art.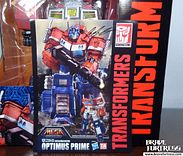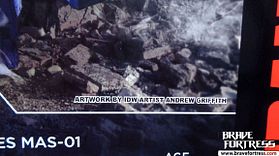 Also included in the envelope is a numbered certificate of authenticity.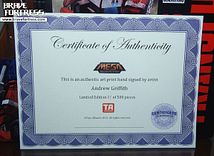 The item also comes packed with a silica gel packet.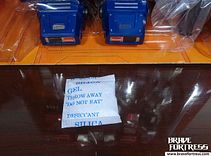 18″ Optimus Prime.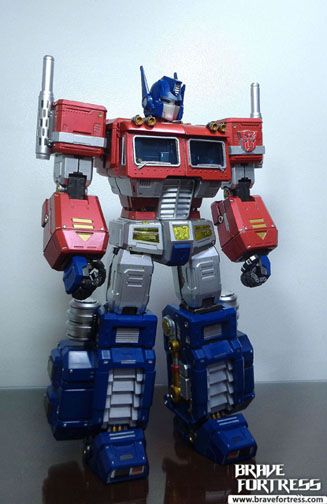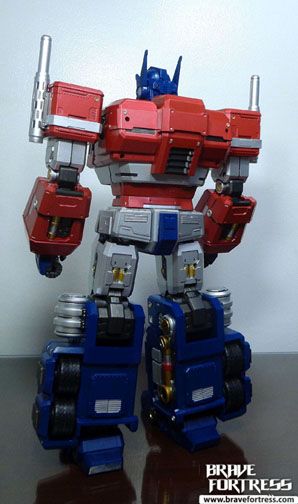 When this figure was first announced, I had just put in my preorder for the Ultimetal Optimus Prime figure (second production run). So I was a bit apprehensive about shelling out for another jumbo, non-transforming, non-diecast Optimus Prime.
A few months later and with some nudging from a friend, I gave in and got this one as well. Boy, was it a good call!
The figure is big and very imposing. The proportions might seem off at first, but now that I'm used to it, the Ultimetal seems too skinny now. The bulk and super poseablity of this figure really holds a good amount of presence on any display shelf.
Unfortunately, I realized too late that the toy runs on LR626 batteries and all I had was LR44s. So the shots were all done with Prime's eyes off (batteries are put inside the back of Prime's head). Too bad.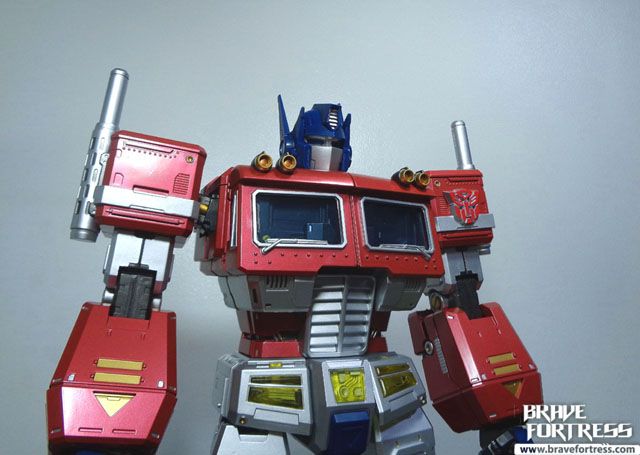 Prime's rifle is really, really big. My kids loved it, they could hold the gun as if it was meant for them. It doesn't have any light up features though (would've made this extra impressive).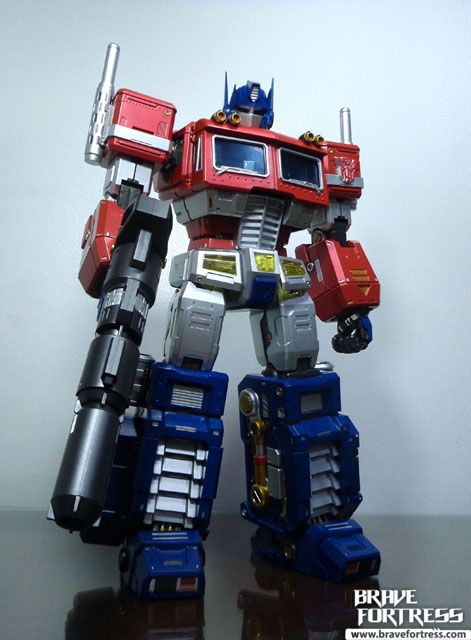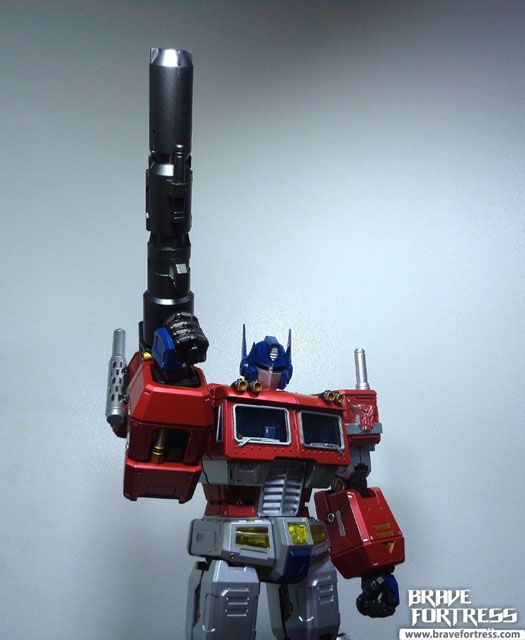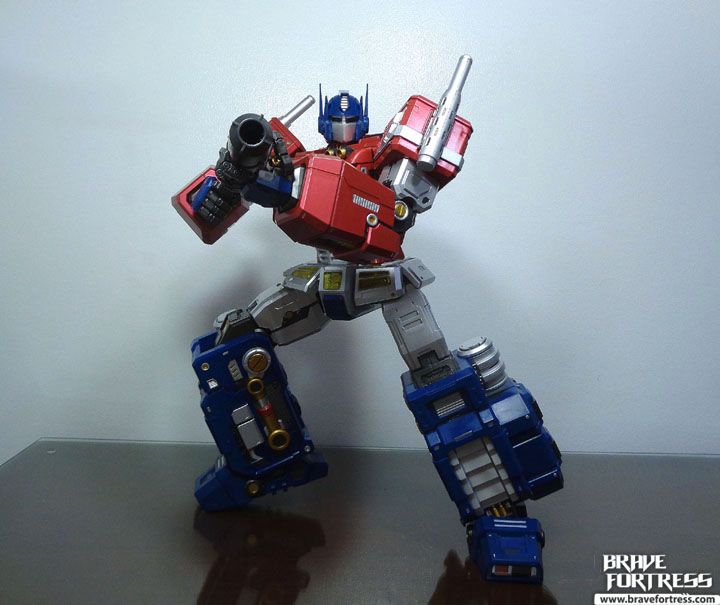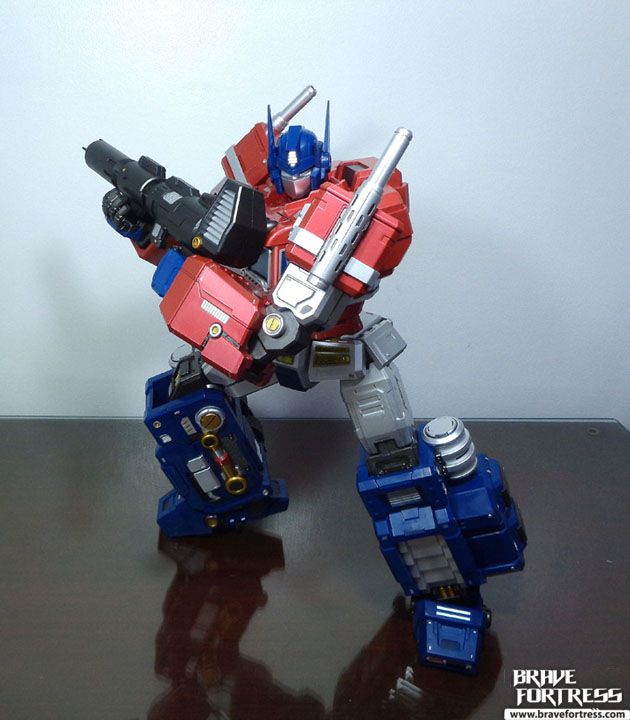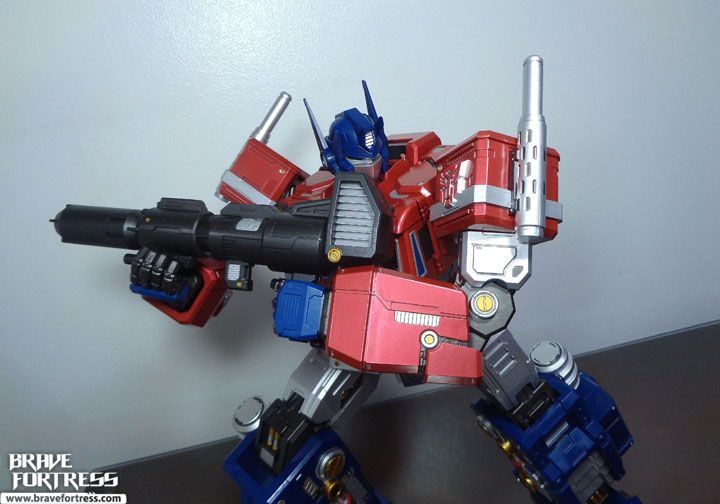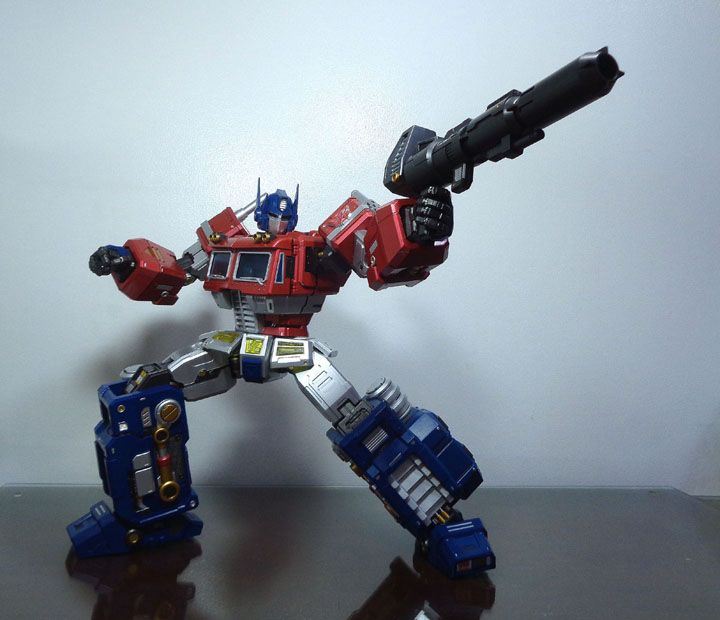 The tires on the back of Prime's legs are made of some soft rubbery type of plastic and do spin.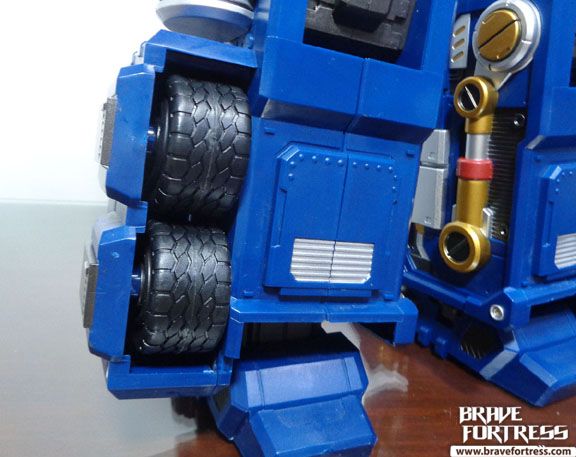 Prime comes with the Autobot Matrix of Leadership. It does light up, similar to Prime's eyes, it runs on 3x LR626 batteries, which I didn't have on hand when I was taking the pics (it was already late and I was expecting the usual LR44 batteries for the lightups, D'oh!).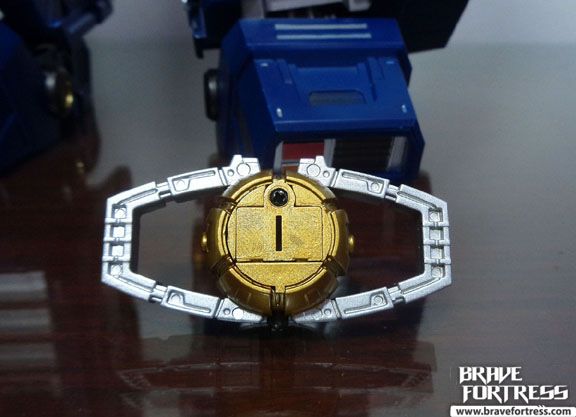 The Matrix was a tad difficult to get to lock into the cavity properly, maybe I was doing it wrong? It seemed to take more work than it should, I finally got it to hang in there but it still seemed off and could fall off with the slightest touch.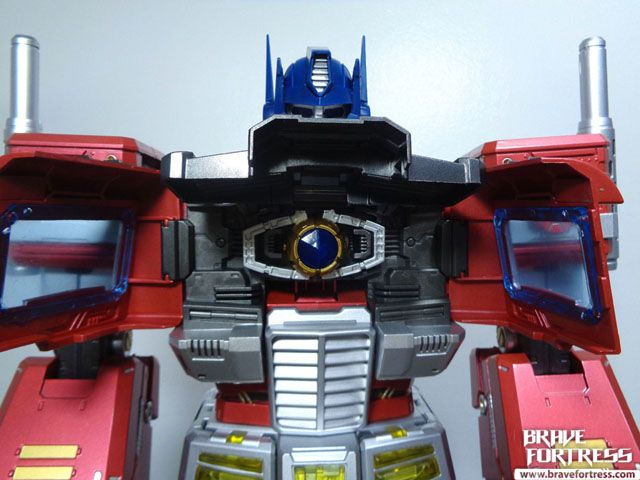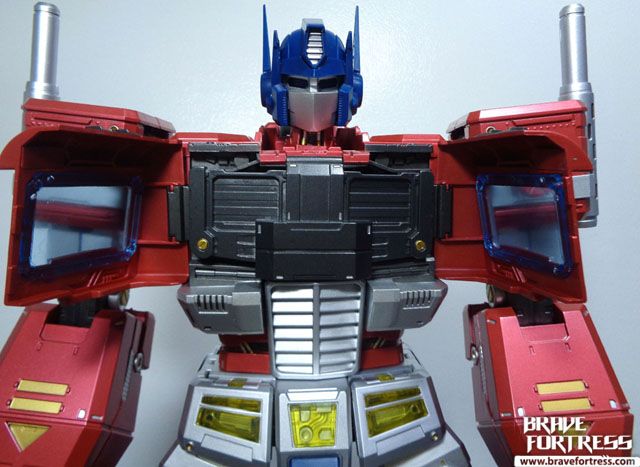 At 18″, this is currently the tallest Optimus Prime in my collection. The previous place holder was the Ultimetal Optimus Prime from Action Toys (16.75″ tall).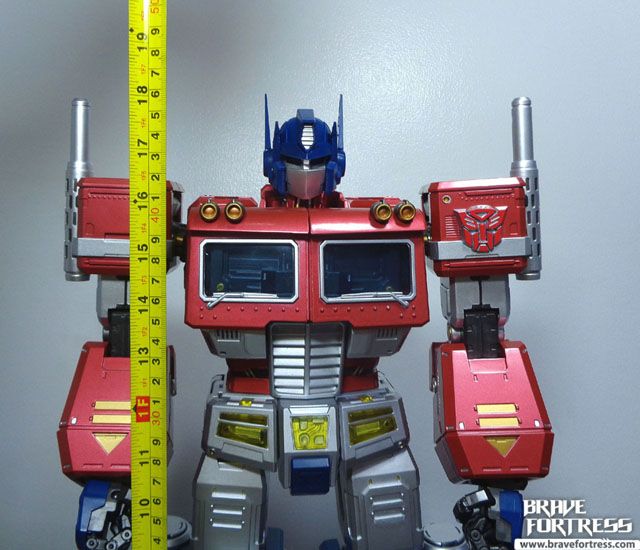 Despite being only made of plastic with no diecast, this guy weighs a solid 2,249 Grams (over 2 Kilos!)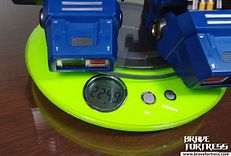 Some more action shots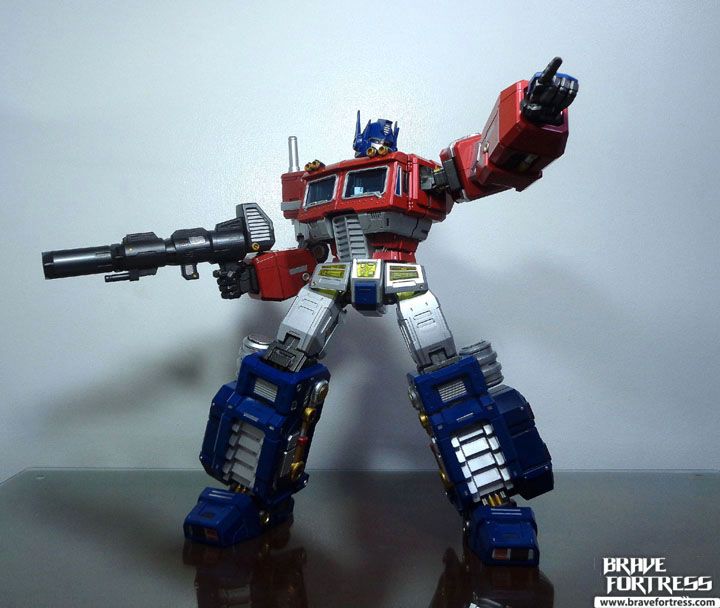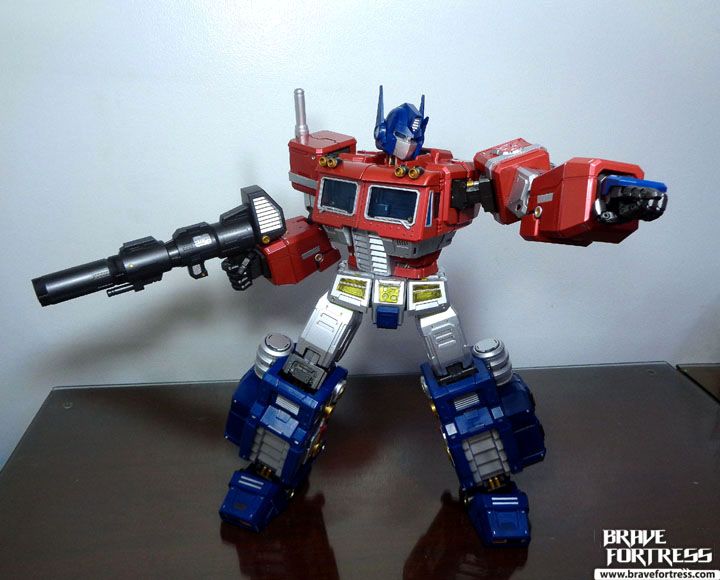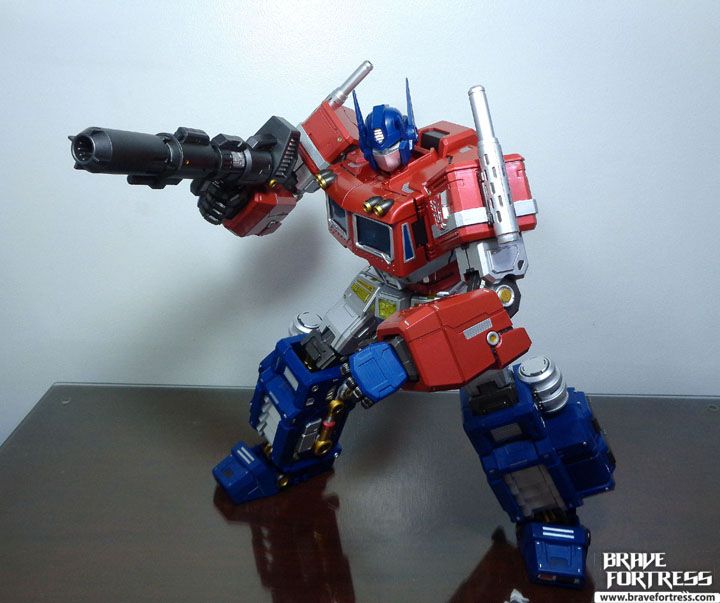 Overall, a great alternative to those who can't afford the Ultimetal Prime. It's roughly a third of the price of the Ultimetal and has a lot of shelf presence. It's very impressive. The only real downsides are that it does not come with the energon axe and the thumb can't do a proper thumbs up pose. Also, the design is based on the early IDW comics designs (white biceps, (t actually makes me think of an oversized Revoltech Optimus Prime in some ways) so it doesn't really copy the original G1 cartoon look 100%.
The problems are not real deal breakers but it would be great if the toy really did have the complete package.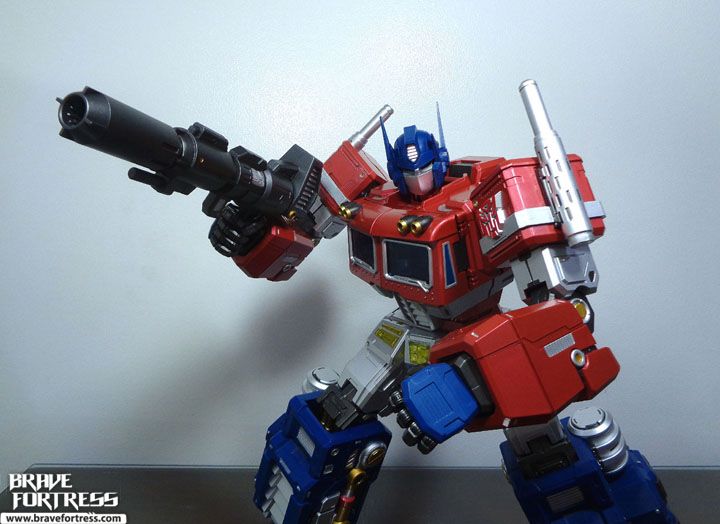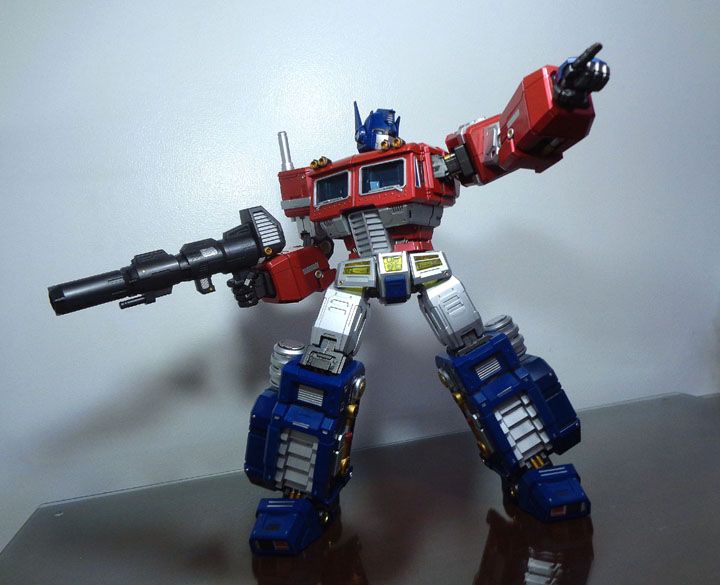 Here's the link to the Action Toys Ultimetal Optimus Prime page: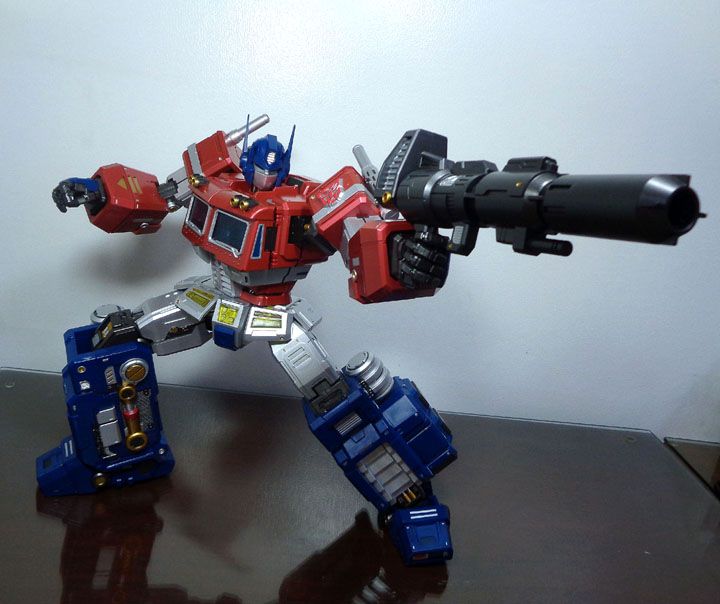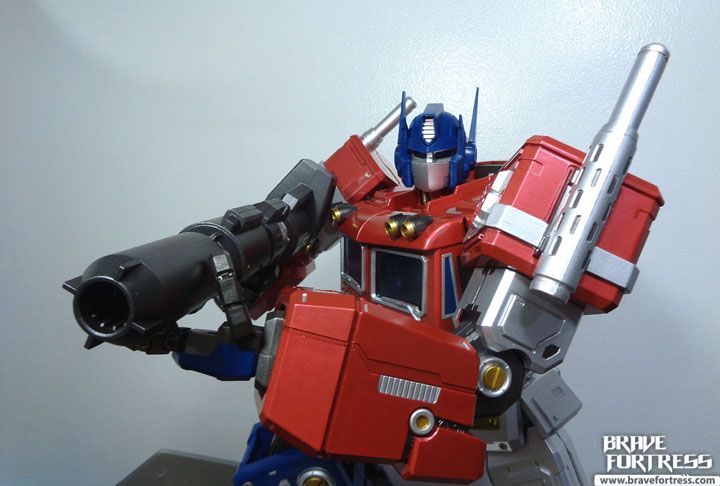 Gold