Chogokin Toy Story Chogattai Daisakusen Woody Robo Sheriff Star
There's an inner box, which opens up through the sides like a matchbox.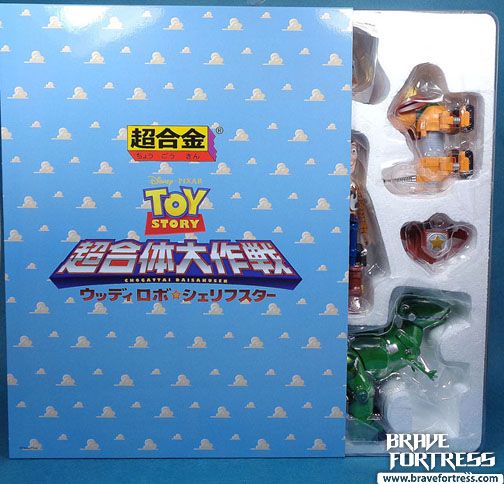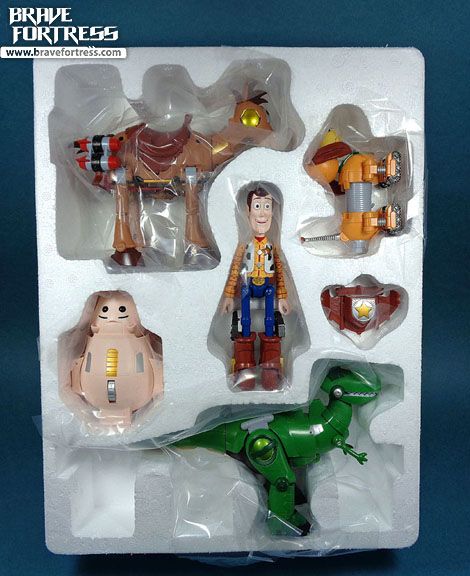 An full-sized, hard cover colored storybook is included with the set. It's taped under the styro tray.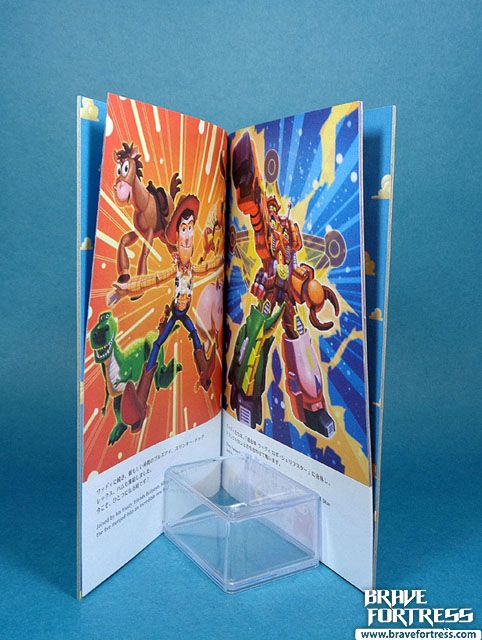 Woody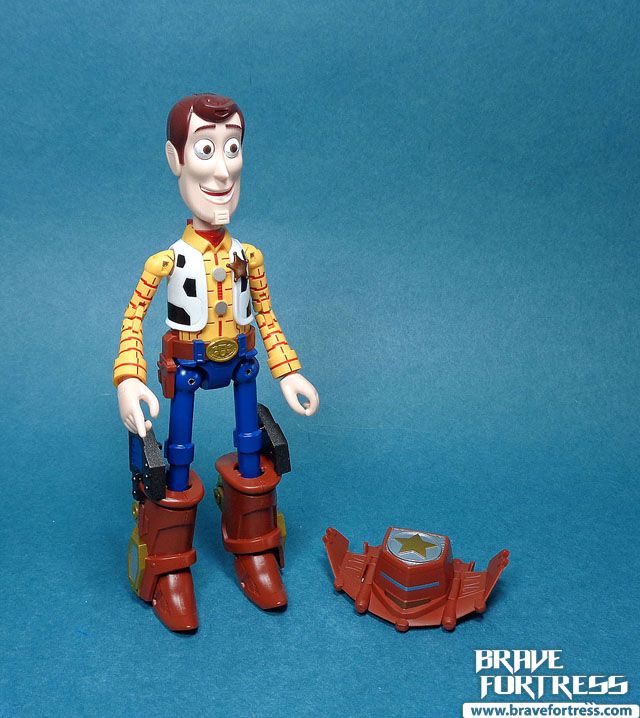 (From the story book bio)
Taking command of the control center, Woody forms the core of the Woody Sheriff Robo Star. His hat doubles as a surveillance spy scout which can obtain valuable intel for any dangerous mission that may arise.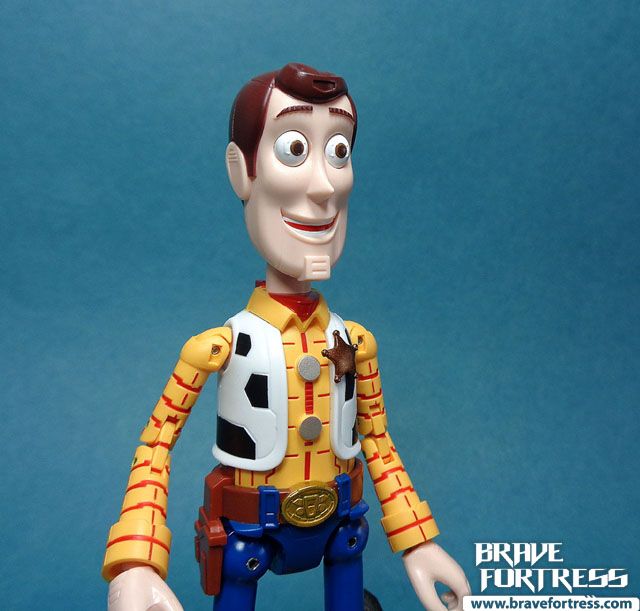 The spurs on his boots spin.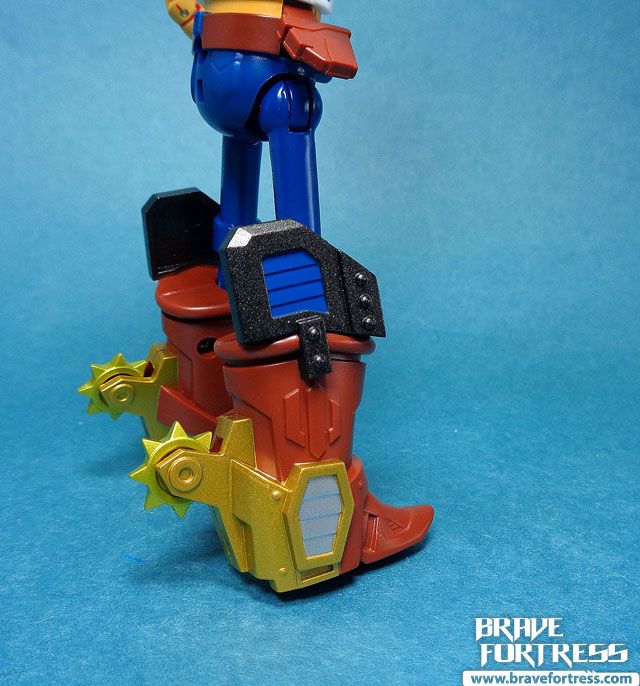 Sadly, Woody does not have any knee joints.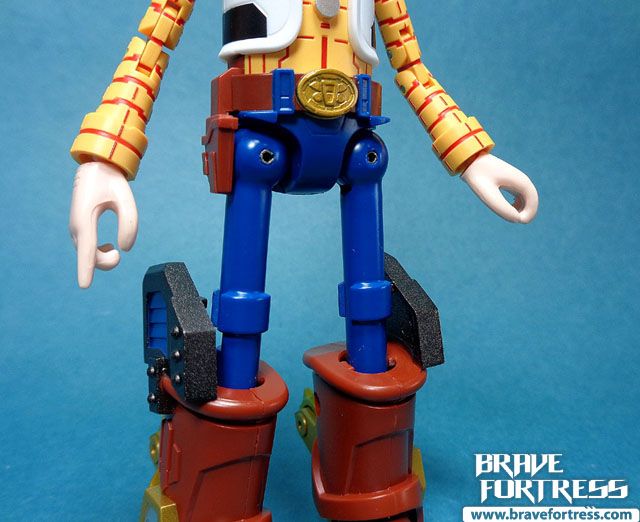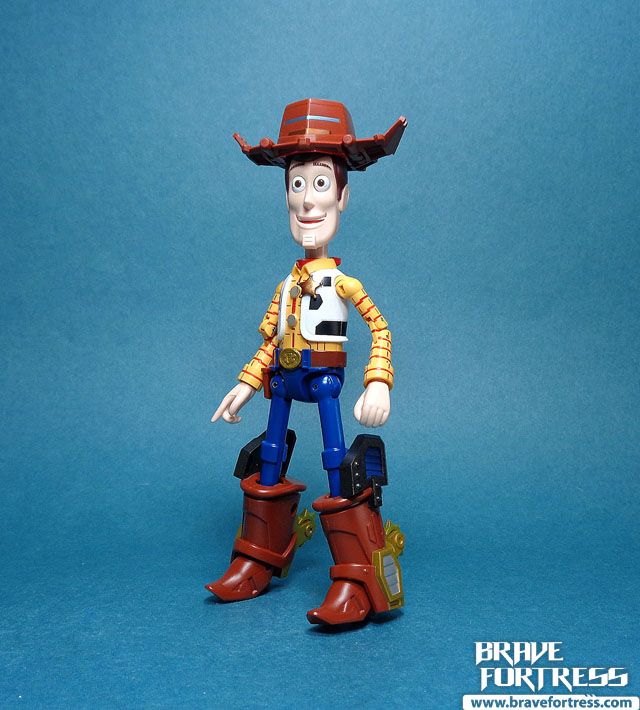 To keep with the "mechanized" look they added some contours to his chin and his eyes.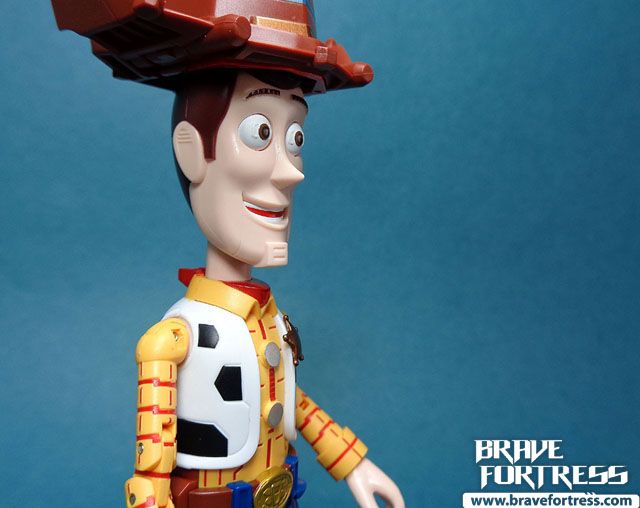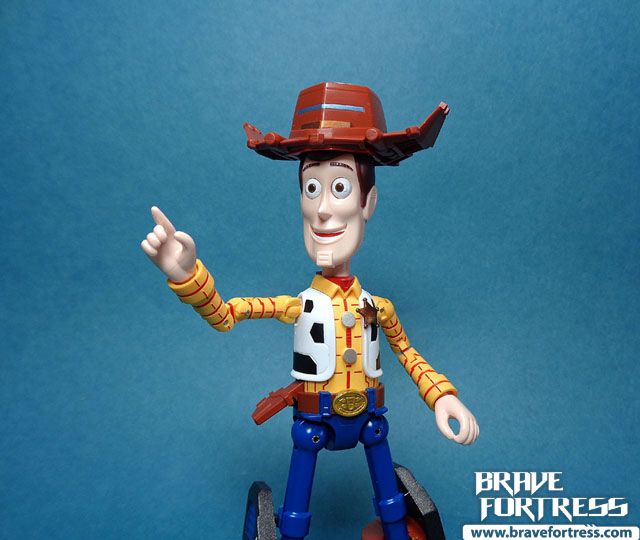 (From the story book bio)
Solidly forming the right leg is Rex! His knee spike can pulverize any enemy that stands in his way! Usually nervous, when combined with his friends, he is full of courage!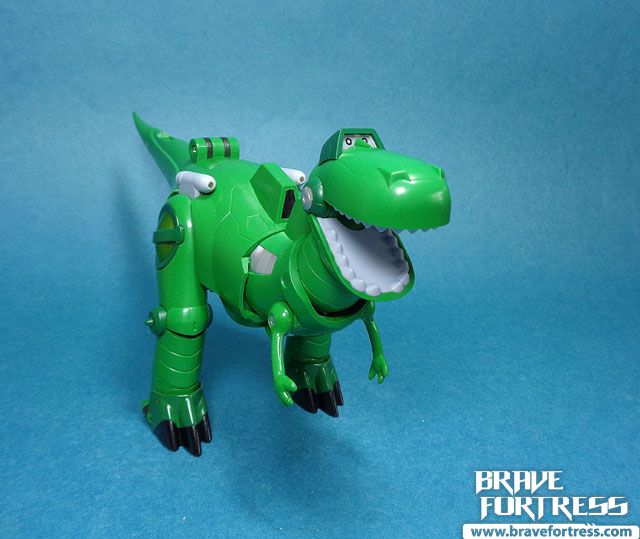 (From the story book bio)
Offering vital tactical support, Bullseye forms the chest and right arm of Woody Robo Sheriff Star. Using the power of Andy's toy box, his special attack, the "Stampede Strike", can knock any enemy flat on their back.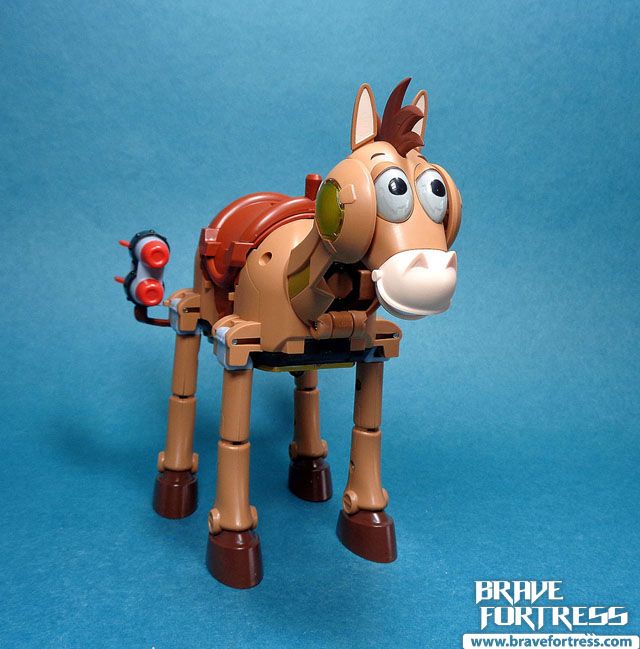 Woody can plug into Bullseye securely via this post.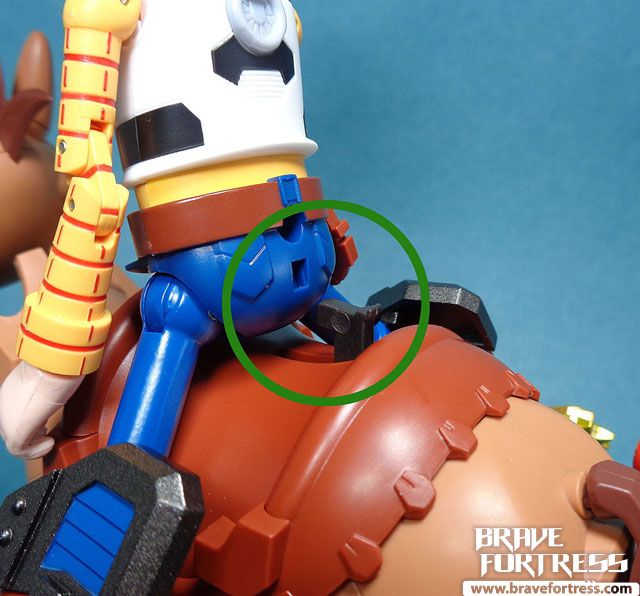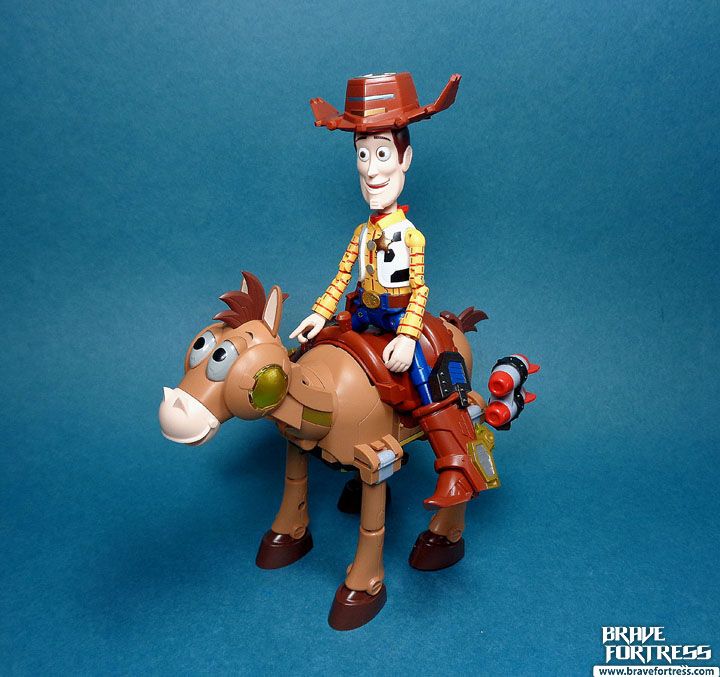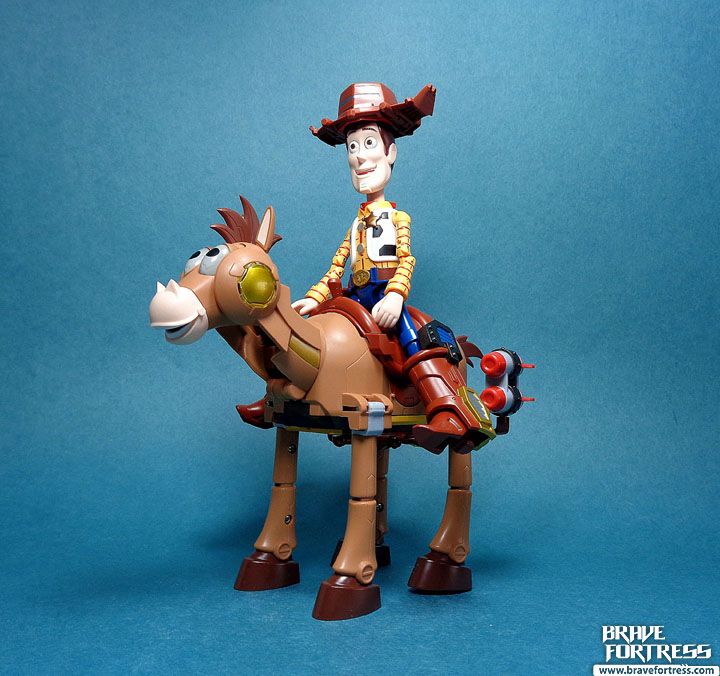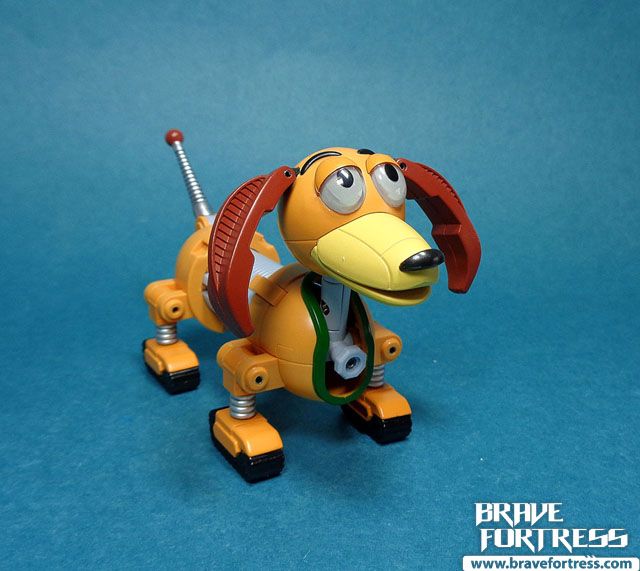 (From the story book bio)
With his iconic spring body, Slinky Dog forms the left arm! His signature attack, "Star Wrapper", has the ability to imprison enemies in an energy force field.

(From the story book bio)
Hamm forms the left leg and features a high speed rotating coin saw that would send any enemy running in fear. He also has built in vernier thrusters that offer the mobility for Woody Robo Sheriff Star needs to finish any mission.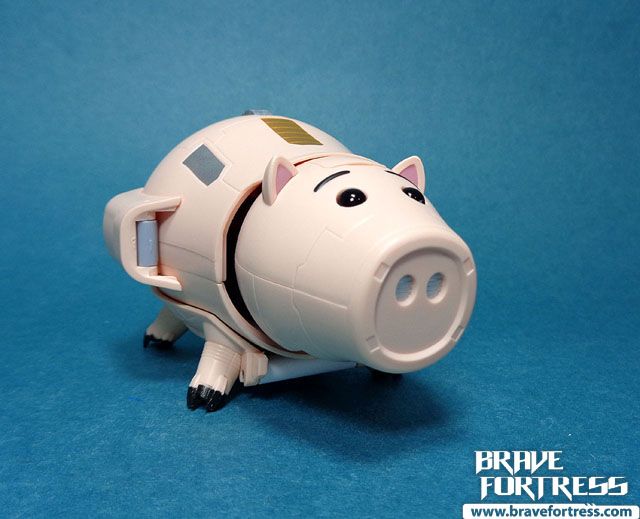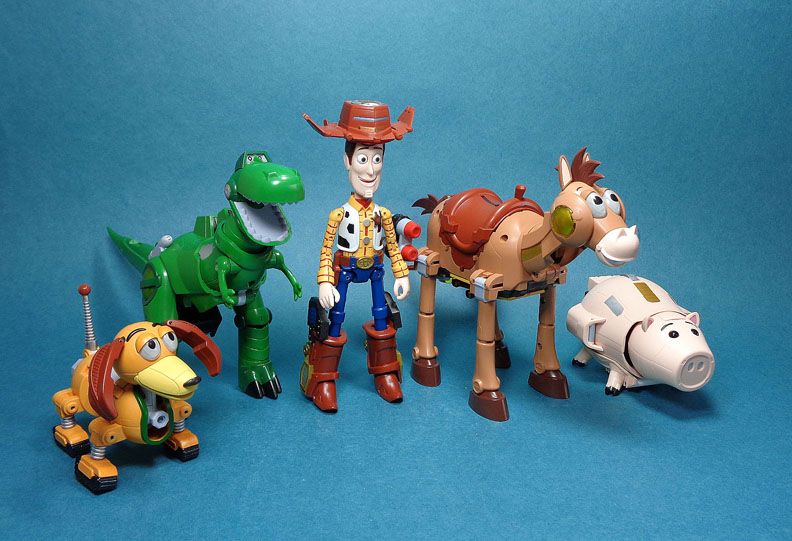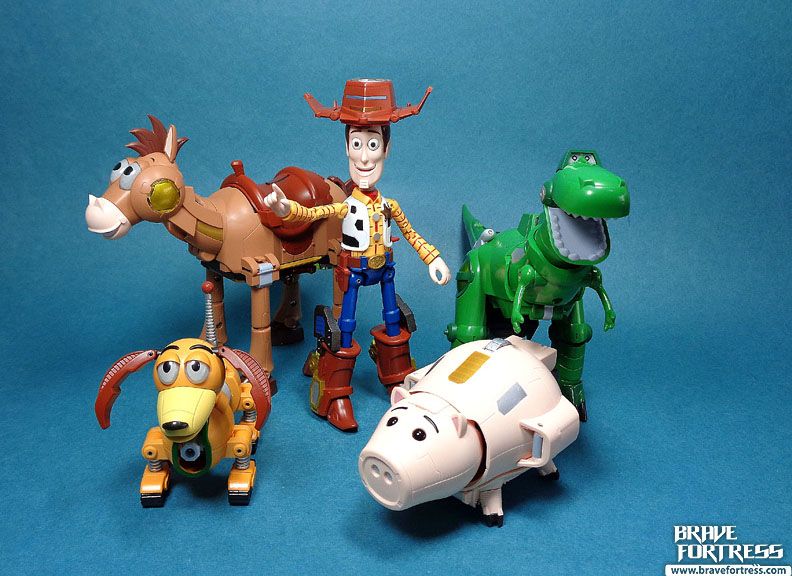 Woody Robo Sheriff Star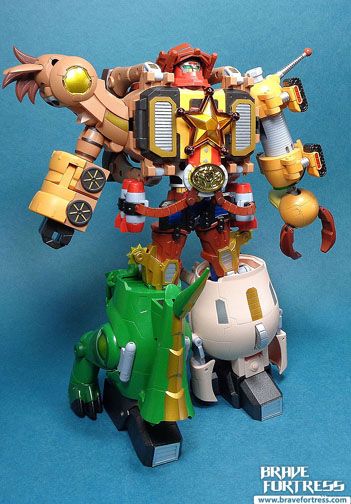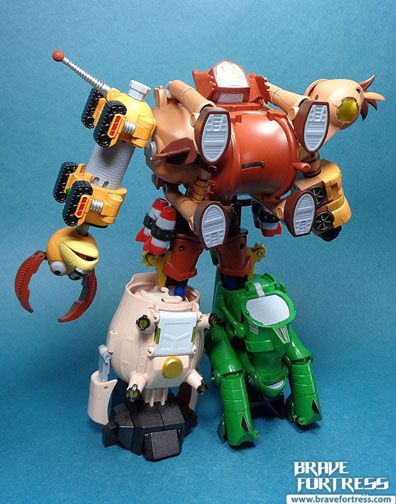 The storybook tells us Bonnie's Japanese friend, Kai, visits her and they have a playdate. They create a story starring Transitron, from the Toy Story short "Toy Story of Terror", who is unable to defeat Trixie the Triceratops. Woody and friends join in to help Transitron by transforming in super robots and then merging to form Woody Robo Sheriff Star.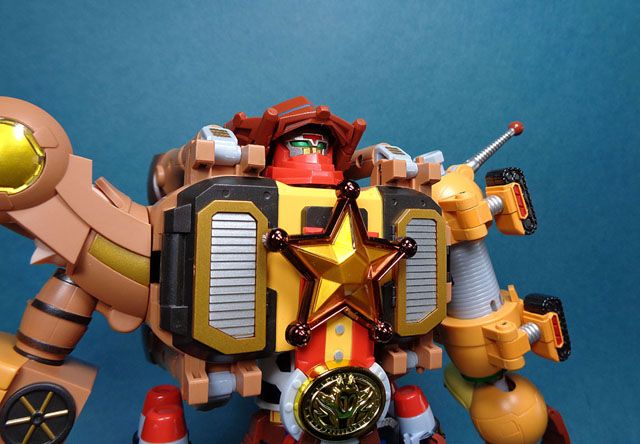 Woody looks silly in there, don't he?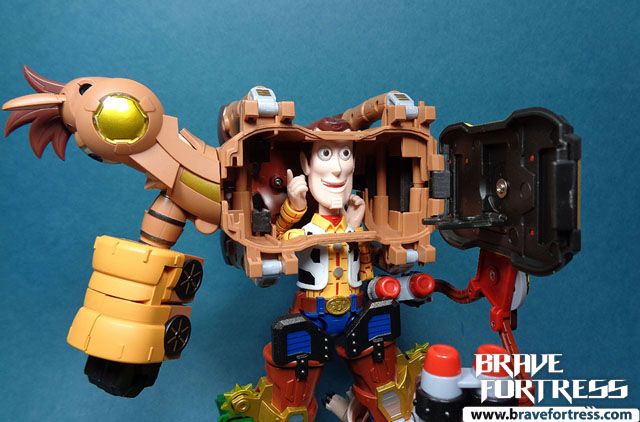 I'm not a fan of this particular gap when you put the head down.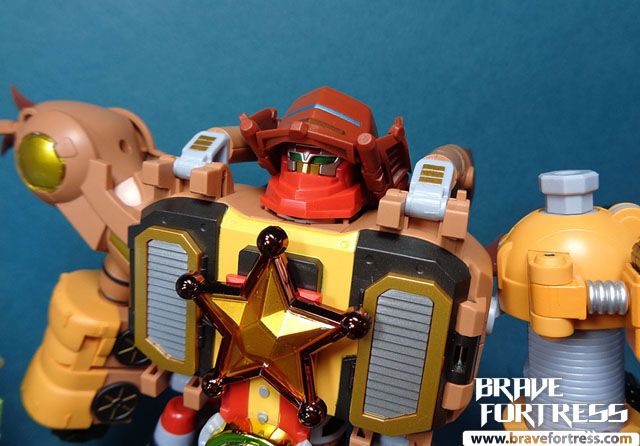 Woody Robo Sheriff Star's right arm uses the "Stampede Strike" attack.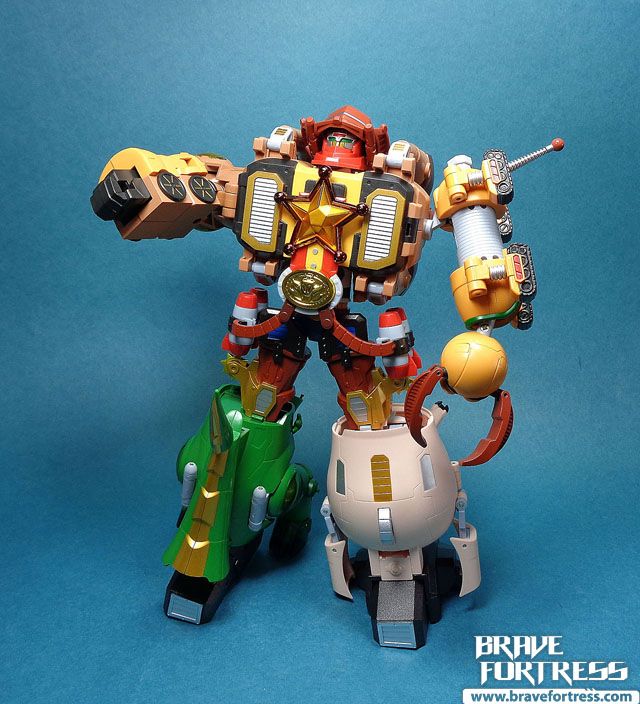 While his left arm uses Slinky Dog's "Star Wrapper" force field to trap enemies.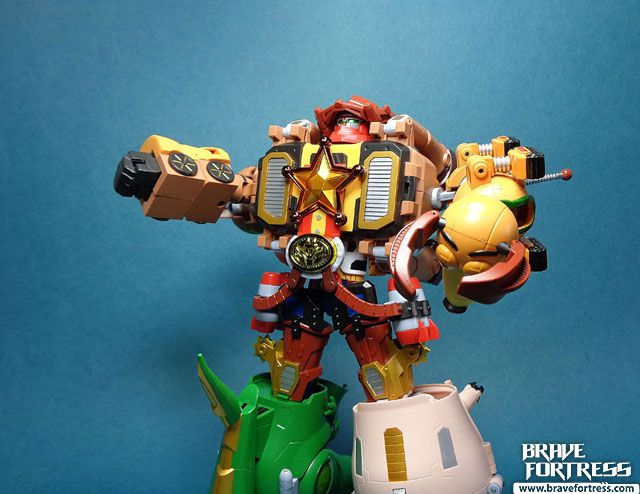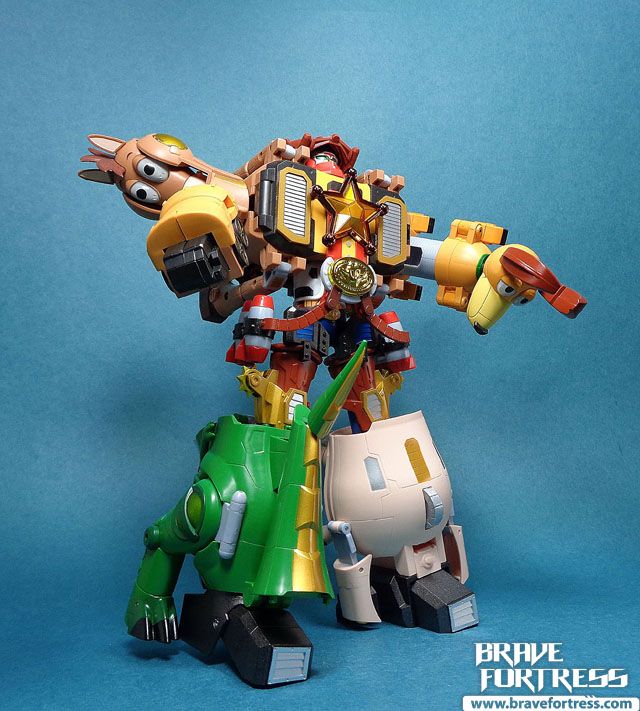 The weigh in
-Woody-92 Grams
-Rex-237 Grams
-Bullseye-169 Grams
-Slinky Dog-109 Grams
-Hamm-141 Grams
-Woody Robo Sheriff Star-748 Grams
Woody stands roughly 6.25 inches tall.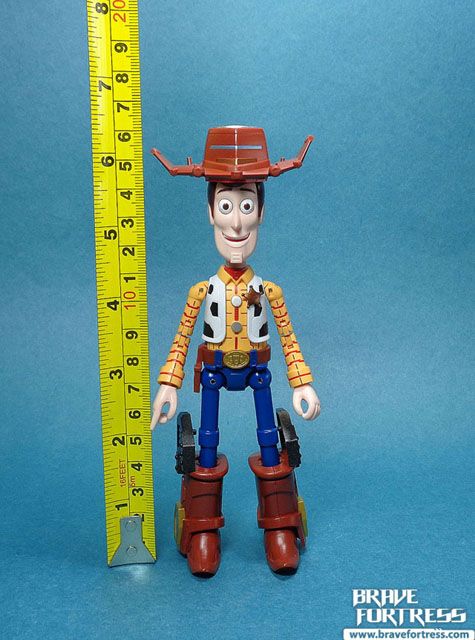 Rex stands roughly 5.75 inches tall.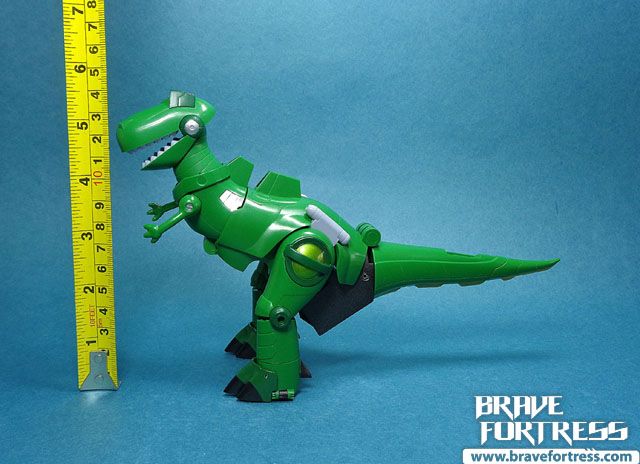 Bullseye stands 5.25 inches by roughly 6.5 inches.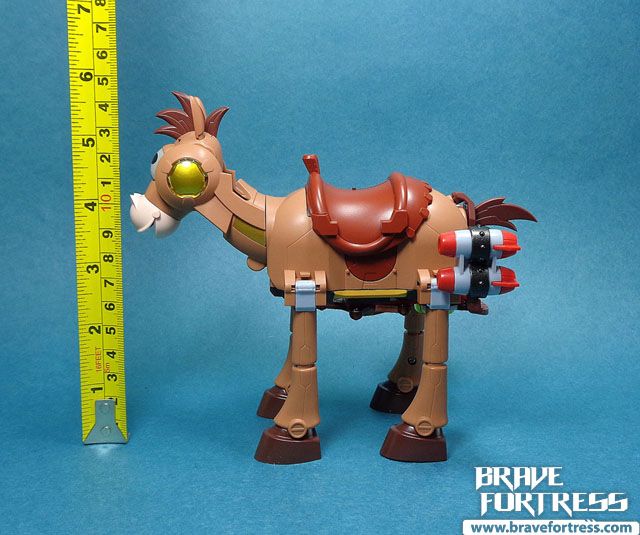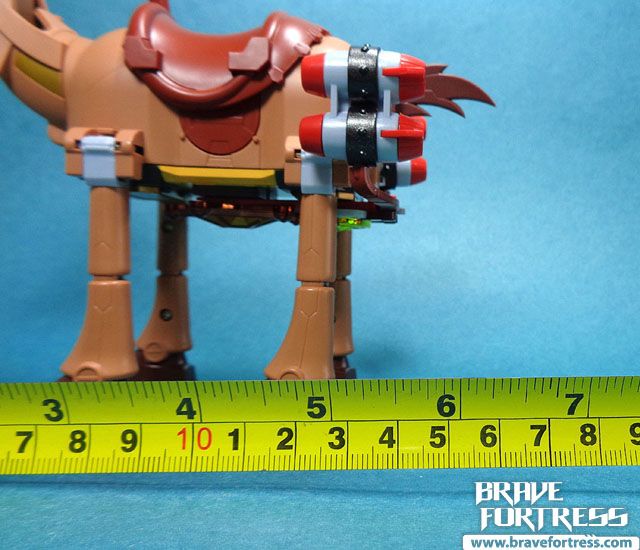 Woody Robo Sheriff Star stands roughly 9″ tall.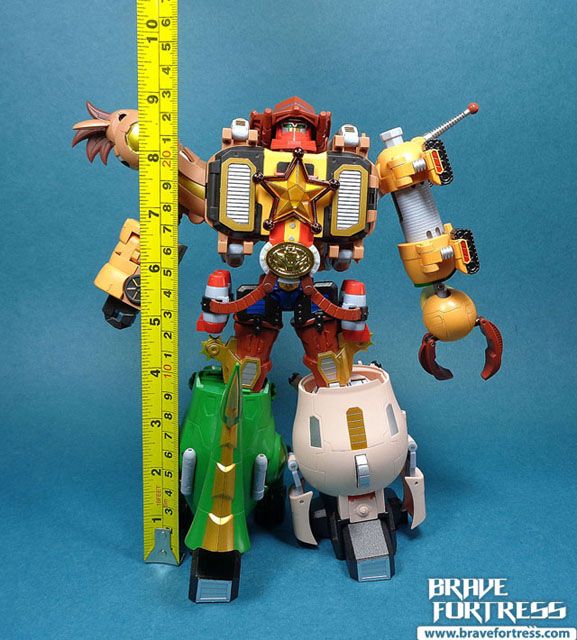 Diecast parts include
-Woody's legs
-Bullseye's feet, abdomen/ Sheriff Star chest plate
-Rex's feet, Sheriff Star foot
-Slinky's feet
-Hamm's Sheriff Star foot
Overall, it's okay. Not great but it is kinda cool that we get the Toy Story guys with some diecast (even though they're not quite themselves, what with all the "mechanized" changes to their design from the Toy Story movie look). The combined form features ratchet joints, which is good. but articulation is ridiculously limited for the combined form. Plus it does not come with any real weapons or any accessories.
I actually picked these up since they were part of a bundle in order to purchase Soul of Chogokin Full Action Voltes V. I think the price for these at deep discount was fair. But I can't recommend these if you had to pay full SRP for the set.
My biggest gripe about it would have to be the fact that the connection locks for the legs are not as solid as I would have liked. It's worse for Hamm. Hamm also tends to split open a lot when you try to stand the combined form. The weight forces Hamm to pop open.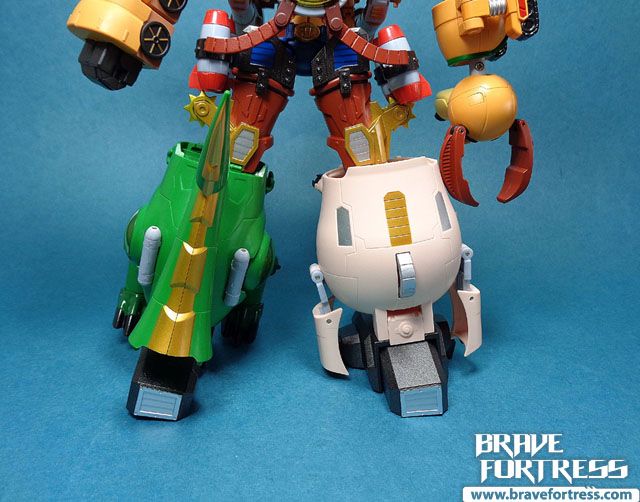 I think I will likely just display these in their individual forms and call it a day.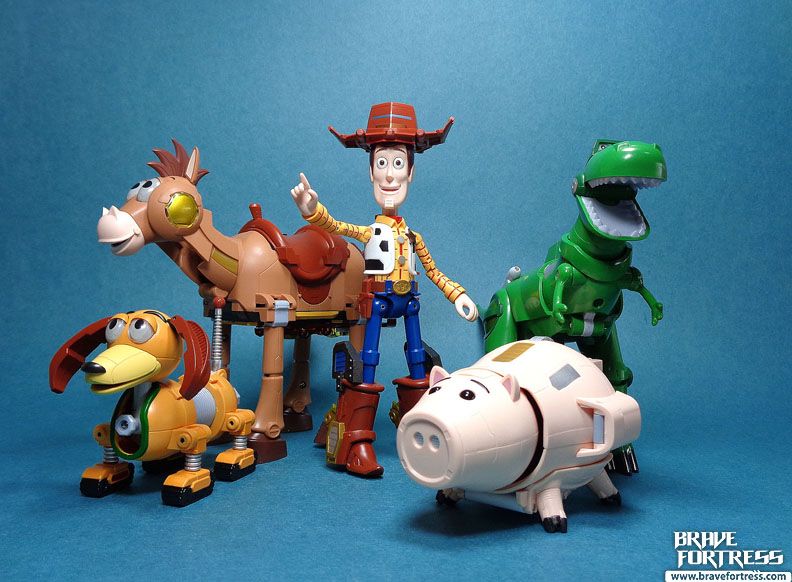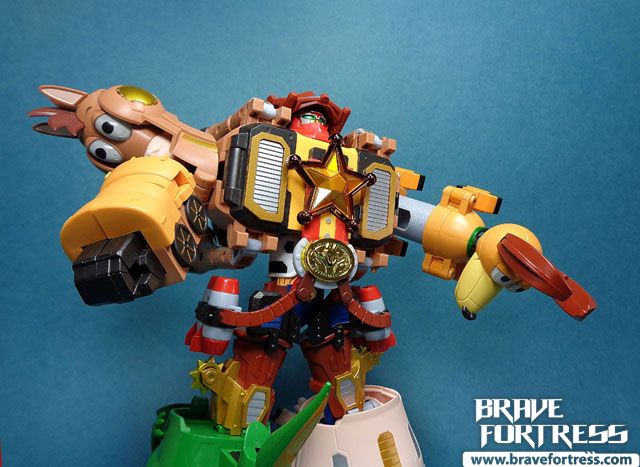 Gold